Casper Claims Third Canadian Victory in Edgerton
By: Ted Stovin Saturday, July 6, 2019 @ 1:49 PM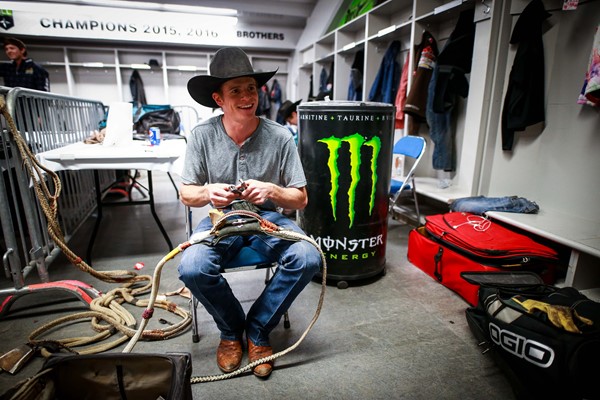 EDGERTON, Alberta – Cody Casper (Newport, Washington) earned the fourth PBR event victory of his career on Friday night at the Edgerton PBR Bullarama to wrap up the richest week of the 2019 PBR Canada Season.
After having the championship round cancelled due to inclement weather in 2018, the skies stayed fair enough to hold the Touring Pro Division event this year.   
Going 2-for-2, Casper rode Shock Rock (Wild Hoggs Bucking Bulls) for 84 points to finish in a tie for second in Round 1. In the championship round he captured an 85.5 on F.O.A.D. (Thompson Rodeo) to finish fourth. Overall however his 169.5 points on two edged second-place man Kache Moosman (Price, Utah) by a half point.
For Casper's work he earned $3,287.37, 270 Canadian and 60 world points. The world points move him up to No. 47 from No. 55 in the world standings and the Canadian points catapult him well inside the Top 20 in the nation.
For Moosman, his 2-for-2 performance was put together between an 83 on Finning Overhaul (Flying Four Bucking Bulls) in Round 1 and an 86 in the championship round on Blue Monkey (Girletz Rodeo Stock). For his efforts, the 28-year-old bull rider earned $2,348.12, 165 Canadian and 30 world points.
Third in Edgerton on Friday was Dakota Buttar (Kindersley, Saskatchewan) with his sixth Top 5 finish in the past month. Buttar rode Act Naturally (Thompson Rodeo) for 81.5 points in Round 1 and added a championship round best 87 on Finning Lil Shorty (Flying Four Bucking Bulls) to finish a half point back of Moosman. A total of $1,823.25, 165 Canadian and 20 world points were added to Buttar's championship account bid moving him up to No. 32 from No. 33 in the world and holding him steady at the No. 5 spot in Canada.
2018 PBR Australia National Champion Aaron Kleier was the final bull rider with a 2-for-2 performance on Friday. Kleier rode Jitter Bug (Girletz Rodeo Stock) for 78.5 points in Round 1. In the championship round it was an 86-point effort on Kubota's Summer Warrior (Wild Hoggs/Bryant/Chmelnyk)
Entering the week on Canadian soil the No. 14 man on the planet, Kleier gathered 15 world points in Edgerton for the fourth-place finish, $1,187.88 and 110 Canadian points.
Rounding out the Top 5 in Edgerton was 2017 PBR Canada Rookie of the Year Coy Robbins (Camrose, Alberta). Robbins rode Hello Darkness (Thompson Rodeo) for 84.5 points to win the first round. In the championship round he was bucked off Tractorland Arizona Dreamin' (Wild Hoggs/Corey Chmelnyk). Robbins earned $1,127.10, 125 Canadian and 10 world points.
Next up on the PBR Canada schedule are the Kinsella, Alberta Graveldome PBR on Wednesday July 10th and the Lloydminster Colonial Days PBR in Lloydminster, Saskatchewan on Friday July 12th. Both events begin at 7:00 p.m. MT and are part of the Touring Pro Division in Canada.
Be sure to stay tuned to PBRCanada.com and follow the tour on Facebook (PBR Canada), Twitter (@PBRCanada), and Instagram (@PBRCanada) for the latest results.
PBR Canada Touring Pro Division
Edgerton, Alberta – Edgerton Sports Grounds
Edgerton PBR Bullarama
Event Results (Round 1- Round 2 -Aggr. Score- Money Earned-Canadian Points-World Points)
1. Cody Casper, 84-85.5-169.5-$3,287.37-270-60
2. Kache Moosman, 83-86-169-$2,348.12-165-30
3. Dakota Buttar, 81.5-87-168.5-$1,823.25-165-20
4. Aaron Kleier, 78.5-86-164.5-$1,187.88-110-15
5. Coy Robbins, 84.5-0-84.5-$1,127.10-125-10
6. Lawson Nobbs, 84-0-84-$723.78-70-5
7. Brock Radford, 83.5-0-83.5-$184.17-30-0
7. Dalton Rudman, 83.5-0-83.5-$184.17-30-0
7. Cole Skender, 83.5-0-83.5-$184.17-30-0
10. Klayton Lakevold, 73.5-0-73.5