Jake Gardner Victorious at Manor Fun Daze PBR
By: Kacie Albert Sunday, July 21, 2019 @ 3:09 PM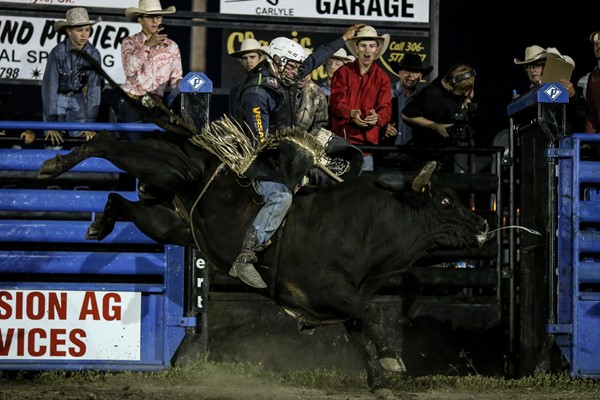 MANOR, Saskatchewan – As one of three riders to go a perfect 2-for-2, Jake Gardner (Fort St. John, British Columbia) captured the second PBR event win of his career Saturday night, victorious at the Manor Fun Daze PBR in Manor, Saskatchewan.
The 23-year-old began the event on a high note, winning Round 1 with an 84-point ride on Parachute (Vold/Bergdahl/Halderman).
Continuing the momentum, Gardner then covered Venom (Vold Rodeo) for an event-best 89.5 points, now the high-marked ride of his PBR career.
Gardner left the event with a check for $3,947.81, along with 350 Canadian and 60 world points.
As he looks to qualify for his second consecutive PBR Canada Finals, Gardner gained significant ground in the national title race. Ranked No. 25 in Canada prior to the event, Gardner is now No. 8.
The 2019 PBR Canada season will conclude on Nov. 22-23 in Saskatoon, Saskatchewan when the Top 20 riders in the nation will compete for the PBR Canada Championship and $50,000 bonus.
Young gun Lonnie West (Cadogan, Alberta) finished second to earn $2,745.49, 200 Canadian and 30 world points.
After riding Carsons Quest (Wild Hoggs Bucking Bulls) for 81 points in Round 1, West then covered Finning Rat Trap (Flying Four Bucking Bulls) for 86.5 points in the championship round.
The runner-up finish allowed West to inch closer to the Top 20 in the PBR Canada standings. Ranked No. 57 prior to the event, West is now No. 35 in Canada, 262.5 points outside of the Top 20.
Two-time Glen Keeley Award winner Dakota Buttar (Kindersley, Saskatchewan) finished third as the final rider to deliver a perfect 2-for-2 performance.
Buttar's 8-second efforts came aboard Dirty Business (Wild Hoggs Bucking Bulls) for 71 points, and Kool Aid (R Saga Ranch Ltd.) for 88.5 points.
As Buttar prepares to travel to Cheyenne Frontier Days for the third PBR Major of the season, Last Cowboy Standing part of the elite Unleash The Beast, he earned a check for $1,856.82, in addition to 165 Canadian and 20 world points.
Maintaining his No. 5 ranking in the Canadian national standings, the 26-year-old climbed from No. 35 to No. 33 in the broader PBR world standings.
Three-time PBR Canada Champion Aaron Roy (Yellow Grass, Saskatchewan) finished fourth, backed by a 78.5-point ride on Applause (Vold Rodeo) in Round 1.
He left his home province event with $1,177.23, 100 Canadian and 15 world points. Roy rose from No. 33 to No. 27 in the national standings, now 160 points behind the Top 20.
Rounding out the Top 5 was Brock Radford (De Winton, Alberta) who rebounded from a Round 1 buckoff of Karls Big Orange Tractor (Wild Hoggs Bucking Bulls) with a 73.5-point trip on Cause and Effect (R Saga Ranch Ltd.) in the championship round.
He earned $727.67, 80 Canadian and 10 world points.
Radford is now ranked No. 41 in Canada, rising from No. 48.  
PBR Canada Touring Pro Division action continues on Thursday, July 25 in North Battleford, Saskatchewan at the Civic Centre for the North Battleford PBR. The event begins at 7:00 p.m. CST.
Be sure to stay tuned to PBRCanada.com and follow the tour on Facebook (PBR Canada), Twitter (@PBRCanada), and Instagram (@PBRCanada) for the latest results.
PBR Canada Touring Pro Division
Manor, Saskatchewan – Manor Fun Daze
Manor Fun Daze PBR
Event Results (Round 1- Round 2 -Aggr. Score- Money Earned-Canadian Points-World Points)
1. Jake Gardner, 84-89.5-173.5-$3,947.81-350-60
2. Lonnie West, 81-86.5-167.5-$2,745.49-200-30
3. Dakota Buttar, 71-88.5-159.5-$1,856.82-165-20
4. Aaron Roy, 78.5-0-78.5-$1,177.23-100-15
5. Brock Radford, 0-73.5-73.5-$727.67-80-10