Todd Chotowetz Wins Touring Pro Division Stop in Falher
By: Kacie Albert Monday, June 17, 2019 @ 9:57 AM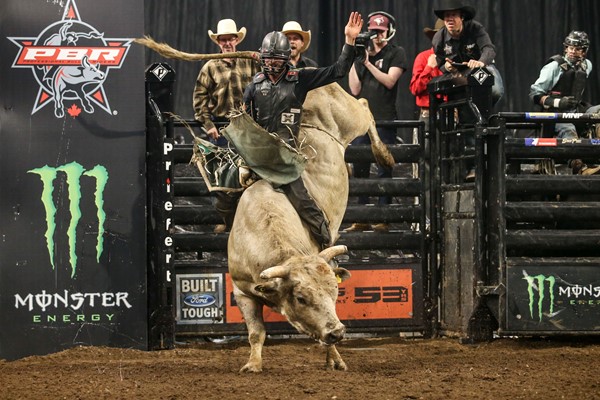 FALHER, Alberta – As the town of Falher celebrated its 100th anniversary, Todd Chotowetz (Major, Saskatchewan) remained undefeated inside Falher Regional Recreational Complex, winning Pokey's PBR Bull Riding, part of PBR Canada's Touring Pro Division, for a second consecutive season.
The 25-year-old's performance was highlighted by an event-high 89-point ride aboard Devour (Vold Rodeo) in the championship round.
For his efforts, Chotowetz collected a check for $5,875.53 along with 275 Canadian and 60 world points.
Now ranked No. 80 in the world, rising from No. 96, the Saskatchewan man gained even more crucial ground in the Canadian national standings. After entering the event No. 9 in the nation, he is now No. 5, 968.33 points behind No. 1 Jared Parsonage (Maple Creek, Saskatchewan).
The victory comes amidst a hot streak for Chotowetz.  On June 1 he tied for third at the Canadian Monster Energy Tour event in Halifax, a career-high finish for him on the nation's premier series. The bronze finish earned Chotowetz 222.5 Canadian points, elevating him from No. 17 to No. 9.
Chotowetz's win was also déjà vu for the electric crowd that packed the Falher Regional Recreational Complex. Last season, Chotowetz won the inaugural Pokey's PBR Bull Riding, marking the first PBR event win of his career.
Dayton Johnston (Milk River, Alberta) finished second to earn $3,495.63, along with 195 Canadian and 30 world points.
The home province rider's 1-for-2 effort included a win in the opening round, marked 88 points aboard Wide Open (Vold Rodeo).
His fifth Top 10 PBR Canada finish of the season allowed Johnston to crack into the Top 20 in the Canadian national standings. Ranked No. 25 in Canada prior to the event, he is now No. 14, 1,349.58 points behind No. 1 Parsonage.
Two-time Glen Keeley Award winner Dakota Buttar (Kindersley, Saskatchewan) rode to two Top 5 finishes courtesy of his double entry, finishing both third, and in a three-way tie for fourth.
His 8-second efforts were both seen in Round 1, covering Catch of The Day (Wild Hoggs Bucking Bulls) for 87.5 points and Chiseled in Stone (Thompson Rodeo Livestock) for 84 points.
Collectively he left Falher with a check for $3,148.57, in addition to 213.33 Canadian and 30 world points.
After making his debut on Canadian soil last weekend in Moose Jaw, Buttar gained even more ground in the national standings as he looks to qualify for the 2019 PBR Canada Finals, where a $50,000 bonus will be on the line for the nation's champion.
Ranked No. 22 in Canada prior to the event, Buttar is now solidly inside the Top 20, sitting No. 12 and within 1,282.5 points of the top spot.
Buttar also gained standing in the world rankings as he looks to return to the elite PBR Unleash The Beats for the third Major event of the season, Last Cowboy Standing, at Cheyenne Frontier Days on July 22-23.
He is now No. 36 in the world, a mere 17.5 points behind No. 35 Michael Lane (Tazewell, Virginia).
Also tied for fourth were Jordan Hansen (Okotoks, Alberta) and Klayton Lakevold (Provost, Alberta), each marked 84 points in the opening round, riding Shock Rock (Wild Hoggs Bucking Bulls) and Wacko Jacko (Foley Bucking Bulls), respectively.
Each rider collected 78.33 Canadian and 10 world points, along with a check for more than $917.
While Hansen remains No. 3 in the Canadian standings, he closed in on the top spot, now 446.67 points behind No. 1 Parsonage.
Lakevold is now tied from No. 30 in the national standings, rising from No. 37.  
PBR Canada Touring Pro Division action continues on Saturday, June 22 in Medicine Hat, Alberta. Thunderbuck in the Badlands will get underway at 7:30 p.m. MT inside the Canalta Centre.
Be sure to stay tuned to PBRCanada.com and follow the tour on Facebook (PBR Canada), Twitter (@PBRCanada), and Instagram (@PBRCanada) for the latest results. 
PBR Canada Touring Pro Division
Falher, Alberta – Falher Regional Recreational Complex
Pokey's PBR Bull Riding
Event Results (Round 1- Round 2 -Aggr. Score- Money Earned-Canadian Points-World Points)
1. Todd Chotowetz, 0-89-89-$5,875.53-275-60
2. Dayton Johnston, 88-0-88-$3,495.63-195-30
3. Dakota Buttar 2, 87.5-0-87.5-$2,231.26-135-20
4 (tie). Jordan Hansen, 84-0-84-$917.32-78.33-10
Klayton Lakevold, 84-0-84-$917.31-78.33-10
Dakota Buttar, 84-0-84-$917.31-78.33-10
7. Shay Marks, 82.5-0-82.5-$312.38-20-0
8. Logan Biever 2, 81.5-0-81.5-$208.25-15-0
Wyatt Laughlin, 0-0-0-$0.00-0-0
Jake Gardner 2, 0-0-0-$0.00-0-0
Shay Marks 2, 0-0-0-$0.00-0-0
Will Purcell, 0-0-0-$0.00-0-0
Austin Nash, 0-0-0-$0.00-0-0
Jared Parsonage, 0-0-0-$0.00-0-0
Cole Young, 0-0-0-$0.00-0-0
Wyatt Gleeson, 0-0-0-$0.00-0-0
Tim Lipsett, 0-0-0-$0.00-0-0
Fabian Dueck, 0-0-0-$0.00-0-0