Chotowetz Claims Second Career Victory in Teepee Creek
By: Kacie Albert Tuesday, March 12, 2019 @ 10:45 AM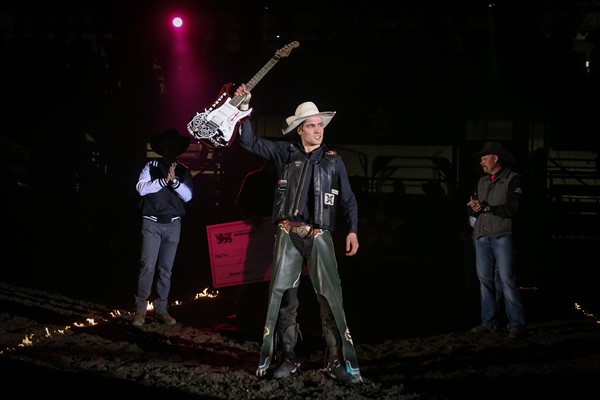 TEEPEE CREEK, Alberta – As one of three riders to deliver a flawless performance inside the Lyons Production Services Centre in Teepee Creek, Alberta, Todd Chotowetz (Major, Saskatchewan) captured the second PBR Canada event win of his career, victorious at the Touring Pro Division's Teepee Creek PBR Classic, presented by Lyons Production Services.
The 25-year-old began the event in electric fashion, winning Round 1 with an 86-point trip on Dan the Man (Outlaw Buckers Rodeo Corp.). Continuing the strong performance, Chotowetz next made the 8 aboard Far Out (Big Stone Rodeo Co.) for a career-high 88 points.
For the event win, Chotowetz earned a check for $7,302.05, in addition to 320 Canadian and 60 world points. He is now ranked No. 6 in the Canadian national standings, 438.33 points behind No. 1 Jared Parsonage (Maple Creek, Saskatchewan) and No. 87 in the world.
Recording his best finish of the season, Jake Gardner (Fort St. John, British Columbia) finished second to earn $2,570.40, 195 Canadian and 30 world points.
Gardner first rode Blaze of Glory (Vold Rodeo) for 82.5 points to finish seventh in Round 1.
The 22-year-old then brought the crowd to its feet when he won the championship round after covering One Eyed Charlie (Outlaw Buckers Rodeo Corp.) for a career-best 89 points.
Garret Green (Meeting Creek, Alberta) was the final rider to go a perfect 2-for-2, concluding the one-day event third. His qualified rides came aboard Solid 3 (Wild Hoggs Bucking Bulls) for 83 points in Round 1, and Mish Mash (Vold Rodeo) for 86 points in the championship round.
His Top-5 finish netted him $1,499.40, 137.5 Canadian and 20 world points. In the national standings, the bronze effort allowed him to inch closer to the No. 1 ranking, now 217.08 points behind the No. 1 ranking. In the world standings, he is now No. 63.
Fourth went to Micheal Ostashek (Edson, Alberta). His performance was highlighted by his 85.5-point ride atop One for the Money (Vold Rodeo) which led him to earn $1,231.65, 110 Canadian and 15 world points.
Rounding out the Top 5 was Parsonage whose qualified ride came on Grey Eyes (Vold Rodeo) in Round 1 for 84.5 points.
The effort netted the Saskatchewan man $771.12, 85 Canadian and 10 world points. He cemented his lead atop the Canadian standings, now 175.83 points ahead of No. 2 Shay Marks (Sunny Brook, Alberta), and is now No. 47 in the world, 70 points outside of the Top 35.
PBR Canada action will next travel to Calgary, Alberta with the elite Monster Energy Tour on March 22-23. The event will begin at 7:30 p.m. MT on both nights inside the Nutrien Western Event Centre.  
Teepee Creek PBR Classic – March 9, 2019
Teepee Creek, Alberta – Lyons Production Services Centre
PBR Canada Touring Pro Division Event Results
Event Leaders (Round 1- Round 2 -Aggr. Score- Money Earned-Canadian Points-World Points)
1. Todd Chotowetz, 86-88-174-$7,302.05-320-60
2. Jake Gardner, 82.5-89-171.5-$2,570.40-195-30
3. Garrett Green, 83-86-169-$1,499.40-137.5-20
4. Michael Ostachek, 85.5-0-85.5-$1,231.65-110-15
5. Jared Parsonage, 84.5-0-84.5-$771.12-85-10
6. Logan Biever, 84-0-84-$460.53-60-5
7. Tim Lipsett, 83-0-83-$224.92-32.5-0
8. Jackson Scott, 76-0-76-$149.94-15-0