Derek Kolbaba Wins 2019 PBR Canada Iron Cowboy
By: Kacie Albert Saturday, May 4, 2019 @ 11:31 PM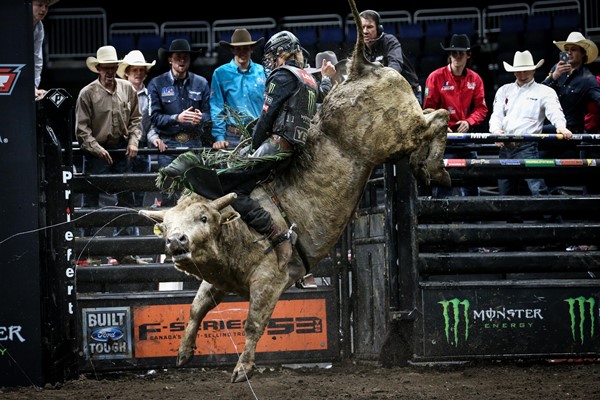 QUÉBEC, Québec – Recording the top marks in three of the event's four rounds, Derek Kolbaba (Walla Walla, Washington) emerged victorious for the second time in his career at the Monster Energy Tour International Major event in Quebéc, winning PBR (Professional Bull Riders) Canada's Iron Cowboy, presented by Super Sagamie. 
The 23-year-old got off to a fast start in Round 1, earning the top score after he made the 8 aboard Applause (Vold Rodeo) for 86 points. The Round 1 victory was a déjà vu moment for Kolbaba, also winning Round 1 in 2017 when he won the inaugural PBR event inside the Videotron Centre.
Also advancing to Round 2 alongside Kolbaba were Brennon Eldred (Sulphur, Oklahoma), Zane Lambert (Ponoka, Alberta), Keyshawn Whitehorse (McCracken Springs, Utah), Scottie Knapp (Edgewood, New Mexico), Tanner Byrne (Prince Albert, Saskatchewan), Lonnie West (Cadogan, Alberta) and Shay Marks (Sunnybrook, Alberta) after all recorded a score aboard their first round draw.
With a powerhouse contingent of riders competing in the Top 8, Kolbaba maintained his standing atop the leaderboard when he tied for the round win with 86 points aboard Dylan's Devil (Wild Hoggs Bucking Bulls).
Oklahoma cowboy Eldred rose to second in the event aggregate after tying for the Round 2 win. His 86-point score came atop Southern Heat (Vold Rodeo). Two-time PBR Canada Champion Lambert advanced to Round 3 third in the event aggregate after covering Kool Aid (R Saga Ranch Ltd.), while reigning PBR Rookie of the Year Whitehorse rounded out the Top 4 with an 83.5-point score on Rehab (Triple R Bull Co.)
For Lambert, his second-round draw was a rematch from the 2018 PBR Canada Finals. The 8-second effort inside the Videotron Centre allowed Lambert to even the score against the bovine athlete after he bucked off Kool Air in 6.76 seconds in their first meeting.
After all four riders in Round 3 bucked off, a winner-take-all showdown was set for the final round between Kolbaba and Eldred.
While Kolbaba' s event win was locked-in when Eldred bucked off Tykro Pound Sand (Wild Hoggs/Corey Chmelnyk) in 3.86 seconds, a $20,000 bonus remained on the table should he cover his final bull.
With the Québec crowd brought to its feet, raucously cheering as Kolbaba climbed aboard One for the Money (Vold Rodeo), the World Champion contender seized the moment.
Taking the Vold Rodeo bull to the whistle, Kolbaba recorded an event-high 88-point ride to earn the event's $20,000 bonus check.
Cumulatively, Kolbaba netted 680 Canadian and 350 world points. While he is now the No. 3-ranked rider in Canada, he gained significant ground in the PBR World Championship race. After beginning the event No. 11 in the world, he is now No. 7, 1,360 points behind No. 1 Jose Vitor Leme (Ribas do Rio Pardo, Brazil).
Eldred finish the stop second overall to collect 320 Canadian and 130 world points. He rose from No. 34 to No. 29 in the world.
Lambert was the top-finishing Canadian in third. He netted 50 Canadian and 10 world points.
Whitehorse concluded the stop fourth earning him 40 Canadian and 10 world points.
Fans can relive all the action from the 2019 Canadian Iron Cowboy, presented by Super Sagamie, on demand, Sunday, May 5 at 8:00 a.m. EDT. TSN2 will air a one-hour highlights special on Tuesday, July 2 at 7:30 p.m. EDT.
PBR Canada's Monster Energy Tour will next travel to London, Ontario and Budweiser Gardens for the London Classic. The event is the second of the four-stop slate of events in the Eastern provinces and will get underway on Saturday, May 11 at 7:00 p.m. ET.  
PBR Canada Monster Energy Tour – Iron Cowboy, presented by Super Sagamie
Videotron Centre – Quebec City, Quebec
Event Leaders (Round 1-Round 4-Round 2-Round 3-Event Aggregate-Canadian Points-World Points)
(Round 1-Round 2-Round 3-Round 4-Event Aggregate-Event Points)
1. Derek Kolbaba, 86-86-0-88-260.00-680-350 Points.
2. Brennon Eldred, 84.5-86-0-0-170.50-320-130 Points.
3. Zane Lambert, 83.5-85.5-0-0-169.00-50-10 Points.
4. Keyshawn Whitehorse, 83-83.5-0-0-166.50-40-10 Points.
5. Lonnie West, 84-0-0-0-84.00
6. Scottie Knapp, 83.5-0-0-0-83.50
(tie). Shay Marks, 83.5-0-0-0-83.50
8. Tanner Byrne, 83-0-0-0-83.00
9. Jake Gardner, 82-0-0-0-82.00
Chase Outlaw, 0-0-0-0-0.00
Marco Antônio Eguchi, 0-0-0-0-0.00
Daylon Swearingen, 0-0-0-0-0.00
Marcus Mast, 0-0-0-0-0.00
Cody Casper, 0-0-0-0-0.00
Jordan Hansen, 0-0-0-0-0.00
Jared Parsonage, 0-0-0-0-0.00
Luis Blanco, 0-0-0-0-0.00
Riley Gagnon, 0-0-0-0-0.00
Coy Robbins, 0-0-0-0-0.00
Zac Bourgeois, 0-0-0-0-0.00