Logan Biever Surges to No. 1 in Canada with Career-First PBR Win in Dawson Creek
By: Kacie Albert Sunday, December 1, 2019 @ 11:35 AM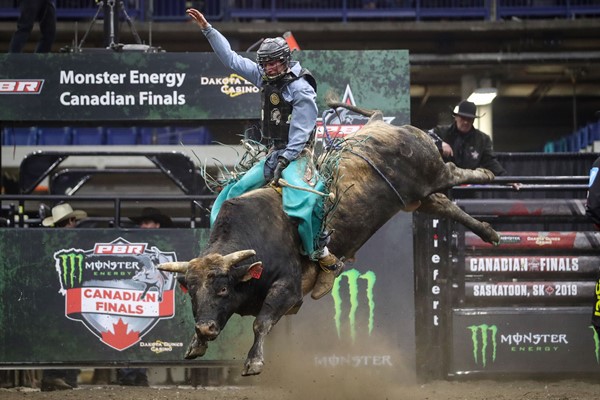 DAWSON CREEK, British Columbia – Marking the first event of the 2020 PBR (Professional Bull Riders) Canada season, Logan Biever (Claresholm, Alberta) went a perfect 2-for-2 Saturday night at the PBR Dawson Creek, presented by Lyons Production Services, to capture the first PBR event win of his career and surge to No. 1 in the national standings.
The 21-year-old got off to a hot-start in the opening round inside the Encana Events Centre, covering his re-ride draw Diesel (Vold Rodeo) for a second-best 85.5 points.
Biever then continued the momentum in the championship round when he recorded the event's high-marked ride courtesy of his 89.5-point trip aboard Big City Nights (Vold Rodeo).
For his efforts, he collected $3,771.89, 200 Canadian and 15 world points.
In another career-first, Biever is now the No. 1-ranked rider in Canada, 80 points ahead of the event's runner-up and No. 2 Thor Hoefer II (Priest River, Idaho).
Also going a flawless 2-for-2, Hoefer netted $2,868.76, 120 Canadian and 8 world points via his performance in Dawson Creek.
Hoefer delivered the top score in Round 1, covering Dust Off (Outlaw Buckers Rodeo Corp.) for 86 points. He then reached the 8-second whistle in the championship round atop Avenged Sevenfold (Outlaw Buckers Rodeo Corp.) for 85.5 points.
Third went to Dakota Louis (Browning, Montana) who was the final rider to cover both of his bovine athlete opponents.
After riding Wing Man (Outlaw Buckers Rodeo Corp.) in Round 1 for 82 points, the former Global Cup Team USA Wolves rider covered Too Hot (Outlaw Buckers Rode Corp.) for 87.5 points.
Louis left the British Columbia event with $1,646.89, 90 Canadian and 7 world points.
Shay Marks (Sunnybrook, Alberta), Koby Kile (Purcell, Oklahoma) and Tim Lipsett (Lumsden, Saskatchewan) tied for fourth after recording matching 84.5-point scores in Round 1. The trio rode The Liquidator (Outlaw Buckers Rodeo Corp.), Razor (Vold Rodeo) and Just A Jam'n (Vold Rodeo), respectively.
Each man collected $655.2, 48.33 Canadian and 3 world points.
Of the trio, Marks, a double entry, also finished ninth. While the 8-second effort failed to earn him any additional money or points, the Alberta man also covered Jitter Bug (Outlaw Buckers Rodeo Corp.) for 80 points in Round 1.
PBR Canada's Touring Pro Division next travels to Lloydminster, Saskatchewan on Saturday, December 7 for the Lloydminster PBR Winter Classic at the Lloydminster Exhibition. Action gets underway at 7:00 p.m. MST.
Be sure to stay tuned to PBRCanada.com and follow the tour on Facebook (PBR Canada), Twitter (@PBRCanada), and Instagram (@PBRCanada) for the latest results.
PBR Canada Touring Pro Division
Dawson Creek, British Columbia – Encana Events Centre
PBR Dawson Creek, presented by Lyons Production Services
Event Results (Round 1- Round 2 -Aggr.Score- Payout-Canadian Points-World Points)
1. Logan Biever, 85-89.5-174.5-$3,771.89-200-15
2. Thor Hoefer II, 86-85.5-171.5-$2,868.76-120-8
3. Dakota Louis, 82-87.5-169.5-$1,646.89-90-7
4 (tie). Shay Marks, 84.5-0-84.5-$655.2-48.33-3
Koby Kile, 84.5-0-84.5-$655.2-48.33-3
Tim Lipsett, 84.5-0-84.5-$655.2-48.33-3
7. Cole Young, 83.5-0-83.5-$223.13-20-1
8. Lane Paley, 82-0-82-$148.75-15-0
9. Shay Marks, 80-0-80-$0-0-0