Daylon Swearingen Wins PBR's Command Tubular Edmonton Classic to Rise to No. 11 in the World
By: Kacie Albert Saturday, October 26, 2019 @ 11:22 PM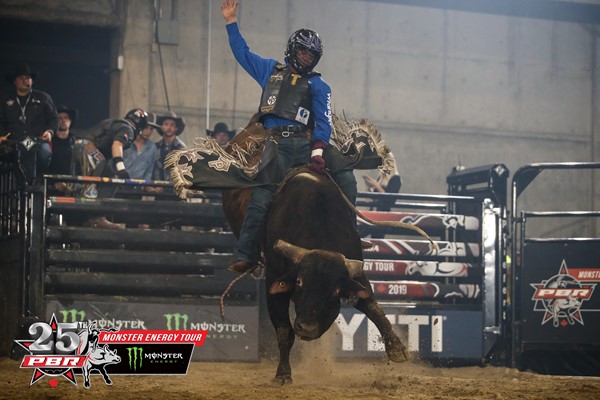 EDMONTON, Alberta – With only 10 days remaining prior to the PBR (Professional Bull Riders) World Finals and a month until the 2019 PBR Monster Energy Canadian Finals, presented by Dakota Dunes Casino, the competitive fervor on display inside of the sold-out crowd at the Edmonton EXPO Centre Saturday night was undeniable.
On a night that saw 21 qualified rides, Daylon Swearingen (Piffard, New York), one of five riders to go a perfect 2-for-2, captured his second Canadian Monster Energy Tour event victory of the season, winning the Command Tubular Edmonton Classic to gain ground in both the PBR world standings and Rookie of the Year race.
The 20-year-old began the night with the third-best score of Round 1, covering Snap Shot (Skori Bucking Bulls) for 85 points. The score not only advanced Swearingen to the championship round, but architected a rematch that had captivated fans twice prior on the Monster Energy Tour.
Matched up with Tykro Pound Sand (Wild Hoggs/Corey Chmelnyk), recently selected to buck at his second consecutive PBR World Finals, Swearingen had twice prior face off against the bovine athlete. First covering him for an event-best 88.5 points in 2018 at the debut PBR event in Moncton, New Brunswick, where he finished second, Swearingen most recently bucked off the Wild Hoggs bull this June in Halifax, Nova Scotia in a heart-breaking 7.76 seconds.
In the grudge-match showdown, Swearingen prevailed, covering him for 86.5 points, leading the electric crowd to erupt in raucous cheers.
For his efforts, Swearingen collected $5,766.40, 460 Canadian and 170 world points.
The victory gained the New Yorker crucial ground in both the PBR World and Canadian national standings.
Ranked No. 12 in the world prior to the event, Swearingen rose to No. 11. While he remains second in the prestigious Rookie of the Year race, he honed in on standings leader Dalton Kasel (Muleshoe, Texas). More than 580 points behind the top spot in the race amongst the first-year pros, Swearingen is now within 410.41 points.
Also in the hunt for the 2019 PBR Canada Championship and accompanying $50,000 bonus set to be awarded in Saskatoon, Saskatchewan on Nov. 22-23, Swearingen climbed to No. 4 in Canada after starting the second event in Edmonton in as many years No. 5. He trails the No. 1 ranking by a slim 689.57 points.
The incredible night of competition also bore witness to a new rider rising to No. 1 in the Canadian national standings.
After being overtaken by Dakota Buttar (Kindersley, Saskatchewan), who went 0-for-1 in Edmonton, on Sept. 13, Jared Parsonage (Maple Creek, Saskatchewan) reclaimed the top spot in Canada with a fifth-place finish.
In Round 1 Parsonage rode Boomerang (Wild Hoggs Bucking Bulls) for 82 points to draw a rematch of his own in the championship round with Stuntman Hank (Wild Hoggs Bucking Bulls).
From two-time PBR Canada Stock Contractors of the Year Wild Hoggs, the two first met this May on the Touring Pro Division in Prince Albert, Saskatchewan, when the bull bested Parsonage in a swift 3.78 seconds.
Not to be dispatched short of the 8-second whistle again, the Saskatchewan man covered Stuntman Hank for 84.5 points.
The perfect performance netted Parsonage $756.84, along with 75 Canadian and 15 world points.
His 16th Top 5 finish of the season allowed him to erase Buttar's mere 42.51-point lead atop the standings, allowing Parsonage to overtake his fellow Saskatchewan rider and leave the final regular-season Monster Energy Tour event with a 32.49-point lead of his own.
In the broader PBR world standings, Parsonage gained one position as he looks for his first PBR World Finals qualification, now No. 38. He trails the Top 35 by 160 points.
Second at the Command Tubular Edmonton Classic went to Jake Gardner (Fort St. John, British Columbia), earning him $4,369.85, 260 Canadian and 90 world points.
Marking his best finish of the season on the elite Monster Energy Tour, Gardner began the evening with a Round 1-best 86-point ride on Finning Hou's Deacon (Flying Four Bucking Bulls), before making the8 aboard Tom Petty (Skori Bucking Bulls) for 85 points in the final round.
He rose from No. 8 to No. 6 in the Canadian national standings and now trails No. 1 Parsonage by 1,298.32 points.
Two-time PBR Canada Champion Zane Lambert (Ponoka, Alberta) was third, falling just a point short of capturing his first regular-season Monster Energy Tour win of his career.
In Round 1 he covered Dunt (Skori Bucking Bulls) for 83.5 points.
His momentum only continued from there, winning the championship round with an 87-point ride aboard Bull of the Event Firebeatz (Foley Bucking Bulls), who earned a bull pen best 43.5-point bull score.
Lambert left the Edmonton EXPO Centre with $2,973.30, 212.5 Canadian and 55 world points.
The Top-5 effort came as Lambert was in need of crucial national points, ranked No. 17 prior to the start of the event. Compliments of the bronze finish, he left the event No. 11 in Canada, a slim 63.75 points outside of the Top 10.
Rounding out the top of the leaderboard was Jordan Hansen (Okotoks, Alberta) in fourth to collect $1,802, 140 Canadian and 20 world points.
His rides were earned aboard Catch of the Day (Wild Hoggs Bucking Bulls) for 84 points and Twist of Barbwire (Thompson Rodeo Livestock) for 86 points.
Hansen is now ranked No. 5 in Canada, 995 points behind No. 1 Parsonage.
The PBR Canada Monster Energy Tour next travels to Saskatoon, Saskatchewan and the SaskTel Centre on Nov. 22-23 for the 2019 PBR Monster Energy Canadian Finals, presented by Dakota Dunes Casino.
Fans can relive all the action from the Command Tubular Edmonton Classic on Sunday, October 27 at 8am ET on RidePass.com or via the mobile app.
Be sure to stay tuned to PBRCanada.com and follow the tour on Facebook (PBR Canada), Twitter (@PBRCanada), and Instagram (@PBRCanada) for the latest results.
PBR Canada Monster Energy Tour – Command Tubular Edmonton Classic
Edmonton EXPO Centre – Edmonton, Alberta
(Round 1-Round 2-Round 3-Event Aggregate-Canadian Points-World Points-Payout)
1. Daylon Swearingen, 85-86.5-171.50-460-170-$5,766.40
2. Jake Gardner, 86-85-171.00-260-90-$4,369.85
3. Zane Lambert, 83.5-87-170.50-212.5-55-$2,973.30
4. Jordan Hansen, 84-86-170.00-140-20-$1,802
5. Jared Parsonage, 82-84.5-166.50-75-15-$756.84
6. Jackson Scott [1], 86-0-86.00-100-10-$1,450.61
7. Shay Marks, 84.5-0-84.50-55-5-$648.72
8. Nick Tetz [1], 83.5-0-83.50-22.5-0-$252.28
9. Marcos Gloria, 83-0-83.00-10-0-$0
10. Jackson Scott [2], 82-0-82.00-5-0-$0
11. Brock Radford, 81.5-0-81.50-0-0-$0
12. Garrett Green, 81-0-81.00-0-0-$0
(tie). Thor Hoefer II [2], 81-0-81.00-0-0-$0
(tie). Nick Tetz [2], 81-0-81.00-0-0-$0
15. Cole Young, 80.5-0-80.50-0-0-$0
16. Wacey Finkbeiner, 78.5-0-78.50-0-0-$0
Dakota Buttar, 0-0-0.00-0-0-$0
Lonnie West, 0-0-0.00-0-0-$0
Todd Chotowetz, 0-0-0.00-0-0-$0
Thor Hoefer II [1], 0-0-0.00-0-0-$0
Aaron Roy, 0-0-0.00-0-0-$0
Logan Biever, 0-0-0.00-0-0-$0
Fabian Dueck, 0-0-0.00-0-0-$0
Tim Lipsett, 0-0-0.00-0-0-$0
Micheal Ostashek, 0-0-0.00-0-0-$0
Cody Hudson, 0-0-0.00-0-0-$0
Shayne Davis, 0-0-0.00-0-0-$0