Dakota Buttar Wins PBR's Festival Western St. Tite to Rise to No. 1 in Canadian National Standings
By: Kacie Albert Monday, September 16, 2019 @ 10:59 AM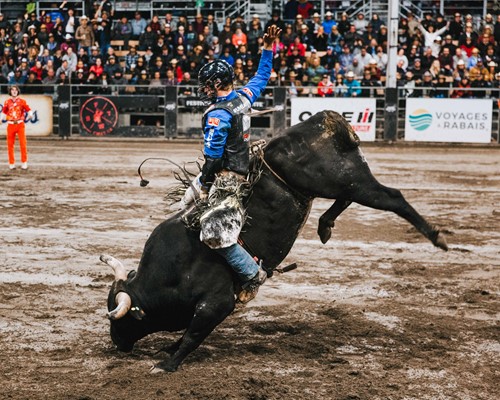 ST. TITE, Quebec – Recording the top marks in both Round 1 and the championship round inside Coors Banquet Arena, Dakota Buttar (Kindersley, Saskatchewan) captured his fifth PBR Canada event win of the season Friday night, victorious at the Touring Pro Division's Festival Western St. Tite in St. Tite, Quebec, to surge to No. 1 ranking in the national standings for the first time in 2019.
With a raucous crowd packed inside the Eastern Canadian venue, the Saskatchewan man catapulted to an early lead when he topped Round 1 with an 87-point ride on Vegas Fun (Rafter P).
Buttar continued the momentum in the championship round when he covered Hookasauraus (Triple R Bull Co.) for an event-high 88 points.
Compliments of the victory, the 26-year-old earned a crucial 350 Canadian and 60 world points.
Buttar is now the No. 1 ranked rider in the Canadian national standings for the first time in 2019. He overtook now No. 2 Jared Parsonage (Maple Creek, Saskatchewan), who he currently leads by 205.01 points.
The two-time Glen Keeley Award winner's rise to the No. 1 ranking has been one for the record books.
Facing a near season-ending shoulder injury in April, Buttar made a triumphant return in early-June after receiving clearance from his surgeon. Since competing at his first event on Canadian soil on June 8, Buttar has been seemingly unstoppable. In addition to his five event wins, Buttar has recorded seven additional Top-5 finishes, going an impressive 23-for-35 (65.71%).
Buttar's rise to the No. 1 ranking comes as the Canadian season heats up, with just a handful of events remaining until the 2019 PBR Monster Energy Canadian Finals, presented by Dakota Dunes Casino, on Nov. 22-23 in Saskatoon, Saskatchewan. With the nation's Top 20 set to compete at the two-day event, not only will the coveted 2019 PBR Canada Championship be on the line, but also a $50,000 bonus.
Brock Radford (De Winton, Alberta) finished second to earn 195 Canadian and 30 world points.
After riding Sugar Cane (Triple R Bull Co.) for 85.5 points in Round 1, tying for third, the Albertan climbed the leaderboard when he remained perfect in the championship round, covering Checkered Flags (Rafter P) for 86.5 points.
Also gaining ground in the national title race, Radford cracked into the Top 10 for the first time in 2019. Ranked No. 15 prior to the event, Radford is now No. 8 in Canada, 1,753.32 points behind Buttar.
As the final rider to go 2-for-2, Lonnie West (Cadogan, Alberta) was third.
He rode Sleep Walk (Triple R Bull Co.) in Round 1 and Side Kick (Triple R Bull Co.) in the championship round, both for matching 85.5-point scores.
Collecting 155 Canadian and 20 world points, West rose from No. 9 to No. 7 in the national standings, now 1,683.33 points behind the No. 1 ranking.
Jake Gardner (Fort St. John, British Columbia) was fourth after riding Rhino (Triple R Bull Co.) for 86 points in Round 1.
He left the St. Tite event with 110 Canadian and 15 world points.
Gardner maintained his No. 6 ranking in the national standings.
Rounding out the Top 5 was Kyle Peterman (Woodstock, Ohio) who covered Blankspace (Triple R Bull Co.) for 85.5 points in Round 1 to net 80 Canadian and 10 world points.
PBR Canada Touring Pro Division action continues on Saturday, October 5 in Grand Prairie, Alberta, for the Grand Prairie Buckwild PBR. Action begins at 7:00 p.m. CT.
Be sure to stay tuned to PBRCanada.com and follow the tour on Facebook (PBR Canada), Twitter (@PBRCanada), and Instagram (@PBRCanada) for the latest results.
PBR Canada Touring Pro Division
St. Tite, Quebec – Coors Banquet Arena
Festival Western St. Tite
Event Results (Round 1- Round 2 -Aggr. Score-Canadian Points-World Points)
1. Dakota Buttar, 87-88-176-35-60
2. Brock Radford, 85.5-86.5-172-195-30
3. Lonnie West, 85.5-85.5-171-155-20
4. Jake Gardner, 86-0-86-110-15
5. Kyle Peterman, 85.5-0-85.5-80-10
6. Luke McCoag, 83-0-83-30-5
7. Cody Clint Brewer, 75.5-0-75.5-20-0