Team Canada Second at 2020 PBR Global Cup USA After First Night
By: Kacie Albert Saturday, February 15, 2020 @ 11:40 PM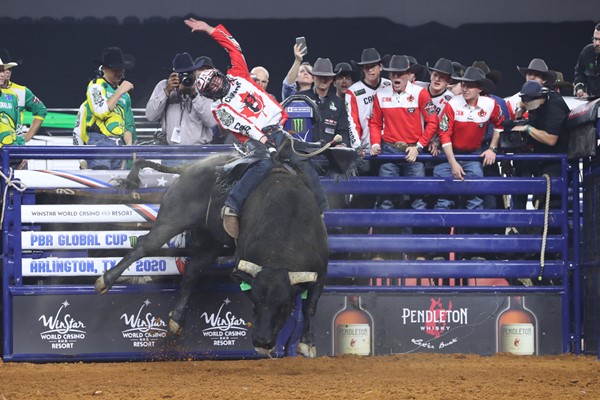 ARLINGTON, Texas – In front of a boisterous crowd inside AT&T Stadium, Team Canada concluded the first night of competition for the 2020 WinStar World Casino and Resort PBR (Professional Bull Riders) Global Cup USA, presented by Monster Energy, second, trailing leaders Team USA Eagles by 87 points.
The seven-man Canadian contingent representing the Maple Leaf was the team the other four nations were chasing the majority of the night.
The Canuck team got off to a hot start, with the country's first two riders covering their bulls.
Two-time PBR Canada Champion Zane Lambert (Ponoka, Alberta, Canada) rode Arctic Assassin (Phenom Genetics/Swalin/Sankey Pro Rodeo) for 87.75 points, while Jake Gardner (Fort St. John, British Columbia, Canada) delivered an 87-point effort aboard Medicine Man (TNT Bucking Bulls/Hart Cattle Co.)
Jordan Hansen (Okotoks, Alberta, Canada) was the final Canadian to add a score. He rode Apocalypse (Deer Prairie Creek Bucking Bulls/5S Bucking Bulls) for 85 points.
The performance comes as Team Canada looks to rebound from its dreadful performance at the 2019 PBR Global Cup USA when they finished sixth.
Team USA Eagles, led by a dominant Jess Lockwood (Volborg, Montana), surged to an early lead at the event, topping the leaderboard at the "Olympics of bull riding" after the opening rounds of competition.
The home-nation favorites, who rose to the top of the leaderboard on the night's penultimate bull, first scored when Cole Melancon (Paris, Texas) covered Top Down (Rockin R Bucking Bulls) for 86 points.
Lockwood, the next Team USA Eagles rider to climb into the chutes, then brought the raucous crowd to a roar by etching his name in the Global Cup record books.
Reaching the 8 aboard Grand Theft (Paige Stout Bucking Bulls), the two-time PBR World Champion recorded just the third 90-point ride in event history, marked 90.25 points.
Texas' own Cody Teel (Kountze, Texas) was the final Eagle to score in Round 1. He rode Peep Show (Cornwell Bucking Bulls) for 82 points.
In the first bonus round of the 2020 PBR Global Cup USA, Head Coach Justin McBride (Whitesboro, Texas), alongside Assistant Coach J.W. Hart (Overbrook, Oklahoma) and Honorary Assistant Coaches Cooper Davis (Jasper, Texas) and Chase Outlaw (Hamburg, Arkansas), tapped Lockwood and Melancon to attempt one more bull each.
While Melancon wasn't able to add another score to the total for the Red, White and Blue contingent, who were trailing only Team Canada, Lockwood once again struck at a pivotal moment.
Lockwood, who had broken his collarbone a year ago in this same arena at the 2019 PBR Global Cup USA, delivered a massive 88.5-point ride atop Red Dawn (Dakota Rodeo/Chad Berger/Clay Struve/Heald Pro Bulls) to propel Team USA Eagles to the top of the event leaderboard for the first time.
Team USA Eagles now leads second-place Team Canada by 87 points.
Third following the opening night of competition is Team Australia, 177 points behind the No. 1 spot.
The squad from Down Under's performance was headlined by Cliff Richardson's (Gresford, New South Wales, Australia) 85.5-point ride on Wicked Hou (Hart Cattle Co./Hale/Randy Wood) and two-time PBR Australia Champion Aaron Kleier's (Clermont, Queensland, Australia) 84.25-point trip aboard The Tickler (Dakota Rodeo-Chad Berger/Clay Struve/Ken Barnhard).
In a shocking result, two-time and defending PBR Global Cup Champions Team Brazil concluded the night fourth, 256.5 points behind Team USA Eagles.
Jose Vitor Leme (RIbas do Rio Pardo, Brazil) was the lone rider from the South American nation to deliver a score. His 8-second effort, however, was for a monstrous 90.25 points aboard Rising Sun (Dakota Rodeo/Chad Berger/Clay Struve/Heald Pro Bulls).
The 90-point ride was both Leme's second in Global Cup competition, and the second ever witnessed at the international, nation vs. nation bull riding event before Lockwood posted his matching score.
Fifth place was Team Mexico.
Four-time PBR Global Cup competitor Edgar Durazo (Moctezuma, Sonora, Mexico) championed the team's efforts.
As one of the two riders selected to compete in the bonus round, Durazo seized his opportunity and put the nation's first points on the board in riding Cochise (Jane Clark/Gene Owen) for 89 points, the high-marked ride of his career.  
Mexico is 257.75 points behind event-leading Team USA Eagles.
Also delivering just one qualified ride on a night that was dominated by some of the PBR's rankest bovine athletes, Team USA Wolves rounded out the leaderboard in sixth.
The all Native American team's qualified ride was recorded by Colten Jesse (Potawatomi – Konawa, Oklahoma) who was marked 85.25 points on Harold's Genuine Risk (M Rafter E Bucking Bulls).
Seeking to climb the standings on Championship Sunday, the Wolves trail the top ranking by 261.5 points.
The 2020 WinStar World Casino and Resort PBR Global Cup USA, presented by Monster Energy, concludes on Sunday, February 16 at 1:45 p.m. CST inside AT&T Stadium in Arlington, Texas.
Fans can relive all the action from the event's first night starting at 8:00 a.m. EST tomorrow, Sunday, February 16, at RidePass.com or via the mobile app.
2020 WinStar World Casino and Resort PBR Global Cup USA, presented by Monster Energy
Arlington, Texas – AT&T Stadium
(Rides – Outs – Event Aggregate)
1. Team USA Eagles, 4-8-346.75
2. Team Canada, 3-8-259.75
3. Team Australia, 2-8-169.75
4. Team Brazil, 1-8-90.25
5. Team Mexico, 1-8-89
6. Team USA Wolves, 1-8-85.25