Dakota Buttar Wins Round 2 of 2020 PBR Season-Launch Major in New York City
By: Kacie Albert Saturday, January 4, 2020 @ 11:21 PM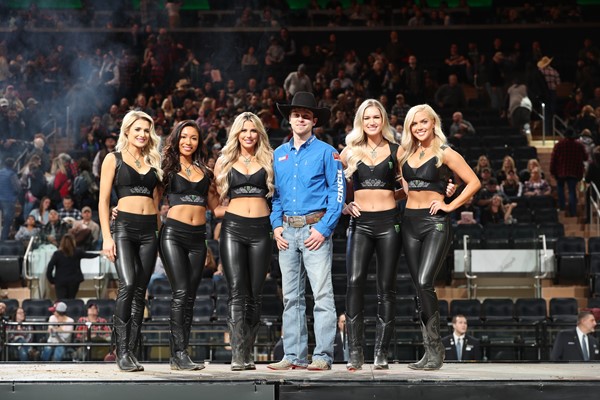 New York City – In front of a sold-out crowd of more than 13,000 people inside Madison Square Garden, Dakota Buttar (Kindersley, Saskatchewan, Canada) dominated the second night of competition in New York City, winning Round 2 of the 2020 PBR (Professional Bull Riders) Unleash The Beast Monster Energy Buck Off at The Garden, presented by Ariat.
Converting on his re-ride, the Saskatchewan man bested Total Feeds Bushwacked (Ohl/Herb/McDowell/Comozzi) for a massive 88 points. The score was a rebound from Round 1 when he bucked off Twinkle Toes (Kruger Bucking Bulls) in 3.6 seconds.
"It felt good to get one rode this year here at The Garden after getting scratched last year," Buttar said moments after stepping off the Can-Am Cage. "Getting one down takes quite a bit of pressure off me going at the championship Sunday."
The qualified ride marked the second consecutive trip the bovine athlete was covered by a Canuck. In his most recent out, Jared Parsonage (Maple Creek, Saskatchewan) rode him for 85 points during Round 3 of the 2019 PBR World Finals.
For his efforts, Buttar earned $6,500 and 30 world points. He is now No. 6 in the world.
Parsonage, who was on the back of the chutes to assist his countryman Buttar, also recorded a qualified ride in Round 2 inside "The World's Most Famous Arena." He covered Crazed Addiction (Cornwell Bucking Bulls) for 2 points.   
Buttar and Parsonage are also competing in New York City alongside fellow Canadian Brock Radford (De Winton, Alberta). Radford remains on the hunt for his first qualified ride after being bested by Living Large (Cornwell Bucking Bulls) in 5.77 seconds. In Round 1 he was bucked off by Scarface (Paradigm Bull Company) in 7.75 seconds.
After a broken leg sidelined him for the majority of the 2019 season, Cannon Cravens (Porum, Oklahoma) earned his first qualified ride of the 2020 elite tour season, finishing second in Round 2.
His 86.25-point ride aboard Salty Dog (Shippy/Tricker/M Rafter E) netted him $5,000 and 20 world points, propelling him to No. 22 in the world standings.
Jose Vitor Leme (Ribas do Rio Pardo, Brazil) and 2016 PBR World Champion Cooper Davis (Jasper, Texas) tied for third after recording matching 86-point rides.
Marking his first qualified ride of the 2020 Unleash The Beast season, Leme covered Blonde Blizzard (Mike Miller Bucking Bulls), while Davis covered Black Rose (Kruger Bucking Bulls).
Each man received 13 world points and $3,250.
In the world standings, Leme is now No. 33 while Davis, who finished second in Friday night's 15/15 Bucking Battle, climbed to No. 8.
Two-time and reigning PBR Australia Champion Aaron Kleier (Clermont, Queensland, Australia) rounded out the Top 5 in Round 2 after he recorded his career-first ride on the premier series. Covering Pneu-Dart's Coal Miner (Mike Miller Bucking Bulls) for 85.25 points, the Australian earned $1,500 and 11 world points.
In the event aggregate, Joao Ricardo Vieira (Itatinga, Brazil) sits atop the leaderboard as one of 10 riders to be a perfect 2-for-2.
Vieira tied for sixth alongside Silvano Alves (Pilar do Sul, Brazil) in Round 2 after riding Going Broke (Mike Miller Bucking Bulls) for 84.75 points.
Three-time PBR World Champion Alves, who is also perfect, and currently seventh in the aggregate, earned matching marks aboard RJ (M Rafter E Bucking Bulls/Goods Bucking Bulls).
Fans can relive all the action from Round 2, Sunday starting at 8 a.m. ET on RidePass.com or via the RidePass mobile app.
Championship Sunday from New York City, including Round 3 and the championship round, will begin Sunday, January 5 at 1:45 p.m. ET. CBS Sports Network will broadcast all the action from Championship Sunday at 8:00 p.m. ET.
PBR Unleash The Beast
Monster Energy Buck Off at The Garden, presented by Ariat
Madison Square Garden – New York City, New York
Event Leaders (Round 1-Round 2-Round 3-Round 4-Event Aggregate-Event Points)
1. Dakota Buttar, 0-88-0-0-88.00-30 Points.
(tie). Eduardo Aparecido, 89.5-81.25-0-0-170.75-30 Points.
3. João Ricardo Vieira, 89.25-84.75-0-0-174.00-28.5 Points.
4. Cannon Cravens, 0-86.25-0-0-86.25-20 Points.
5. Kaique Pacheco, 88.25-82.25-0-0-170.50-15.5 Points.
6. Cooper Davis, 0-86-0-0-86.00-13 Points.
(tie). Jess Lockwood, 88.25-0-0-0-88.25-13 Points.
(tie). Jose Vitor Leme, 0-86-0-0-86.00-13 Points.
9. Colten Jesse, 87.75-82.25-0-0-170.00-11.5 Points.
10. Aaron Kleier, 0-85.25-0-0-85.25-11 Points.
(tie). Derek Kolbaba, 88-0-0-0-88.00-11 Points.
(tie). Dylan Smith, 86.5-84-0-0-170.50-11 Points.
13. Silvano Alves, 80.5-84.75-0-0-165.25-8.5 Points.
14. Ryan Dirteater, 87.25-0-0-0-87.25-8 Points.
15. Taylor Toves, 86.75-0-0-0-86.75-6 Points.
16. Daylon Swearingen, 0-82.5-0-0-82.50-5 Points.
17. Brady Fielder, 85.75-0-0-0-85.75-3 Points.
18. Fabiano Vieira, 85.5-76.25-0-0-161.75-2 Points.
19. Cody Teel, 85-82-0-0-167.00-1 Points.
20. Jared Parsonage, 0-82-0-0-82.00-0.5 Points.
(tie). Mason Taylor, 85-0-0-0-85.00-0.5 Points.
22. Alisson De Souza, 82.25-77.5-0-0-159.75
23. Alan de Souza, 82.25-58-0-0-140.25
24. Lucas Divino, 83.25-0-0-0-83.25
25. Koal Livingston, 82.75-0-0-0-82.75
26. Matt Triplett, 79.75-0-0-0-79.75
27. Marco Eguchi, 78.5-0-0-0-78.50
Brock Radford, 0-0-0-0-0.00
Rubens Barbosa, 0-0-0-0-0.00
Claudio Montanha Jr., 0-0-0-0-0.00
Ezekiel Mitchell, 0-0-0-0-0.00
Gage Gay, 0-0-0-0-0.00
Luciano De Castro, 0-0-0-0-0.00
Stetson Lawrence, 0-0-0-0-0.00
Ramon de Lima, 0-0-0-0-0.00
Michael Lane, 0-0-0-0-0.00