Pendleton Whisky Expands Relationship with PBR, Inking International Deal with League to become Official and Exclusive Whisky of Canada's Monster Energy Tour
By: Kacie Albert Monday, October 5, 2020 @ 8:00 AM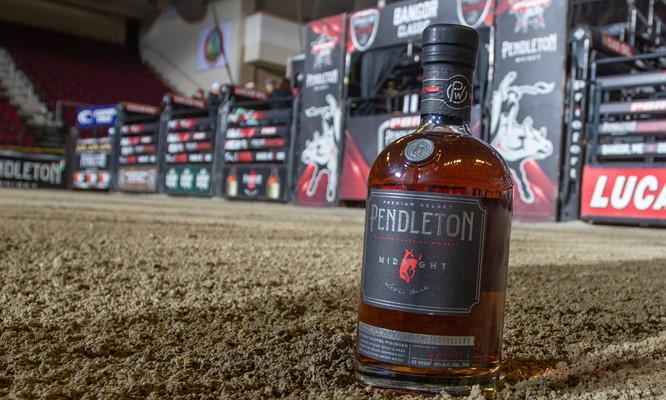 HOOD RIVER, Ore. – Expanding its multi-faceted partnership with the world's leading bull riding organization, Pendleton Whisky has inked an international deal with PBR (Professional Bull Riders), becoming the official and exclusive whisky of Canada's cross-country, nationally-televised Monster Energy Tour (MET).
In 2016, Pendleton Whisky joined the PBR Velocity Tour as the expansion series' official whisky. In 2019, the brand elevated its status as title sponsor of the series, now known as the Pendleton Whisky Velocity Tour. The same year, Pendleton Whisky also became the official and exclusive whisky of the league's prestigious PBR Global Cup, a five-nation, international, team-formatted event. Most recently, in 2020 Pendleton Whisky was named the official and exclusive whisky of the PBR Unleash The Beast tour.  
The new partnership with PBR Canada includes in-arena signage and ads, branded event activations, in-market retail and fan promotions for all Monster Energy Tour events, and digital and social media support on PBR Canada channels. Pendleton Whisky will also have a presence at select Touring Pro Division events via in-arena signage, public address announcements, award presentations, and more.
"As the official whisky of the PBR Canada Monster Energy Tour, Pendleton Whisky is excited to further its strong relationship with the most popular Western sports organization in the world," said Mike Keyes, President & CEO of Proximo Spirits. "By working hand-in-hand with PBR, we will broaden the appreciation for Western lifestyle across Canada, catapulting the reach, distribution, and sales of Pendleton Whisky, and sharing with fans what it means to 'Let'er Buck!'"
Joining the Touring Pro Division (TPD), the MET debuted in 2016 as Canada's first cross-country, nationally televised series, seen weekly on the TSN family of channels. In 2018, the MET achieved its first two sell-outs, in Calgary, Alberta and Moncton, New Brunswick. In 2019, the tour continued to expand, holding a league-high 10 events, while experiencing a 36% attendance increase year-over-year. That season, after another sold-out event in Calgary, the MET also welcomed its first capacity crowd in Edmonton, Alberta.
 "As PBR Canada continues to grow, we couldn't be more excited for Pendleton Whisky to join us as the official and exclusive whisky of the nation's elite Monster Energy Tour, while also having a presence on the Touring Pro Division," said Jason Davidson, General Manager, PBR Canada. "Thanks to the support of partners like Pendleton Whisky, we are able to continue taking the sport to new heights, creating new opportunities for both bull riders and stock contractors alike, while also bringing the esteemed brand to new communities throughout our great country."
For more information visit Pendleton Whisky online at www.pendletonwhisky.com or at @PendletonWhisky on Facebook and Instagram.