Perfect Parsonage Wins Celebration for the Two Bit Nation to Extend Lead Atop the PBR Canada National Standings
By: Kacie Albert Friday, August 6, 2021 @ 9:06 AM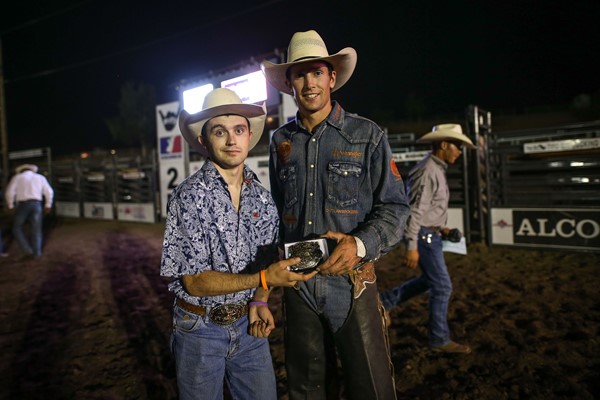 MAGRATH, Alta. – In perfect form, Jared Parsonage (Maple Creek, Saskatchewan) won his league-leading third PBR (Professional Bull Riders) Canada Touring Pro Division event Thursday evening, victorious at the Celebration for the Two Bit Nation in Magrath, Alberta, and furthering his stronghold on the No. 1 ranking in the race  for the 2021 PBR Canada Championship.
Parsonage began the event at the home of Two Bit Bucking Bulls in strong fashion, topping Round 1 when he made the 8 aboard Look Alive (Flying Four Bucking Bulls) for 85.5 points. A rematch for Parsonage, he previously covered the bull in late July en route to his second victory of the year in Kinsella, Alberta.
As the last man to leave the chutes, Parsonage faced Irish Rebel (Wilson Rodeo) who entered the showdown with a six-out buckoff streak, last covered in Calgary in January 2020 by Wacey Finkbeiner (Ponoka, Alberta) for 82 points.
In picture perfect form, Parsonage proved the more dominant athlete in the Magrath showdown, making the 8 for 87.5 points.
Parsonage's latest golden finish earned him a crucial 30 Canadian national points. Maintaining his No. 1 rank in the race for the 2021 PBR Canada Championship, the Saskatchewan man extended his lead over the No. 2-ranked rider from 7.67 points to 27 points.
Reigning PBR Canada Champion Dakota Buttar (Kindersley, Saskatchewan) was second as the only other rider to go a flawless 2-for-2.
On the spurs of an 81.5-point ride on Sick Rhymes (Two Bit Bucking Bulls) in Round 1, Buttar faced a matchup of champions in the final round, drawing 2020 PBR Canada Bull of the Year Catch My Drift (Two Bit Bucking Bulls/K Rose Ranch).
Buttar burst from the chutes, matching the powerful bull jump-for-jump, en route to an event-best, 89-point score.
As the crowd roared in raucous cheer, Buttar was awarded 21 national points for his runner-up result. After beginning the Touring Pro Division event tied for No. 5 in the national standings, Buttar surged three positions, now No. 2 and 27 points behind No. 1 Parsonage.
In 2021, Buttar is attempting to accomplish a feat never before achieved in PBR Canada history. Should he repeat as the national champion, he would become the first back-to-back PBR Canada Champion.
Buttar would also become just the third multi-time PBR Canada Champion, joining the links of three-time champion Aaron Roy (Yellow Grass, Saskatchewan) and two-time title holder Zane Lambert (Ponoka, Alberta).
Third was 2018 PBR Canada Champion Cody Coverchuk (Meadow Lake, Saskatchewan), netting 12 national points.
Coverchuk's podium finish was backed by an 81.5-point ride on Claude (Skori Bucking Bulls) in Round 1.
Also attempting to join the elite contingent of multi-time PBR Canada Champions in 2021, Coverchuk rose one position in the national standings, climbing from No. 4 to No. 3. He left the Two Bit Ranch within 31 points of No. 1 Parsonage.
Callum Miller (Warwick, Queensland, Australia) and Lambert tied for fourth courtesy of matching 79-point efforts in Round 1. They covered Bat Chute Crazy (Flying High Rodeo Co.) and Beast of Burkenshaw (Flying High Rodeo Co.), respectively, to each collect 5 national points.
Lambert's Top-5 finish allowed him to crack to the Top 10 in the national standings, climbing from No. 13 to No. 10. He is now within 65 points of the top position.
For Miller, he maintained his No. 14 ranking, inching within 71 points of No. 1 Parsonage.
PBR Canada's Touring Pro Division next travels to Coronation, Alberta, and the Coronation Rodeo Grounds for the Royal Rumbull on August 18. Action gets underway at 7:00 p.m. MDT.
Be sure to stay tuned to PBRCanada.com and follow the tour on Facebook (PBR Canada), Twitter (@PBRCanada), and Instagram (@PBRCanada) for the latest results and schedule of events.
PBR Canada Touring Pro Division – Celebration for the Two Bit Nation
Magrath, Alberta – Two Bit Ranch
Event Results (Round 1-Round 2-Event Aggregate-Canadian Points-World Points)
1. Jared Parsonage, 85.5-87.5-173-30-10
2. Dakota Buttar, 81.5-89-170.5-21-6
3. Cody Coverchuk, 81.5-0-81.5-12-4
4. Callum Miller, 79-0-79-5-2.5
(tie) Zane Lamber, 79-0-79-5-2.5
6. Ashton Sahli, 66-0-66-2-1
Dawson Shannon, 0-0-0.00-0-0
Dayton Johnston, 0-0-0.00-0-0
Nick Tetz, 0-0-0.00-0-0
Sean Clark, 0-0-0.00-0-0
Weston Davidson, 0-0-0.00-0-0
Lonnie West, 0-0-0.00-0-0
Wacey Finkbeiner, 0-0-0.00-0-0
Nicholas Klinck, 0-0-0.00-0-0
Landon Schmidt, 0-0-0.00-0-0
Todd Chotowetz, 0-0-0.00-0-0
Tim Lipsett, 0-0-0.00-0-0
Fabian Dueck, 0-0-0.00-0-0
Tanner Eno, 0-0-0.00-0-0
Griffin Smeltzer, 0-0-0.00-0-0
Blake Smith, 0-0-0.00-0-0
Brock Radford, 0-0-0.00-0-0
Tyler Craig, 0-0-0.00-0-0
Aaron Roy, 0-0-0.00-0-0
Riley Gagnon, 0-0-0.00-0-0
Micheal Ostashek, 0-0-0.00-0-0
Shay Marks, 0-0-0.00-0-0