Lonnie West Wins Czar Lake Bullarama to Crack Top 5 in the Race for the 2021 PBR Canada Championship
By: Kacie Albert Sunday, July 25, 2021 @ 4:32 PM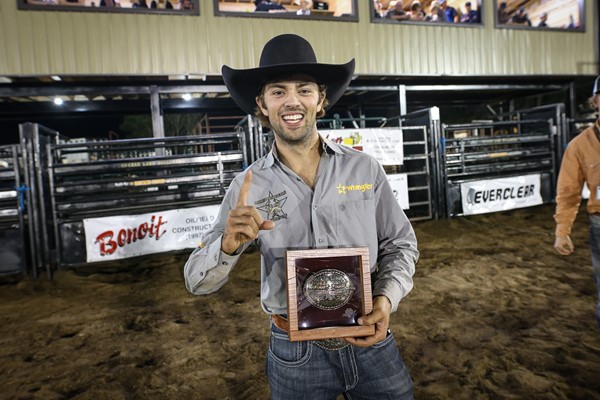 CZAR LAKE, Alta. – As the lone rider to go a perfect 2-for-2 Friday evening in Czar Lake, Alberta, Lonnie West (Cadogan, Alberta) inched closer to capturing his career-first PBR (Professional Bull Riders) Canada Championship, winning the Touring Pro Division's Czar Lake Bullarama to earn critical national points and surge to No. 4 in the Canadian standings.
In front of a raucous crowd at the Shorncliffe Lake Rodeo Grounds, West first reached the 8 in Round 1 aboard Under New Management (Outlaw Buckers Rodeo Corp.), marked 79 points.
West then punctuated his perfect performance with a championship round-winning 88-point score top Eski Time (Wild Hoggs Bucking Bulls).
For his efforts, West earned a crucial 27 national points.
After beginning the fifth Touring Pro Division event of the year ranked No. 11 in the nation, West climbed seven positions courtesy of his victory. He is now No. 4 and trails No. 1 Jared Parsonage (Maple Creek, Saskatchewan) by a mere 20 points.
Second was young gun Ashton Sahli (Red Deer, Alberta).
Fresh off a dominant performance at the mid-week event in Kinsella, Alberta, the 20-year-old continued his momentum in Round 1 in Czar Lake, recording the top score when he covered Thunder Road (Outlaw Buckers Rodeo Corp.) for 85.5 points.
Sahli's hopes of his first win, however, came to a heart-breaking end in the championship round when he was brought down in a close 5.25 by Crank-it-Up (Outlaw Buckers Rodeo Corp.).
Earning 17 national points, Sahli overtook Cody Coverchuk (Meadow Lake, Saskatchewan) for the No. 2 ranking in the national standings. Attempting to qualify for this first-ever PBR Canada National Finals, Nov. 12-13 in Edmonton, Alberta, Sahli now trails No. 1 Parsonage by a slim 11 points.
Mike Ostashek (Edson, Alberta) was third.
Despite bucking off Train Wreck (Outlaw Buckers Rodeo Corp.) in a close 7.07 seconds in the opening round, Ostashek was one of three riders given a renewed hope in the championship round, advancing via buckoff time.
Making the most of his second chance, Ostashek rode Shower NA Shave (Oultaw Buckers Rodeo Corp.) for 84.5 points to capture the bronze finish.
Netting 13 national points, Ostashek rose from No. 10 to No. 6 in the PBR Canada standings. He trails No. 1 Jared Parsonage by 31 points.
Griffin Smeltzer (Claresholm, Alberta) finished a career-best fourth at the Czar Like Bullarama.
Courtesy of his 83.5-point ride aboard Blitz Kreig (Shay Marks) in the opening round, Smeltzer earned 9 national points to rise to No. 12 in the race for the 2021 PBR Canada Championship.
Rounding out the Top 5 in fifth was 2018 PBR Canada Champion Coverchuk.
Following a Round 1 buckoff, dispatched by Norse God (Wild Hoggs Bucking Bulls) in 3.15 seconds, Coverchuk rose to the occasion in the championship round covering Hanna Motors Rhythm & Blues (Skori Bucking Bulls) for 83 points.
Despite earning 6 national points, Coverchuk slipped from No. 2 to No. 3 in the national standings.
Attempting to join Aaron Roy (Yellow Grass, Saskatchewan) and Zane Lambert (Ponoka, Alberta) in 2021 as the lone multi-time PBR Canada Champions in league history, Coverchuk is now 13 points back of the No. 1 rank.
In the bull pen, Crank-it-Up was the top-scored bovine athlete, marked an event-leading 44 points in his trip with Sahli.   
PBR Canada's Touring Pro Division next travels to Manor, Saskatchewan, and Manor Fairgrounds for the Manor PBR Touring Pro on July 24. Action gets underway at 6:30 p.m. CST.
Be sure to stay tuned to PBRCanada.com and follow the tour on Facebook (PBR Canada), Twitter (@PBRCanada), and Instagram (@PBRCanada) for the latest results and schedule of events.
PBR Canada Touring Pro Division – Czar Lake Bullarama
Czar Lake, Alberta – Shorncliffe Lake Rodeo Grounds
Event Results (Round 1-Round 2-Event Aggregate-Canadian Points-World Points)
1. Lonnie West, 79-88-167-27-10
2. Ashton Sahli [2], 85.5-0-85.5-17-6
3. Mike Ostashek, 0-84.5-84.5-13-4
4. Griffin Smeltzer, 83.5-0-83.5-9-3
5. Cody Coverchuk [1], 0-83-83-6-2
6. Dakota Buttar [1], 82-0-82-5-1
7. Nick Tetz, 76.5-0-76.5-2-0
8. Aaron Roy, 75.5-0-75.5-0-0
9. Blake Smith, 72.5-0-72.5-0-0
Jared Parsonage, 0-0-0.00-0-0
Cody Coverchuk [2], 0-0-0.00-0-0
Ashton Sahli [1], 0-0-0.00-0-0
Dakota Buttar [2], 0-0-0.00-0-0
Garrett Green, 0-0-0.00-0-0
Brock Radford, 0-0-0.00-0-0
Tyler Craig, 0-0-0.00-0-0
Callum Miller, 0-0-0.00-0-0
Shay Marks, 0-0-0.00-0-0
Fabian Dueck, 0-0-0.00-0-0
Tim Lipsett [1], 0-0-0.00-0-0
Tim Lipsett [2], 0-0-0.00-0-0
Wacey Finkbeiner, 0-0-0.00-0-0
Coy Robbins, 0-0-0.00-0-0
Dawson Shannon, 0-0-0.00-0-0
Landon Schmidt, 0-0-0.00-0-0