Coy Robbins Captures Fourth PBR Canada Touring Pro Division Event Win of 2022 With Victory in Marwayne, Alberta
By: Kacie Albert Monday, August 15, 2022 @ 3:22 PM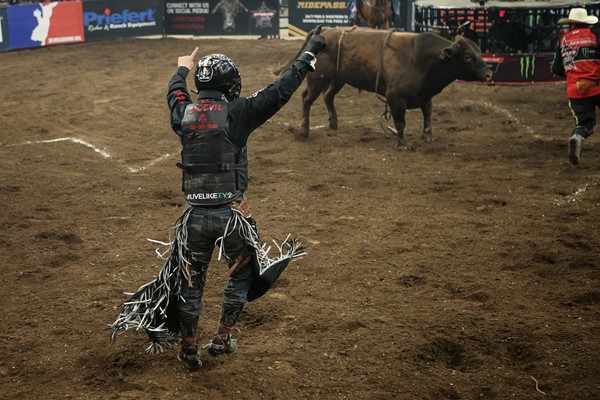 MARWAYNE, Alta. – Compliments of a perfect 2-for-2 showing Friday night in Marwayne, Alberta, Coy Robbins (Camrose, Alberta) captured his fourth PBR (Professional Bull Riders) Canada Touring Pro Division event win of the season, victorious at the 10th Annual Marwayne PBR, presented by Garnier Custom Silage.
In Round 1, the 2017 PBR Canada Rookie of the Year sailed to an early lead in the event when he covered Canadian Miracle (Wild Hoggs Bucking Bulls) for 81 points.
Robbins then clinched the win in Round 2 when he went the distance atop Middle Age Crazy (Thompson Rodeo Livestock) for 85.5 points.
For his efforts, Robbins earned a crucial 28 national points. After traveling to the event ranked No. 9 in Canada, Robbins rose four positions to No. 5. He now trails No. 1 Brock Radford (De Winton, Alberta) by 69 points.
Atop the national standings, Dakota Buttar (Eatonia, Saskatchewan) climbed within 9.5 points of No. 1 Radford after finishing fourth.
Chasing history in 2022, should 2020 PBR Canada Champion Buttar earn his second national title he would become just the fourth multi-time Champion in history, joining three-time title holder Aaron Roy (Yellow Grass, Saskatchewan) and two-time Champions Zane Lambert (Ponoka, Alberta) and Cody Coverchuk (Meadow Lake, Saskatchewan).
Buttar captured the Top 5 finish, and 6 national points, compliments of a strong showing in Round 2.
As the event got underway, Buttar was bested in the opening round by Unbroken (Eno Bucking Bulls) in 2.66 seconds.  Determined, the Saskatchewan man returned with a vengeance in the second round, covering Uproar (Foley Bucking Bulls) for 84.5 points.
Second was Landon Schmidt (Tofield, Alberta), collecting 17 national points.
Schmidt's runner-up finish was headlined by an event-best, 87-point ride atop Dealing After Midnight (Thompson Rodeo Livestock) in the second round.
Logan Biever (Claresholm, Alberta) rounded out the podium in third.
The surging Albertan earned 13 national points for his 86.5-point ride atop Firebeatz (Foley Bucking Bulls) in Round 2.
Biever rose one position in the rankings from No. 4 to No. 3, inching within 29 points of the top position.
In the bull pen, Eski Time (Wild Hoggs/Colin Eskeland) bucked a cut above the rest, crowned the Bull of the Event. The powerful animal athlete delivered an event-best 43.5-point score in Round 2 when he bucked off Chad Hartman (Lancer, Saskatchewan) in 3.31 seconds.
The 2022 PBR Canada season continues Saturday, August 13 for the Touring Pro Division's Elnora Brahma Rama in Elnora, Alberta. Action at the Elnora Agricultural Grounds gets underway at 7:30 p.m. MDT.
Stay tuned in to PBRCanada.com and follow the tour on Facebook (PBR Canada), Twitter (@PBRCanada), and Instagram (@PBRCanada) for the latest results, news, stats and more.
PBR Canada Touring Pro Division
10th Annual Marwayne PBR, presented by Garnier Custom Silage
Lea Park Rodeo Grounds – Marwayne, Alberta
(Round 1-Round 2-Event Aggregate-Event Points)
1. Coy Robbins, 81-85.5-166.50-28 Points.
2. Landon Schmidt, 0-87-87.00-17 Points.
3. Logan Biever [1], 0-86.5-86.50-13 Points.
4. Dakota Buttar, 0-84.5-84.50-6 Points.
Logan Biever [2], 0-0-0.00
Aaron Roy, 0-0-0.00
Callum Miller, 0-0-0.00
Garrett Green, 0-0-0.00
Chad Hartman, 0-0-0.00
Brian Hervey, 0-0-0.00