Dominant Dakota Buttar Sweeps the Competition to Win PBR Canada Touring Pro Division Event in Tofield, Alberta
By: Kacie Albert Friday, August 12, 2022 @ 3:45 PM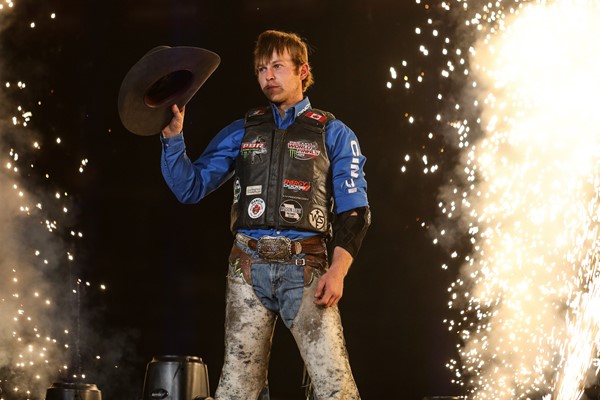 TOFIELD, Alta. – Attempting to become just the fourth multi-time PBR (Professional Bull Riders) Canada Champion in history in 2022, Dakota Buttar (Eatonia, Saskatchewan) inched closer to further cementing his name in the record books Thursday evening, sweeping the competition to win the Touring Pro Division event in Tofield, Alberta.
In Round 1, Buttar surged to an early lead when he delivered what would remain the high-marked ride of the event, scored 86 points atop Times A Tickin (Thompson Rodeo Livestock).
Buttar then readied to attempt Screamin Demon (Foley Bucking Bulls) in the second round. Matching the bovine athlete jump-for-jump, Buttar again reached the requisite 8, this time for 84.5 points to clinch the victory.
The flawless finish earned Buttar a crucial 32 national points, propelling him form No. 4 to No. 2 in the heated raced to be crowned the 2022 PBR Canada Champion and earn the accompanying $50,000 bonus.
Buttar now trails No. 1 Brock Radford (De Winton, Alberta) by a mere 15.5 national points.
As the only other rider to go a perfect 2-for-2, Coy Robbins (Camrose, Alberta) was second, collecting 17.5 national points.
The 2017 PBR Canada Rookie of the Year rode Wing Nut (Thompson Rodeo Livestock) for 83.5 points in Round 1, before going the distance atop Almost Gone (Thompson Rodeo Livestock) for a matching score in Round 2.
Robbins rose one position in the Canadian rankings from No. 10 to No. 9. He is now 97 points back of No. 1 Radford.
Compliments of a double entry Garrett Green (Meeting Creek, Alberta) finished both third and fourth.
Green earned his bronze showing via an 84-point ride atop Tractorlands Freakshow (Wild Hoggs Bucking Bulls), while his fourth-place result was headlined by an 83.5-point score aboard Pedro (Eno Bucking Bulls).
The home province hopeful left the Tofield Fairgrounds have earned a combined 19.5 national points.
Rounding out the Top 5 in fifth was two-time and reigning PBR Canada Champion Cody Coverchuk (Meadow Lake, Saskatchewan).
Coverchuk earned 4 national points for his 82.5-point ride atop True Grit (Skori Bucking Bulls).
The Saskatchewan man rose from No. 8 to No. 7 in the Canadian standings, climbing within 88 points of the No. 1 position.
Should Coverchuk conclude the season atop the standings, not only would he become the first rider to win the Canadian title in back-to-back season, but he would tie three-time Champion Aaron Roy (Yellow Grass, Saskatchewan) for most championships won by one rider.
The 2022 PBR Canada season continues Friday, August 12 for the Touring Pro Division's 10th Annual Marwayne PBR, presented by Garnier Custom Silage in Marwayne, Alberta. Action at the Lea Park Rodeo Grounds gets underway at 7:00 p.m. MDT.
Stay tuned in to PBRCanada.com and follow the tour on Facebook (PBR Canada), Twitter (@PBRCanada), and Instagram (@PBRCanada) for the latest results, news, stats and more.
PBR Canada Touring Pro Division
Tofield Bull Bash
Tofield Fairground – Tofield, Alberta
(Round 1-Round 2-Event Aggregate-Event Points)
1. Dakota Buttar, 86-84.5-170.50-32 Points.
2. Coy Robbins, 83.5-83.5-167.00-17.5 Points.
3. Garrett Green [2], 84-0-84.00-13 Points.
4. Garrett Green [1], 83.5-0-83.50-6.5 Points.
5. Cody Coverchuk, 82.5-0-82.50-4 Points.
6. Logan Biever, 0-82-82.00-5 Points.
7. Callum Miller, 79.5-0-79.50-1 Points.
8. Brian Hervey, 70.5-0-70.50
Micheal Ostashek, 0-0-0.00
Dawson Shannon, 0-0-0.00
Cauy Schmidt, 0-0-0.00
Tyler Craig, 0-0-0.00
Osman Alvarez, 0-0-0.00
Landon Schmidt, 0-0-0.00
Darrion Ference, 0-0-0.00