PBR Canada's Elite Cup Series Returns to Brandon, Manitoba For Second Consecutive Season May 27, 2023
By: Kacie Albert Wednesday, December 14, 2022 @ 10:08 AM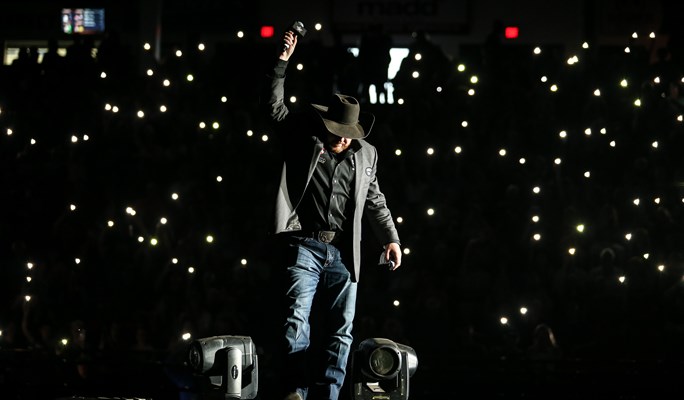 BRANDON, Man. (December 14, 2022) – For the second consecutive year, PBR (Professional Bull Riders) Canada's elite Cup Series, presented by Wrangler, will buck into Brandon, Manitoba, holding the PBR Mazergroup Chute Out at Westoba Place at the Keystone Centre on May 27, 2023.
PBR Canada's Cup Series regularly features Canada's best riders alongside some of the league's top international athletes, squaring off against the rankest bucking bulls from across the nation.
For one night only, fans will witness exhilarating 8-second rides and wrecks throughout the action-packed event as the PBR's courageous bull-riding athletes face off against their 2,000-pound opponents bred to buck.
The Brandon event will mark the third event of the nine-event 2023 season for the PBR Canada Cup Series, presented by Wrangler. Prior to travelling to the Manitoba town, the Cup Series will hold tour stops in both Red Deer and Lethbridge, Alberta.
When the elite Canadian Cup Series debuted in Brandon in June 2022, young gun Blake Smith (Abbey, Saskatchewan) delivered a flawless 2-for-2 performance to win the event.
In Round 1, Smith was in perfect time with Confused Mind (X6 Ranch Bucking Cattle/Legend Rodeo Stock), reaching the requisite 8 for 83.5 points, tying for the round win.
Smith then used his early pick in the Round 2 bull draft to select Crossfire's Black Jack (Lazy S Bucking Bulls), a decision which proved dividends. Smith matched the powerful animal athlete jump-for-jump, and the electric crowd erupted in cheer as he reached the whistle for an event-best 87 points.
Edging past the runner-up contender by a mere 2 points in the aggregate, Smith's score clinched the victory.
The event was part of the most intense national title race in PBR Canada history. As the season continued to unfurl, nine riders traveled to the PBR Canada National Finals in contention to win the honor and accompanying $50,000 bonus.
Mounting a come-from-behind surge, Nick Tetz (Calgary, Alberta) emerged the 2022 PBR Canada Champion, surpassing regular-season No. 1 Dakota Buttar (Eatonia, Saskatchewan) and holding off a hard-charging Brock Radford (De Winton, Alberta) in the final outs of the season.
When the dust settled, Tetz finished 26.5 points ahead of runner-up Radford.
The bull riding action for PBR Canada Cup Series' Mazergroup Chute Out, begins at 7:00 p.m. CT on Saturday, May 27, 2023.
Tickets for the event go on sale Friday, December 16 at 10:00 a.m. CST, and start at $30, taxes and fees not included, and can be purchased at the Westoba Place at the Keystone Centre Box Office and online at Ticketmaster.ca.
Stay tuned to PBRCanada.com and follow the tour on Facebook (PBR Canada), Twitter (@PBRCanada), and Instagram (@PBRCanada) for the latest event and broadcast schedule, results, news, stats and more.