Swearingen, Robbins and Sahli Tie for Event Win at Second Cody Snyder Charity Bullbustin'
By: Kacie Albert Thursday, July 7, 2022 @ 1:10 PM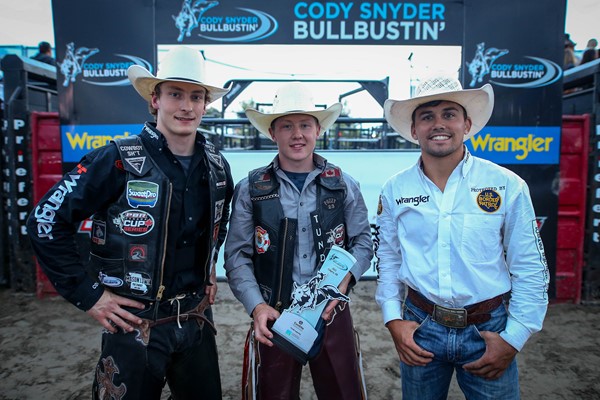 CALGARY, Alta. – As action continued for the second installment of the Cody Snyder Charity Bullbustin', part of the PBR (Professional Bull Riders) Canada Touring Pro Division, three riders shared the golden finish Wednesday evening after delivering matching aggregate scores from their perfect 2-for-2 showing at Grey Eagle Resort & Casino. Standing atop the podium was 2022 PBR World Champion Daylon Swearingen (Piffard, New York), along with 2017 PBR Canada Rookie of the Year Coy Robbins (Camrose, Alberta) and Ashton Sahli (Red Deer, Alberta).
For the Carolina Cowboys' Swearingen, he first put points on the board in Round 1 when he covered Sugar Jack (Outlaw Buckers Rodeo Corp.) for 82.5 points.
Positioned eighth on the event leaderboard entering the championship round, Swearingen next readied to go head-to-head with Phantom Fury (Wild Hoggs Bucking Bulls).
Swearingen was a picture of perfection atop the powerful animal athlete, matching him jump-for-jump en route to a monstrous 91-point score, the highest marked ride of the season thus far in Canada.
For his victory, 2019 PBR Canada Champion Swearingen earned 19 national points, rising from No. 9 to No. 6 in the heated race to be crowned the 2022 PBR Canada Champion. He now trails No. 1 Blake Smith (Abbey, Saskatchewan) by 66 points.
Should Swearingen continue his climb up the standings and earn this year's national title, he would join an elite group of multi-time PBR Canada Champions. Historically, only three riders have accomplished the feat including three-time title holder Aaron Roy (Yellow Grass, Saskatchewan) and two-time Champions Zane Lambert (Ponoka, Alberta) and Cody Coverchuk (Meadow Lake, Saskatchewan).
Robbins and Sahli tied for the victory alongside Swearingen, each collecting 22 national points.
In the opening round of competition, Robbins and Sahli delivered matching 86.5-point rides to surge to the top of the event standings. Robbins conquered Dance Monkey (Wild Hoggs/Lou Streeter), while Sahli covered Hanna Motors Rhythm & Blues (Skori Bucking Bulls).
Robbins and Sahli again mirrored one another in the final round, remaining No. 1 in the event when they both made the requisite 8 atop their championship round draws for 87 points. The duo rode Sellin Dreams (Outlaw Buckers Rodeo Corp.) and Warning Shot (Outlaw Buckers Rodeo Corp.), respectively.
In the PBR Canada national standings, Robbins rose from No. 13 to No. 11, while Sahli climbed from No. 20 to No.13.
Atop the standings, while No. 1 Smith was blanked for the second consecutive event, bucked off by Mild to Wild (Outlaw Buckers Rodeo Corp.), No. 2 Lonnie West (Cadogan, Alberta) gained ground on his countryman compliments of a seventh-place finish.
West garnered 2.5 national points courtesy of his 85.5-point ride on Thor's Hammer (Wild Hoggs Bucking Bulls) in Round 1. He now trails No. 1 Smith by a mere 22 points.
Returning to the event leaderboard, Jordan Hansen (Okotoks, Alberta) was fourth, netting 7.5 national points.
Going 2-for-2, Hansen rode Canadian Miracle (Wild Hoggs Bucking Bulls) for 85.5 points in Round 1, and PopEye (Outlaw Buckers Rodeo Corp.) for 86.5 points in the championship round.
Unranked prior to the event, Hansen is now ranked No. 24 in Canada as he seeks his career-first national title in PBR competition.
Rounding out the Top 5 in fifth was Roy.
As the final rider to be flawless in Calgary, Roy rode Broken Trigger (Skori Bucking Bulls) for 78.5 points in Round 1, before capping his efforts with an 84-point trip atop Socks (Outlaw Buckers Rodeo Corp.) in the final round.
Roy left the Grey Eagle Resort & Casino having earned 4 national points. He remained No.4 in the standings but climbed within 50 points of No. 1 Smith as he chases his unprecedented fourth national title this November in Edmonton, Alberta.
In the bull pen, Ted (Wild Hoggs/Corey Chmelnyk) bucked a cut above the rest. Crowned the Bull of the Event, Ted was scored an impressive 47 points for his 3.46-second trip with Keyshawn Whitehorse (McCracken Springs, Utah) in the final round.
The 2022 PBR Canada season will continue July 7-8 in Calgary, Alberta, for the Cody Snyder Charity Bullbustin'. Action at Grey Eagle Resort & Casino will begin nightly at 7:00 p.m. MDT.
Stay tuned in to PBRCanada.com and follow the tour on Facebook (PBR Canada), Twitter (@PBRCanada), and Instagram (@PBRCanada) for the latest results, news, stats and more.
PBR Canada Touring Pro Division
Cody Snyder Charity Bullbustin' 2
Grey Eagle Resort & Casino – Calgary, Alberta
(Round 1-Round 2-Event Aggregate-Event Points)
1. Daylon Swearingen, 82.5-91-173.50-19 Points.
(tie). Coy Robbins, 86.5-87-173.50-22 Points.
(tie). Ashton Sahli, 86.5-87-173.50-22 Points.
4. Jordan Hansen, 85.5-86.5-172.00-7.5 Points.
5. Aaron Roy, 78.5-84-162.50-4 Points.
6. Tyler Craig, 86-0-86.00-5 Points.
7. Lonnie West, 85.5-0-85.50-2.5 Points.
8. Keyshawn Whitehorse, 84.5-0-84.50
9. Cody Coverchuk, 83.5-0-83.50
10. Dakota Buttar, 79.5-0-79.50
Blake Smith, 0-0-0.00
Logan Biever, 0-0-0.00
Jared Parsonage, 0-0-0.00
Brock Radford, 0-0-0.00
Jake Gardner, 0-0-0.00
Dawson Shannon, 0-0-0.00
Nick Tetz, 0-0-0.00
Micheal Ostashek, 0-0-0.00
Marcos Gloria, 0-0-0.00
Todd Chotowetz, 0-0-0.00
Chad Hartman, 0-0-0.00
Cole Young, 0-0-0.00
Thor Hoefer II, 0-0-0.00
Cody Casper, 0-0-0.00
Nicholas Klinck, 0-0-0.00
Cauy Schmidt, 0-0-0.00