Two-Time PBR Canada Champion Cody Coverchuk Wins Cluny Lions Charity PBR
By: Kacie Albert Sunday, July 3, 2022 @ 5:53 PM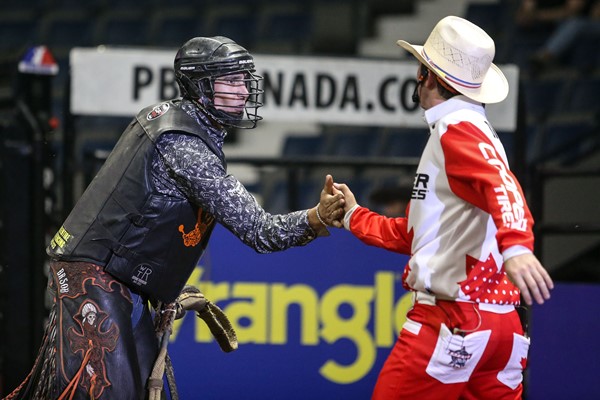 CLUNY, Alta. – Cody Coverchuk (Meadow Lake, Saskatchewan) inched closer to further etching his name in the PBR (Professional Bull Riders) record books Friday evening as the 2022 PBR Canada season continued with Touring Pro Division action in Cluny, Alberta. Going a perfect 2-for-2, Coverchuk won the Cluny Lions Charity PBR, rising to No. 8 in the national standings as he attempts to become the first-ever back-to-back PBR Canada Champion.
The Texas Rattlers rider was unmatched in Round 1, posting the top score when he covered Smog (Kinky Buckers) for 83.5 points.
Coverchuk then remained atop the event leaderboard in Round 2 when he delivered the high-marked ride of the event. In perfect time with Revelation (Wilson Rodeo), the Saskatchewan man reached the requisite 8 for 84 points.
Compliments of the perfect performance, Coverchuk collected 32 national points, climbing from No. 9 to No. 8 in the feverish race to be crowned the 2022 PBR Canada Champion.
After beginning the event 110 points behind No. 1 Blake Smith (Abbey, Saskatchewan), Coverchuk climbed within 78 points of the top position.
Should two-time and reigning Canadian Champion Coverchuk defend his title in November, he would become the first rider in history to win the honor in consecutive seasons. Coverchuk would also tie three-time title holder Aaron Roy (Yellow Grass, Saskatchewan) for most Canadian Championships earned by one rider.
As the only other rider to convert at Coulee Creek Farms, Logan Biever (Claresholm, Alberta) delivered his own flawless performance to finish second.
Biever first rode Spartacus (Wild Hoggs/Trevor Williams) for 81.5 points in Round 1, before going the distance atop All Or Nothing (Wild Hoggs Bucking Bulls) for 78 points in Round 2.
The Alberta native left his home province event having earned 20 national points. He rose one position in the Canadian standings, from No. 4 to No. 3, inching within 49 points of No. 1 Smith.
In the bull pen, Beast of Burkenshaw (Flying High Rodeo Co.) bucked a cut above the rest.
Crowned the Bull of the Event, the powerful bovine athlete was scored a Cluny Lions Charity PBR best 44 points in Round 2 when he bucked off Jake Maher (Brisbane, Queensland, Australia) in a quick 3.75 seconds.
The 2022 PBR Canada season will continue Saturday, July 2 in Ponoka, Alberta, for the Ponoka Stampede Wild West PBR. Action at the Ponoka Stampede Grounds gets underway at 8:30 p.m. MDT.
Stay tuned in to PBRCanada.com and follow the tour on Facebook (PBR Canada), Twitter (@PBRCanada), and Instagram (@PBRCanada) for the latest results, news, stats and more.
PBR Canada Touring Pro Division
Cluny Lions Charity PBR
Coulee Creek Farms – Cluny, Alberta
(Round 1-Round 2-Event Aggregate-Event Points)
1. Cody Coverchuk, 83.5-84-167.50-32 Points.
2. Logan Biever, 81.5-78-159.50-20 Points.
Aaron Roy, 0-0-0.00
Brock Radford, 0-0-0.00
Chad Hartman, 0-0-0.00
Tehiko Neill, 0-0-0.00
Jake Maher, 0-0-0.00
Wyatt Fenning, 0-0-0.00
Reed Duncan, 0-0-0.00
Avery Lacusta, 0-0-0.00
Kole Dolgopol, 0-0-0.00