Three-Time PBR Canada Champion Aaron Roy Leads Touring Pro Division Event in Prince Albert After Opening Night of Competition
By: Kacie Albert Saturday, May 28, 2022 @ 1:09 PM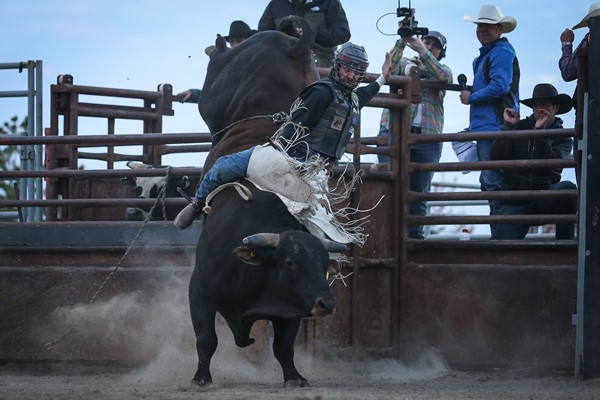 PRINCE ALBERT, Sask. – The 2022 PBR (Professional Bull Riders) Canada season continued Friday night, as the first of two evenings of competition for the Touring Pro Division's Clunie/Cooper Memorial PBR, presented by Riverside Dodge, got underway. As the only rider to go a perfect 2-for-2 at the Byrne Ranch, three-time Canadian Champion Aaron Roy (Yellow Grass, Saskatchewan) jumped to an early lead as he seeks his unprecedented fourth national title this November.
In Round 1, Roy posted the third best score, going the distance atop Toxic Traits (CS Bucking Bulls) for 78.5 points.
Returning poised in the championship round, Roy surged to the top of the leaderboard when he made the requisite 8 aboard Finning Nikki Sixx (Flying Four Bucking Bulls) for 70 points.
Amassing 148.5 aggregate points, Roy leads runner-up Callum Miller (Warwick, Queensland, Australia) by 62 points.
Miller's silver finish was headlined by the high-marked ride of the event.
Advancing to the championship round on time, Miller made the most of his renewed hopes of victory.
Going head-to-head with Sure Shot (Skori Bucking Bulls), Miller was a picture of perfection as he matched the animal athlete jump-for-jump en route to an 86.5-point score.
Third was Round 1 winner Garrett Green (Meeting Creek, Alberta).
Green rode Big Easy (Skori Bucking Bulls) for 83.5 points.
The 30-year-old, however, did not compete in the final round after sustaining a hand injury in the chutes during the first round.
Coy Robbins (Camrose, Alberta), the current No. 1-ranked rider in the race for the 2022 PBR Canada Championship, is fourth.
Robbins bested Spartacus (Wild Hoggs/Trevor Williams) in Round 1 for an 80.5-point score.
As the only other rider to deliver a qualified ride Friday evening, Stefan Tonita (Saskatoon, Saskatchewan) rounded out the Top 5 in fifth.
The 19-year-old sensation rode James Bond (CS Bucking Bulls) for 75 points.
The Clunie/Cooper Memorial PBR, presented by Riverside Dodge, will conclude on Saturday, May 28. Action at the Byrne Ranch will get underway at 6:30 p.m. CST.
Stay tuned in to PBRCanada.com and follow the tour on Facebook (PBR Canada), Twitter (@PBRCanada), and Instagram (@PBRCanada) for the latest results, news, stats and more.
PBR Canada Touring Pro Division
Clunie/Cooper Memorial PBR, presented by Riverside Dodge
Byrne Ranch – Prince Albert, Saskatchewan
(Round 1-Round 2-Event Aggregate)
1. Aaron Roy, 78.5-70-148.5
2. Callum Miller, 0-86.5-86.5
3. Garrett Green, 83.5-0-83.5
4. Coy Robbins, 80.5-0-80.5
5. Stefan Tonita, 75-0-75
Nick Tetz, 0-0-0.00
Cody Coverchuk, 0-0-0.00
Zane Lambert, 0-0-0.00
Logan Biever, 0-0-0.00
Mike Ostashek, 0-0-0.00
Brock Radford, 0-0-0.00
Ashton Sahli, 0-0-0.00
Tanner Eno, 0-0-0.00
Dakota Buttar, 0-0-0.00
Griffin Smeltzer, 0-0-0.00
Tim Lipsett, 0-0-0.00
Tyler Craig, 0-0-0.00
Chad Hartman, 0-0-0.00
Dawson Shannon, 0-0-0.00
Weston Davidson, 0-0-0.00
Ethan Schultz, 0-0-0.00
Chance Switzer, 0-0-0.00
Tyson Salmon, 0-0-0.00
Tanner Skene, 0-0-0.00
Elijah Gordon, 0-0-0.00
Jett Lambert, 0-0-0.00
Clay Gordon, 0-0-0.00
Cole Hartman, 0-0-0.00