Two-Time PBR World Champion Jose Vitor Leme Teams with Canadian Bull Norse God for Round 5 Victory at 2022 PBR World Finals
By: Kacie Albert Saturday, May 21, 2022 @ 11:38 AM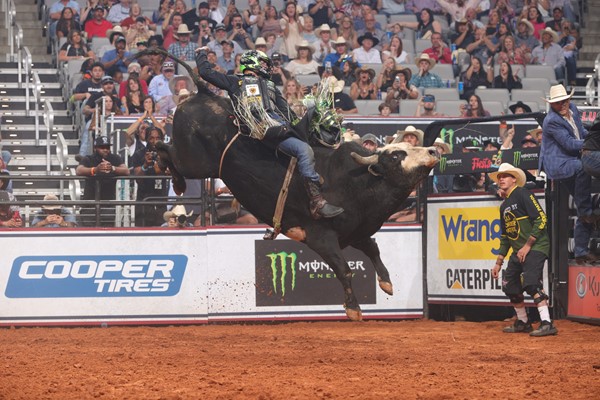 FORT WORTH, Tex. – Two-time and reigning PBR (Professional Bull Riders) World Champion Jose Vitor Leme (Ribas do Rio Pardo, Brazil) put the bull riding world on notice Friday evening as the 2022 PBR World Finals: Unleash The Beast continued with Round 5 inside Dickies Arena. Teaming with Canadian bovine Norse God (Wild Hoggs Bucking Bulls), Leme delivered a monstrous, round-winning 90-point ride to surge to No. 4 in the world, and second on the World Finals event leaderboard.
Atop the world standings, 2019 PBR Canada Champion Daylon Swearingen (Piffard, New York) continued to ride supreme in the Lone Star State, delivering a commanding 90-point ride in the fifth round of competition, furthering his stronghold on the world No. 1 rank and also overtaking the top position on the World Finals event leaderboard.
For Leme, he was in perfect time with Alberta bovine Norse God, making giant moves while completely centered on the bull. Leme was marked a commanding 92.75 points, including Norse God's 44.75-point bull score, to earn $35,000 and 89 world points.
"He was always one of my first picks," Leme, who had the 26th pick in he Round 5 draft, said of Norse God. "He was my second pick, and I was surprised he left to me," Leme said. "I was so far behind, and last night happened – everything is for a reason."
As the 40 best bull riders in the world ready for Round 6 on Saturday night, Leme is now within 270.66 points of the world No. 1 rank.
Should Leme once again be crowned the PBR World Champion in 2022, the stoic Brazilian would become the first rider in history to claim the honor in three consecutive seasons and just the third three-time PBR World Champion.
Norse God was joined in the draw by fellow Canadian bull Gaume Farms Stickin "n" Movin (Eno Bucking Bulls).
Gaume Farms Stickin "n" Movin was marked 43.75 points as he was covered by affable Brazilian Lucas Divino (Nova Crixas, Brazil) for 89.5 points, the fifth-best score of the round.
For the second consecutive night, Swearingen padded his lead atop the standings by converting in the final out of the evening.
Swearingen was a picture of perfection atop Lone Survivor (Whitman Bucking Bulls/Jenkins Cattle Co.), reaching the requisite 8 for 91.5 points.
The 90-point ride is Swearingen's second of the marathon event. In Round 2, Swearingen recorded his first score of the 2022 PBR World Finals when he rode Big Black (K-C Bucking Bulls/Joe & Nina Webb) for a career-best 93 points.
The score, which was the fourth-best of Round 5's four 90-point rides, earned Swearingen a check for $10,000 and a crucial 41 world points. While he began the evening 44.99 points out front, Swearingen now leads No. 2 contender Vieira by 85.99 points.
Swearingen is also now the top-ranked rider in the World Finals event standings. Having gone 4-for-5 with a combined aggregate score of 359.75 points, he leads second-place Leme in the event by five points.
For the second consecutive night, world No. 2 Joao Ricardo Vieira (Itatinga, Brazil) was upended by his bovine athlete opponent.
In the fifth round of bull riding's most prestigious event, the popular veteran rider was bucked off in 5.63 seconds by Soy El Fuego (Winston/Melton/Stockyards Pro Rodeo).
Vieira, who is attempting to become the oldest PBR World Champion in history this season, is now seventh in the event standings, having gone 3-for-5 thus far.
World No. 3 Kaique Pacheco (Itatiba, Brazil) also suffered defeat in Round 5.
Continuing to compete with a broken foot, 2018 PBR World Champion Pacheco was bucked off by Tortuga (Halpain/Martinelli) in 5.02 seconds.
The "Ice Man" is now 87.49 points back of No. 1 Swearingen. In the event standings, Pacheco, who has gone 3-for-5, is fourth, 87.5 points behind leader Swearingen.
Round 5 of the 2022 PBR World Finals featured a breakthrough performance for 19-year-old sensation Bob Mitchell (Steelville, Missouri).
Converting atop Big Wave (Lone Star/Outlaw/Maynes/D&H Cattle Co.) for his first qualified ride at his debut PBR World Finals, Mitchell was marked 88.75 points, earning 28 world points.
Atop the standings in the race for the coveted Rookie of the Year honor, Mitchell extended his lead over No. 2 Clayton Sellars (Fruitland Park, Florida) to 66.92 points. Sellars, who missed Round 2 due to injury, has yet to cover at the event. In Round 5, he was bucked off by Buffalo Heifer (Lucas Manning Bucking Bulls) in a heartbreaking 7.06 seconds.
Returning to the Round 5 leaderboard, Dalton Kasel (Muleshoe, Texas) and Dener Barbosa (Paulo de Faria, Brazil) tied for second after logging matching 92-point rides. The duo covered Mr. Excavator (Cornwell Bucking Bulls) and Flapjack (Parker/OK Corralis/Gordon/D&H Cattle), respectively, each collecting $17,500 and 47 world points.
Kasel remained No. 7 in the world, and Barbosa climbed one position from No. 12 to No. 11.
Reigning PBR Rookie of the Year Eli Vastbinder (Statesville, North Carolina) delivered his second consecutive ride, and third overall of the event, in Round 5 to gain one position in the world standings.
Vastbinder, who covered WSM's Trail of Tears (WSM Auctioneers/Clay Struve/Dakota Rodeo/Chad Berger) for 89 points to finish sixth in the round and collect 32 world points, is now No. 9 in the world after beginning the evening's competition No. 10.
The reserved North Carolinian trails No. 1 Swearingen by 495.33 points.
The score also elevated Vastbinder to sixth in the World Finals event. Having gone 3-for-5 to amass 264.25 points, Vastbinder is within 95.5 points of overtaking the event lead.
Round 5 of the 2022 PBR World Finals also included the Top 15 3- and 4-year-old ABBI (American Bucking Bull Inc.) Classic bulls from Round 1.
Current No. 1 Classic bull in the ABBI standings Cool Whip (Julian Cattle & Staci Addison/D&H Cattle/Crooked W) extended his lead with a 91.6-point out Friday evening, and a 180.4-point average across the two performances. The bovine earned the championship title and more than $10,000.
Alakazam finished second with 178.88 points for just under $7,000, while Tchoupitoulas (Heavy Hitters Group/Twisted T Livestock) was not far behind with 178.56 points for a third-place finish and more than $5,000.
Flapjack landed in fourth with 178.08 points for $4,000 and Mr. Excavator rounded out the Top 5 with 177.68 points for just under $3,500.
The 2022 PBR World Finals: Unleash The Beast continues with Round 6 on Saturday, May 21 at 7:45 p.m. CDT.
PBR RidePass on Pluto TV will offer re-airs and on-demand replays of every PBR Unleash The Beast event. PBR RidePass is available on desktops, laptops and mobile devices via www.pluto.tv. Tune to channel 720 for the latest programming schedule, and click here for on-demand PBR programming.
Stay tuned to PBR.com for the latest news and results, and be sure to follow the league on all social media platforms at @PBR.
PBR Unleash The Beast
PBR World Finals: Unleash The Beast
Dickies Arena – Fort Worth, Texas
Event Leaders (Round 1-Round 2-Round 3-Round 4-Round 5-Round 6-Round 7-Round 8-Event Aggregate-Event Points)
1. Daylon Swearingen, 0-93-89.5-85.75-91.5-0-0-0-359.75-166 Points.
2. Jose Vitor Leme, 85.75-90.25-86-0-92.75-0-0-0-354.75-156.33 Points.
3. Cody Jesus, 89-90.25-89-84.75-0-0-0-0-353.00-129 Points.
4. Kaique Pacheco, 0-91.75-89-91.5-0-0-0-0-272.25-168 Points.
5. Luciano De Castro, 0-91.25-90.25-0-85.25-0-0-0-266.75-146 Points.
6. Eli Vastbinder, 87.5-0-0-87.75-89-0-0-0-264.25-90 Points.
7. João Ricardo Vieira, 90.25-86-87.75-0-0-0-0-0-264.00-89 Points.
8. Dalton Kasel, 90.25-0-0-0-92-0-0-0-182.25-92 Points.
9. Josh Frost, 88.75-92.75-0-0-0-0-0-0-181.50-77 Points.
10. Dener Barbosa, 0-0-0-89.25-92-0-0-0-181.25-87 Points.
11. Brady Oleson, 91.25-0-0-89.5-0-0-0-0-180.75-133 Points.
12. João Henrique Lucas, 0-0-0-91.25-86.5-0-0-0-177.75-73 Points.
13. Ezekiel Mitchell, 88.5-89-0-0-0-0-0-0-177.50-52 Points.
14. Ramon de Lima, 0-0-88.75-87.75-0-0-0-0-176.50-66 Points.
15. Lucas Divino, 0-0-85.75-0-89.5-0-0-0-175.25-52 Points.
16. Andrew Alvidrez, 85.75-0-89.25-0-0-0-0-0-175.00-60.33 Points.
17. Mauricio Gulla Moreira, 0-94.25-0-0-0-0-0-0-94.25-89 Points.
18. Mason Taylor, 90.25-0-0-0-0-0-0-0-90.25-45 Points.
19. Bob Mitchell, 0-0-0-0-88.75-0-0-0-88.75-28 Points.
20. Eduardo Aparecido, 0-0-87.5-0-0-0-0-0-87.50-24 Points.
21. Ednei Caminhas, 0-87.25-0-0-0-0-0-0-87.25-20 Points.
22. Marcelo Procopio Pereira, 85.75-0-0-0-0-0-0-0-85.75-16.33 Points.
23. Cody Teel, 0-0-84.5-0-0-0-0-0-84.50-13 Points.
24. Brady Fielder, 84.25-0-0-0-0-0-0-0-84.25-12 Points.
Austin Richardson, 0-0-0-0-0-0-0-0-0.00
Derek Kolbaba, 0-0-0-0-0-0-0-0-0.00
Chase Dougherty, 0-0-0-0-0-0-0-0-0.00
Manoelito de Souza Junior, 0-0-0-0-0-0-0-0-0.00
Clayton Sellars, 0-0-0-0-0-0-0-0-0.00
Rafael Henrique dos Santos, 0-0-0-0-0-0-0-0-0.00
Dakota Louis, 0-0-0-0-0-0-0-0-0.00
Keyshawn Whitehorse, 0-0-0-0-0-0-0-0-0.00
Matt Triplett, 0-0-0-0-0-0-0-0-0.00
Marco Eguchi, 0-0-0-0-0-0-0-0-0.00
Claudio Montanha Jr., 0-0-0-0-0-0-0-0-0.00
Silvano Alves, 0-0-0-0-0-0-0-0-0.00
Alex Marcilio, 0-0-0-0-0-0-0-0-0.00
Adriano Salgado, 0-0-0-0-0-0-0-0-0.00
Brandon Davis, 0-0-0-0-0-0-0-0-0.00
Casey Coulter, 0-0-0-0-0-0-0-0-0.00
Alex Cardozo, 0-0-0-0-0-0-0-0-0.00