Perfect Cody Coverchuk Wins Final Touring Pro Division Event of 2022 in Yorkton, Saskatchewan
By: Kacie Albert Tuesday, November 8, 2022 @ 10:35 AM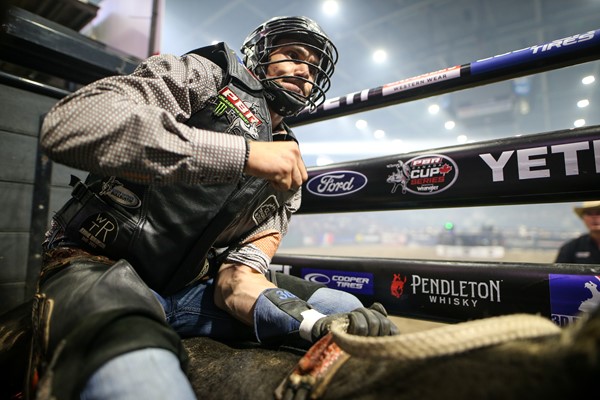 YORKTON, Sask. – At the final regular-season PBR (Professional Bull Riders) Canada Touring Pro Division event of the season in Yorkton, Saskatchewan, two-time and reigning Canadian Champion Cody Coverchuk (Meadow Lake, Saskatchewan) went a perfect 4-for-4 to win the event and surge from No. 9 to No. 7 in the national standings.
Should Coverchuk be crowned the 2022 PBR Canada Champion he would not only tie Aaron Roy (Yellow Grass, Saskatchewan) for most titles won by one rider, but he would also become the first rider to win the honor in consecutive seasons.
Coverchuk got off to a quick start in Round 1, delivering the second-best score when he covered Pure Feeling (Vold Rodeo) for 83.5 points.
The Saskatchewan man then surged to the top of the event leaderboard when he rode Stutter Step (Vold Rodeo) for 84 points in Round 2.
As competition continued in the third round, Coverchuk went head-to-head with Farva (CS Bucking Bulls). Reaching the requisite 8, Coverchuk tied for the round win when he was awarded 83.5 points.
Coverchuk then clinched the event win in Round 4 when he went the distance atop Patches O'Houlihan (Flying Four Bucking Bulls) for 81 points.
The flawless 4-for-4 finish garnered Coverchuk a much needed 18 national points. He climbed from No. 9 to No. 7 in the heated battle to be crowned the 2022 PBR Canada Champion. He is now within 101 points of No. 1 Dakota Buttar (Eatonia, Saskatchewan).
Second was William Barrows (Formost, Alberta), collecting 10 national points.
Going 2-for-4, Barrows' outing in Yorkton was bookended by scores.
After winning Round 1 via an 84-point score on Quiet Riot (Lazy S Bucking Bulls), Barrows topped Round 4 with an 83.5-point effort aboard Cliff (Vold Rodeo).
Tyler Craig (Crossfield, Alberta) was third.
Craig collected 8 national points compliments of his 82.5-point ride on Liquor Shakes (Vold Rodeo) in Round 1 and 81.5-point score atop Moe Joe (CS Bucking Bulls) in Round 4.
He rose one position in the national standings from No. 23 to No. 22.
Fourth was Round 2-winner Keaton Martz (Forestburg, Alberta).
Martz' 84.5-point ride on Brady's Mr. Clean (Shay Marks) garnered him 4 national points.
Rounding out the Top 5 in fifth was three-time PBR Canada Champion Roy.
Roy's 83.5-point ride on Bull Dog (Lazy S Bucking Bulls) netted him 3 national points.
He cracked the Top 5 in the national standings, rising from No. 6 to No. 5. He is now within 78 points of No. 1 Buttar.
In the bull pen, Heavy on the Grind (Vold Rodeo) bucked a cut above the rest, named the Bull of the Event. Bucking in Round 2, the powerful animal athlete was scored 43 points for his 3.56-second buck off of Chad Hartman (Lancer, Saskatchewan).
The 2022 PBR Canada season will conclude in Edmonton, Alberta for the PBR Canada National Finals, presented by Command Tubular Products, when the 2022 PBR Canada Champion will be crowned, earning the accompanying $50,000 bonus. Action for the year-end event inside Rogers Place will get underway at 7:00 p.m. MT on Friday, November 11 and Saturday, November 12.
Stay tuned in to PBRCanada.com and follow the tour on Facebook (PBR Canada), Twitter (@PBRCanada), and Instagram (@PBRCanada) for the latest results, news, stats and more.
PBR Canada Touring Pro Division
Mazergroup PBR
Gallagher Centre – Yorkton, Saskatchewan
Event Leaders (Round 1-Round 2-Round 3-Round 4-Event Aggregate-Event Points)
1. Cody Coverchuk, 83.5-84-83.5-81-332.00-18 Points.
2. William Barrows, 84-0-0-83.5-167.50-10 Points.
3. Tyler Craig, 82.5-0-0-81.5-164.00-8 Points.
4. Keaton Martz, 0-84.5-0-63-147.50-4 Points.
5. Aaron Roy, 0-0-83.5-0-83.50-3 Points.
6. Reed Duncan, 82-0-0-0-82.00-2 Points.
7. Jake Maher, 0-0-0-80-80.00-1 Points.
8. Stefan Tonita, 0-0-76-0-76.00
9. Cody Fraser, 0-72-0-0-72.00
Chad Hartman, 0-0-0-0-0.00
Weston Davidson, 0-0-0-0-0.00
Tim Lipsett, 0-0-0-0-0.00
Karson Turel, 0-0-0-0-0.00
Tyson Salmon, 0-0-0-0-0.00
Bodee Kalssen, 0-0-0-0-0.00
Orrin Marshall, 0-0-0-0-0.00
Cody Braithwaite, 0-0-0-0-0.00
Trinity Bear, 0-0-0-0-0.00
Jud Colliness, 0-0-0-0-0.00
Tyler Mitchell, 0-0-0-0-0.00