Truth & Reconciliation Day Ceremony to be Held During PBR Canada Event on Sept. 30 at Bonnetts Energy Centre in Grande Prairie
By: Kacie Albert Tuesday, September 27, 2022 @ 9:34 AM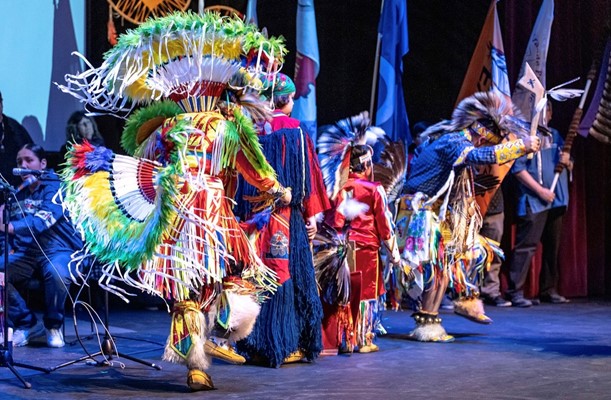 GRANDE PRAIRIE, Alta. – The Grande Prairie Friendship Centre, Hammerhead Resources and PBR (Professional Bull Riders) Canada today announced that a Truth & Reconciliation Day Ceremony will be held during the PBR Peace Country Invitational at Bonnetts Energy Centre on Sept. 30 in honour of the indigenous children who never returned home and the survivors of residential schools, as well as their families and communities.
"The Grande Prairie Friendship Centre is excited for the opportunity to partner and highlight the Indigenous Culture through an Indigenous lens," said Miranda Laroche, Executive Director of the Grande Prairie Friendship Centre. "We are fortunate to have rich culture in this area and wonderful collaborating opportunities."
Prior to the start of the PBR Peace Country Invitational at 7:00 p.m. MT on Friday, September 30, Canada's National Day for Truth and Reconciliation, a Grand Entry will be held inside Bonnetts Energy Centre.
The traditional Grand Entry gather will include:
Councillor Grant Goodswimmer from Sturgeon Lake Cree Nation
National Association of Friendship Centres President Kelly Benning
Grande Prairie Friendship Centre President Leonard Auger
Grande Prairie Friendship Centre Flag presentation by Miranda Laroche, Abby Bourque and Sheila Moerkoert
Every Child Matters Flag presentation by Grande Prairie Friendship Centre Youth Representative Shaniele McDonald
The Red Elk Drummers
A rare collaboration between three of Grande Prairie's most recognized dance groups, featuring more than 30 dancers from the Traditional Paths, Blue Bird Dancers and Soto Family.
An act of solidarity in arena between the Peace Country Indigenous Community and competing bull riders.
Word of Truth from residential school survivor and Metis Elder Angie Crerar.
Cree Prayer and National Anthem by performed by Sturgeon Lake Cree Nation Elder Theresa Gladue.
The event will continue with performances by the traditional dancers and drummers throughout intermission.
Patrons are encouraged to show their support and wear an orange shirt in recognition of Truth and Reconciliation, and Every Child Matters.
The PBR Peace Country Invitational, presented by Ritchie Bros., gets underway at 7:00 p.m. MT on Friday, September 30. Tickets are still available and can be purchased online at BonnettsEnergyCentre.com, and by phone at (780) 538-0387.