Tyler Craig Wins PBR Canada Touring Pro Division Event in Longview, Alberta
By: Kacie Albert Tuesday, September 20, 2022 @ 1:47 PM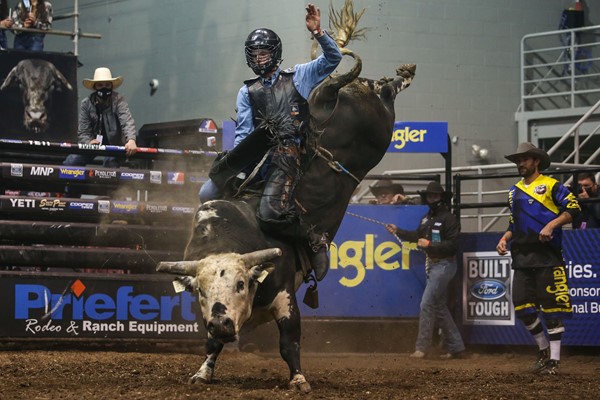 LONGVIEW, Alta. – Young gun Tyler Craig (Crossfield, Alberta) reached a crucial career milestone Saturday evening, topping the field in Longview, Alberta to win his first PBR (Professional Bull Riders) Canada event, victorious at the Touring Pro Division's PBR Longview.
In the one-round event, Craig was unrivaled.
Matched with Boo (X6 Ranch Bucking Cattle/Legend Rodeo Stock), the 21-year-old reached the requisite 8 for a victory-clinching 82.5 points.
The golden finish garnered Craig a crucial 18 national points. He is now ranked No. 23 in the race to be crowned the 2022 PBR Canada Champion, 18 points outside of the Top 20.
Cauy Schmidt (Coronation, Alberta) and Weston Davidson (Strongfield, Saskatchewan) tied for second, each netting 9 national points.
Both marked 82 points, Schmidt covered Thor's Hammer (Wild Hoggs Bucking Bulls) and Davidson rode Ring Neck Pheasant (X6 Ranch Bucking Cattle/Legend Rodeo Stock).
As the only other rider to deliver a score, Tyson Thue was fourth.
Thue covered Hurricane Wine (Wild Hoggs Bucking Bulls) for 75 points to net 4 national points.
In the bull pen, Later Gator (Wild Hoggs/Colin Eskeland) dominated, marked an event-best 43.5 points for his 2.34-second trip with Stefan Tonita (Saskatoon, Saskatchewan).
The 2022 PBR Canada season continues September 23-24 when the elite Cup Series, presented by Wrangler, returns to competition in Lethbridge, Alberta, for the PBR South Country Co-op Showdown, presented by VisitLethbridge.com and Ritchie Bros. Action at ENMAX Centre gets underway at 7:00 p.m. MT on Friday, September 23 and Saturday, September 24.
Stay tuned to PBRCanada.com and follow the tour on Facebook (PBR Canada), Twitter (@PBRCanada), and Instagram (@PBRCanada) for the latest results, news, stats and more.
PBR Canada Touring Pro Division
PBR Longview
John Scott Arena – Longview, Alberta
(Round 1- Event Aggregate-Event Points)
1. Tyler Craig [2], 82.5-82.50-18 Points.
2. Cauy Schmidt [2], 82-82.00-9 Points.
(tie). Weston Davidson [2], 82-82.00-9 Points.
4. Tyson Thue [1], 75-75.00-4 Points.
Cauy Schmidt [1], 0-0.00
Weston Davidson [1], 0-0.00
Tyler Craig [1], 0-0.00
Stefan Tonita [1], 0-0.00
Stefan Tonita [2], 0-0.00
Tyson Thue [2], 0-0.00
Jake Maher [1], 0-0.00
Jake Maher [2], 0-0.00
Lonnie Phillips, 0-0.00
Cailen Stevenson [1], 0-0.00
Cailen Stevenson [2], 0-0.00