Coy Robbins and Cody Fraser Tie For Event Victory at PBR Canada Touring Pro Division Event in Marwayne, Alberta
By: Kacie Albert Monday, April 3, 2023 @ 2:47 PM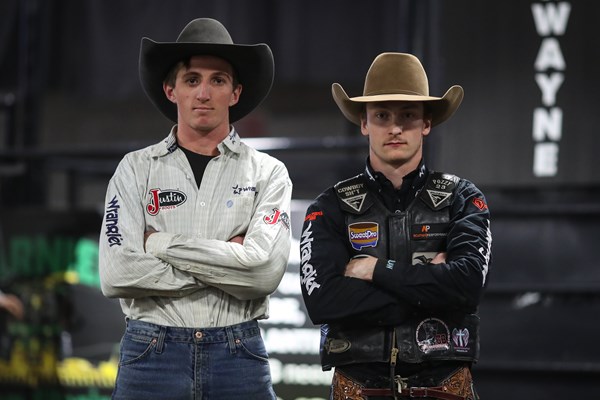 MARWAYNE, Alta. – As the 2023 PBR (Professional Bull Riders) Canada season continued in Marwayne, Alberta, Coy Robbins (Camrose, Alberta) and Cody Fraser (Wilmington, South Australia, Australia) rode supreme, tying for the event win at the Touring Pro Division's Garnier Custom Silage Marwayne PBR, presented by Obvious Enterprises.
Robbins began his march to victory on a high note, logging the top score in Round 1 inside the Marwayne Multiplex when he covered Firestone (Foley Bucking Bulls) for 84 points.
The 2017 PBR Canada Rookie of the Year then remained atop the event leaderboard when he topped Dealing After Midnight (Thompson Rodeo Livestock) for 83.5 points in Round 2.
Robbins' efforts earned him a crucial 33.5 national points in the race to be crowned the 2023 PBR Canada Championship. He rose one position in the standings from No. 4 to No. 3. He is now within 23 points of No. 1 Jared Parsonage (Maple Creek, Saskatchewan).
Australian sensation Fraser also went 2-for-2 to tie for the victory alongside Robbins, garnering 32.5 national points.
After riding Times A Wasting (Thompson Rodeo Livestock) for 81 points in Round 1, Fraser delivered the high-marked ride of the event in Round 2, dominating Sure Shot (Skori Bucking Bulls) for 86.5 points, to surge to the top of the leaderboard.
Fraser rose from No. 7 to No. 6 in the Canadian standings, climbing within 55.5 points of No. 1 Parsonage.
Third was 2020 PBR Canada Champion Dakota Buttar (Eatonia, Saskatchewan).
Buttar rode Bob's Your Uncle (Wild Hoggs Bucking Bulls) for 82 points in Round 1, then went the distance aboard Uproar (Foley Bucking Bulls) for 81 points in Round 2.
The podium finish earned Buttar 26 Canadian points. He slingshot seven positions in the standings, rising from No. 24 to No. 17. Chasing his second PBR Canada Championship this November, Buttar is now just 121 points back of No. 1 Parsonage.
Aaron Roy (Yellow Grass, Saskatchewan) was fourth.
Roy was seventh in the event following Round 1, compliments of his 80-point ride on Barnyard (Eno Bucking Bulls). He then cracked the Top 5 when he topped Moonwalk (Thompson Rodeo Livestock) for 82.5 points in Round 2.
Seeking his unprecedented fourth national title, Roy collected 22 Canadian points to move from No. 18 to No. 13 in the championship race. The veteran Canuck is now within 107 points of the No. 1 rank.
Rounding out the Top 5 in fifth was Tyler Craig (Crossfield, Alberta).
Craig's 81-point ride on Angry Bob (Wild Hoggs Bucking Bulls) and 75-point trip atop Smart Donkey (Wild Hoggs Bucking Bulls) earned him 20 national points.
The flawless 2-for-2 performance allowed the young Albertan to crack the Top 10 in Canada. He rose from No. 13 to No. 9, now within 98 points of No. 1 Parsonage.
PBR Canada's Touring Pro Division next travels to Brooks, Alberta, for the Koye Larson Memorial PBR on Saturday, May 6. Action at the Silver Sage Community Corral gets underway at 7:00 p.m. MDT.
Stay tuned in to PBRCanada.com and follow the tour on Facebook (PBR Canada), Twitter (@PBRCanada), and Instagram (@PBRCanada) for the latest results, news, stats and more.
PBR Canada Touring Pro Division
Garnier Custom Silage Marwayne PBR, presented by Obvious Enterprises
Marwayne Multiplex – Marwayne, Alberta
Event Leaders (Round 1-Round 2-Event Aggregate-Event Points)
1. Coy Robbins, 84-83.5-167.50-33.5 Points.
(tie). Cody Fraser, 81-86.5-167.50-32.5 Points.
3. Dakota Buttar, 82-81-163.00-26 Points.
4. Aaron Roy, 80-82.5-162.50-22 Points.
5. Tyler Craig, 81-75-156.00-20 Points.
6. Fabian Dueck, 74.5-78.5-153.00-18 Points.
7. William Barrows, 65-85.5-150.50-13 Points.
8. Jake Gardner, 83.5-0-83.50-12 Points.
9. Wyatt Gleeson, 81-0-81.00-10 Points.
10. Cody Coverchuk, 73-0-73.00-9 Points.
11. Grady Smeltzer, 0-72-72.00-9 Points.
Weston Davidson, 0-0-0.00
Jake Maher, 0-0-0.00
Brock Radford, 0-0-0.00
Micheal Ostashek, 0-0-0.00
Keaton Martz, 0-0-0.00
Brahmer Gaehring, 0-0-0.00