Nick Tetz Wins PBR Touring Pro Division Event in Coronation, Alberta, to Extend His Lead Atop the 2023 Canadian Championship Race
By: Kacie Albert Friday, August 11, 2023 @ 11:30 PM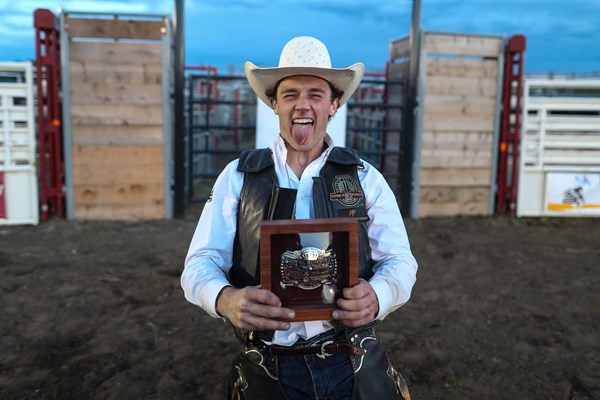 CORONATION, Alta. – Reigning PBR (Professional Bull Riders) Canada Champion Nick Tetz (Calgary, Alberta) inched closer to history Friday night, winning the Touring Pro Division's Royal Rumbull in Coronation, Alberta, to further his grip on the No. 1 rank in the national standings as he attempts to become the first back-to-back Champion in Canadian history.
Tetz was sensational in the opening round, delivering the second-best score when he made the requisite 8 atop Dirty Turtle (Thompson Rodeo Livestock) for 82.5 points.
The Arizona Ridge Rider in the separate PBR Teams League then delivered the high-marked ride of the event to cement the win, conquering High Voltage (Wilson Rodeo) for 86 points in Round 2.
Tetz' PBR-best third Touring Pro Division win of the season on Canadian soil garnered him a crucial 38 points. He extended his lead over No. 2 Cody Coverchuk (Meadow Lake, Saskatchewan) to 86.34 points.
Coverchuk was also in Coronation, however, was shutout, tossed by Yeti Frost (Thompson Rodeo Livestock) in 2.75 seconds in the opening round.
Should Tetz continue his dominance on home soil, not only would he become the first ever back-to-back Canadian Champion in history, but he would become just the fourth multi-time national title holder, joining the likes of three-time winner Aaron Roy (Yellow Grass, Saskatchewan) and two-time Champions Zane Lambert (Ponoka, Alberta) and Coverchuk.
Ashton Sahli (Red Deer, Alberta) was second, netting 20 national points.
Sahli got off to a fast start, winning Round 1 via an 85.5-point score aboard Firebeatz (Foley Bucking Bulls), however fell short of the victory when he was bucked off by Black Beetle (Foley Bucking Bulls) in the second round.
Sahli remained No. 14 in the Canadian standings, now within 293.5 points of the No. 1 rank.
Third was Wyatt Gleeson (Sundre, Alberta).
Gleeson rounded out the podium compliments of an 85-point ride atop Monday Merle (Kinky Buckers) in Round 2.
Leaving the Coronation Rodeo Grounds with 18 national points, Gleeson rose from No. 8 to No. 7 in Canada, inching within 202.5 points of No. 1 Tetz.
Three-time Canadian Champion Roy was fourth.
Seeking his unprecedented fourth national title this November, Roy went 1-for-2. Despite being bucked off by Rough Rider (Wilson Rodeo) in a close 6.75 seconds in the opening round, the veteran rider was quick to rebound in Round 2, riding Nasty Breath (Foley Bucking Bulls) for 84 points.
Collecting 14 national points, Roy gained one position in the standings, up to No. 6 after travelling to Coronation ranked No. 7. He is now 191.5 points back of No. 1 Tetz.
Rounding out the Top 5 in fifth was Tyler Craig (Crossfield, Alberta).
Craig's 82.5-point ride on Heaven Help Us (Thompson Rodeo Livestock) in Round 2 earned him 12 national points. He remained No. 5 in Canada, now 183.5 points back of No. 1 Tetz.
In the bull pen, Black Beetle and Moonwalk (Thompson Rodeo Livestock) tied for the Bull of the Event honor after each animal athlete delivered a 43.5-point out in Round 2. Black Beetle earned the top marks for his trip with Sahli, while Moonwalk was awarded the points courtesy of his 3.62 seconds of work against Callum Miller (Warwick, Queensland, Australia).
The 2023 PBR Canada season continues Saturday, August 12 in Elnora, Alberta, for the Touring Pro Division's Elnora Brahma Rama. Action at Elnora Agricultural Grounds begins at 7:30 p.m. MDT.  
Stay tuned in to PBRCanada.com and follow the tour on Facebook (PBR Canada), Twitter (@PBRCanada), and Instagram (@PBRCanada) for the latest results, news, stats and more.
PBR Canada Touring Pro Division
Royal Rumbull
Coronation Rodeo Grounds – Coronation, Alberta
Event Leaders (Round 1-Round 2-Event Aggregate-Event Points)
1. Nick Tetz, 82.5-86-168.50-38 Points.
2. Ashton Sahli, 85.5-0-85.50-20 Points.
3. Wyatt Gleeson, 0-85-85.00-18 Points.
4. Aaron Roy, 0-84-84.00-14 Points.
5. Tyler Craig, 0-82.5-82.50-12 Points.
6. Dakota Buttar, 81.5-0-81.50-12 Points.
7. Callum Miller, 80.5-0-80.50-10 Points.
8. Chad Hartman, 79-0-79.00-9 Points.
Cody Coverchuk, 0-0-0.00
Stefan Tonita, 0-0-0.00
Blake Smith, 0-0-0.00
Weston Davidson, 0-0-0.00
Cody Fraser, 0-0-0.00
Cauy Schmidt, 0-0-0.00
Tanner Skene, 0-0-0.00
Micheal Ostashek, 0-0-0.00