Austin Gamblers' Griffin Smeltzer Wins PBR Pendleton Whisky Velocity Tour Event in Cedar Park, Texas
By: Kacie Albert Saturday, February 18, 2023 @ 10:15 PM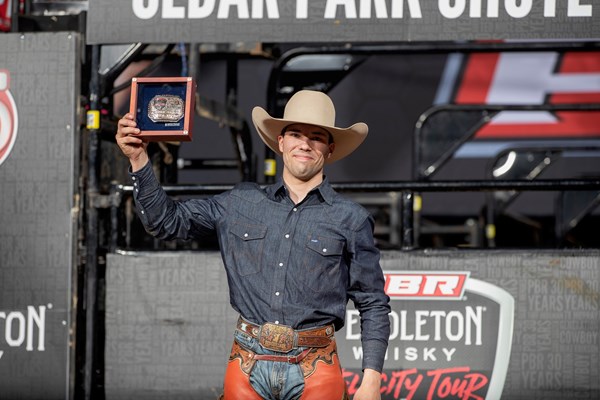 CEDAR PARK, Texas – Delivering a lights-out performance on Championship Saturday, Austin Gamblers rider Griffin Smeltzer (Claresholm, Alberta) rode supreme in front of a hometown crowd, going a combined 2-for-3 at the PBR (Professional Bull Riders) Pendleton Whisky Velocity Tour event in Cedar Park, Texas, to win the Cedar Park Chute Out.
The win is Smeltzer's first of the season and second of his career on the Velocity Tour.
When the event inside the H-E-B Center got underway, Smeltzer was uncharacteristically bucked off by LNE 849 (Lee Bucking Stock) in a quick 2.35 seconds.
The surging Canadian, however, returned determined on Championship Saturday.
Smeltzer first put points on the board in Round 2 when he covered Bad Deal (Platinum Bull Company) for a crucial 86.5 points. The score was enough to earn him one of 12 coveted positions in the championship round.
Orca (Mason Bucking Bulls) then awaited Smeltzer as his final animal athlete opponent. Remaining in perfect time with the powerful bull, Smeltzer reached the requisite 8 as the crowd went wild. Awarded 87 points, the top score of the round, the score proved enough to earn the Canuck the victory.
For the golden finish, Smeltzer garnered 125 Velocity Global points as he chases his first Velocity Tour Championship this May and a berth to the PBR World Finals.
Smeltzer was one of four Canadians competing at the two-day tour stop in Texas.
Reigning PBR Canada Champion Nick Tetz (Calgary, Alberta) was eleventh, earning 29 Velocity Global points.
Tetz won Round 2, covering Riser (Clark View Farms/Jenkins Cattle) for 87.5 points.
Chad Hartman (Lancer, Saskatchewan) and Stefan Tonita (Saskatoon, Saskatchewan) also rode in Cedar Park, however, both went 0-for-2.
Second was Junio Quaresima (Meridiano, Brazil), netting 82.5 Velocity Global points.
Quaresima advanced to the championship round atop the event leaderboard courtesy of an 85-point ride on Go Blue (Richardson Land & Cattle Co.) in Round 1, and an 86-point score aboard Simp (Platinum Bull Company) in Round 2.
The charismatic Brazilian, however, was unable to retain his top spot when he was ousted by Storm Trooper (Platinum Bull Company) in 5.96 seconds in the final round.
Alex Cerqueira (Iguatemi, Brazil) was third.
In Round 1, Cerqueira failed to convert, bucked off by Bank Roll (Cooper/Scruggs Bucking Bulls) in 4.35 seconds.
Cerqueira was able to keep his hopes of victory alive in Round 2 when he conquered Smooth Whiskey (Nothin' But Try Ranch/Diggers Bucking Bulls) for 85.5 points.
While he concluded the PBR Cedar Park Chute Out with a score, riding Archie (Flying C/Flying P Bucking Bulls) for 84.5 points, it was not enough to earn him the victory.
The podium finish earned Cerqueira 66.5 Velocity Global points.
Bookending his event with qualified rides, Elizmar Souza Jeremiahs (Decatur, Texas) was fourth, collecting 54 Velocity Global points.
Jeremiahs first rode Country Roads (Just For Kick/J-M/DD) for 83.5 points in Round 1, before covering Whip (Team Wyatt) for 85.5 points in the championship round.
Rounding out the Top 5 in fifth was Josh Frost (Randlett, Utah).
The Utah man went the distance atop Pickle Moonshine (Shuler Bucking Bulls) for 86.5 points in Round 1 and Big Red (Flying C/Flying P Bucking Bulls) for 82 points in Round 2, to take home 46 Velocity Global points.
In the bull pen, The Jungle (JQH Bucking Bulls-Skip & Elaine Jones) bucked supreme, crowned the Bull of the Event. The impressive bovine posted a 45-point score in Round 1 when he upended Bryan Titman (East Bernard, Texas) in a swift 2.98 seconds.
The PBR Pendleton Whisky Velocity Tour next travels to Worchester, Massachusetts, and Hampton, Virginia, on Feb. 25.
The PBR Worcester Rumble at DCU Center gets underway on Saturday, Feb. 25, at 7 p.m. EST.
The PBR Hampton Classic at Hampton Coliseum begins on Saturday, Feb. 25, at 7 p.m. EST.
PBR Pendleton Whisky Velocity Tour
PBR Cedar Park Chute Out
H-E-B Center – Cedar Park, Texas
Event Leaders (Round 1-Round 2-Round 3- Event Aggregate-Event Points)
1. Griffin Smeltzer, 0-86.5-87-173.50-125 Points.
2. Junio Quaresima, 85-86-0-171.00-82.5 Points.
3. Alex Cerqueira, 0-85.5-84.5-170.00-66.5 Points.
4. Elizmar Souza Jeremiahs, 83.5-0-85.5-169.00-54 Points.
5. Josh Frost, 86.5-82-0-168.50-46 Points.
6. Davi Henrique de Lima, 84-83.5-0-167.50-40 Points.
7. Claudio Montanha Jr., 81.5-85.5-0-167.00-32.5 Points.
8. Vitor de Mello, 0-81.5-83.5-165.00-31 Points.
9. Chase Wimer, 87-77-0-164.00-32 Points.
10. Michael Lane, 83-78.5-0-161.50-17 Points.
11. Nick Tetz, 0-87.5-0-87.50-29 Points.
12. Rubens Barbosa, 0-87-0-87.00-18 Points.
13. Garrett Jones, 0-86-0-86.00-15.5 Points.
14. Justin Ethridge, 70-0-0-70.00-4 Points.
Grayson Cole, 0-0-0-0.00
Alex Marcilio, 0-0-0-0.00
Alvaro Alvarez Aguilar, 0-0-0-0.00
Leonardo Lima, 0-0-0-0.00
Vinell Mariano, 0-0-0-0.00
Justice Forsythe, 0-0-0-0.00
Travis Wimberley, 0-0-0-0.00
Guilherme Valleiras, 0-0-0-0.00
Alex Jenks, 0-0-0-0.00
Braden Richardson, 0-0-0-0.00
Francisco Garcia Torres, 0-0-0-0.00
Carlos Gomes Junior, 0-0-0-0.00
Bennie Shetler, 0-0-0-0.00
Trent Nugent, 0-0-0-0.00
Stefan Tonita, 0-0-0-0.00
Alex Cardozo, 0-0-0-0.00
Dustin Martinez, 0-0-0-0.00
Mike Lee, 0-0-0-0.00
Bryan Titman, 0-0-0-0.00
Adriano Salgado, 0-0-0-0.00
Trace Brown, 0-0-0-0.00
Bruno Jose Barros, 0-0-0-0.00
Chad Hartman, 0-0-0-0.00
Vitor Losnake, 0-0-0-0.00
Shane Eads, 0-0-0-0.00