Dakota Buttar Dominates at PBR Canada Touring Pro Division Stop in Cluny, Alberta to Earn First Event Victory of 2023
By: Kacie Albert Sunday, July 2, 2023 @ 11:00 PM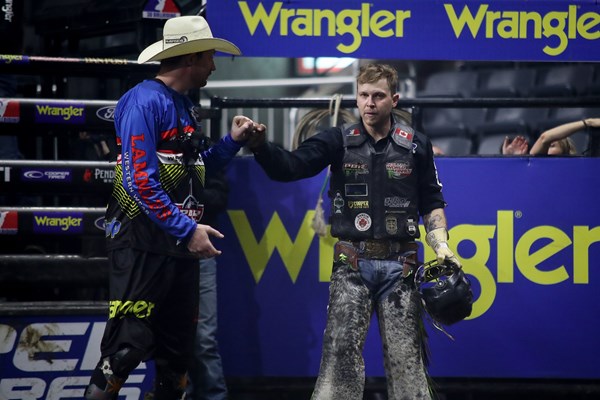 Championship
CLUNY, Alta. – As the 2023 PBR (Professional Bull Riders) Canada season continued Sunday evening in Cluny, Alberta, Dakota Buttar (Eatonia, Saskatchewan) rode supreme, collecting his first event win of the season as he earned the victory at the Touring Pro Division's Cluny Lions Charity PBR.
Buttar was the lone contender to go a perfect 2-for-2 at Coulee Creek Farms.
The Saskatchewan man got off to a quick start in Round 1 when he posted the top marks, covering Red Rust (Vold Rodeo) for 84 points.
As the last man out in the championship round, Buttar punctuated his first PBR Canada event win of the season with a 75-point effort atop Irish Rebel (Wilson Rodeo).
Courtesy of the win, 2020 PBR Canada Champion Buttar garnered a much-needed 31 national points. He climbed from No. 8 to No. 7 in the standings, rising within 118 points of No. 1 Nick Tetz (Calgary, Alberta).
Should Buttar continue his upward momentum in the standings, and earned the 2023 title, he would become just the fourth multi-time PBR Canada Champion in history, joining three-time title holder Aaron Roy (Yellow Grass, Saskatchewan) and two-time winners Zane Lambert (Ponoka, Alberta) and Cody Coverchuk (Meadow Lake, Saskatchewan).
As the only other rider to deliver a score, Cole Brewer (Eagleview, South Dakota) was second, netting 19 national points.
Brewer converted in the opening round, marked 83 points atop Sippin Bravo (Thompson Rodeo Livestock), but fell short of the win when he was upended by Jail Break (Wilson Rodeo) in a hard-fought 5.66 seconds in the final round.
In the bull pen, Grand Funk (Flying High Rodeo Co.) bucked supreme. The powerful animal athlete earned the Bull of the Event honor after posting a touring stop best 43.5-point score in Round 1 after he bucked off Zane Hall (Athol, Queensland, Australia) in a quick 2.12. seconds.
The 2023 PBR Canada season continues July 4-7 in Calgary, Alberta. Action for the Touring Pro Division's Cody Snyder Charity Bull Bustin' at Grey Eagle Resort & Casino begins nightly at 7:00 p.m. MT.  
Stay tuned in to PBRCanada.com and follow the tour on Facebook (PBR Canada), Twitter (@PBRCanada), and Instagram (@PBRCanada) for the latest results, news, stats and more.
PBR Canada Touring Pro Division
Cluny Lions Charity PBR
Coulee Creek Farms – Cluny, Alberta
Event Leaders (Round 1-Round 2-Event Aggregate-Event Points)
1. Dakota Buttar, 84-75-159.00-31 Points.
2. Cole Brewer [2], 83-0-83.00-19 Points.
Aaron Roy, 0-0-0.00
Stefan Tonita, 0-0-0.00
Cody Coverchuk, 0-0-0.00
Chad Hartman, 0-0-0.00
Weston Davidson, 0-0-0.00
Wyatt Gleeson, 0-0-0.00
Fabian Dueck, 0-0-0.00
Jake Dunham [1], 0-0-0.00
Jake Dunham [2], 0-0-0.00
Wade Marshall [2], 0-0-0.00
Wade Marshall [1], 0-0-0.00
Jake Maher, 0-0-0.00
Gage Gay, 0-0-0.00
Cole Brewer [1], 0-0-0.00
Kelsey Pavlou [2], 0-0-0.00
Kelsey Pavlou [1], 0-0-0.00
Callum Miller, 0-0-0.00
Keaton Martz, 0-0-0.00
Toby Leake [2], 0-0-0.00
Toby Leake [1], 0-0-0.00
Tyson Salmon, 0-0-0.00
Thomas Hudson, 0-0-0.00
Zane Hall [1], 0-0-0.00
Zane Hall [2], 0-0-0.00
Tanner Skene, 0-0-0.00
Brahmer Gaehring, 0-0-0.00
Brayden Shore, 0-0-0.00