Griffin Smeltzer Wins Second PBR Canada Touring Pro Division Event of 2023 in Kinsella, Alberta
By: Kacie Albert Wednesday, July 12, 2023 @ 11:30 PM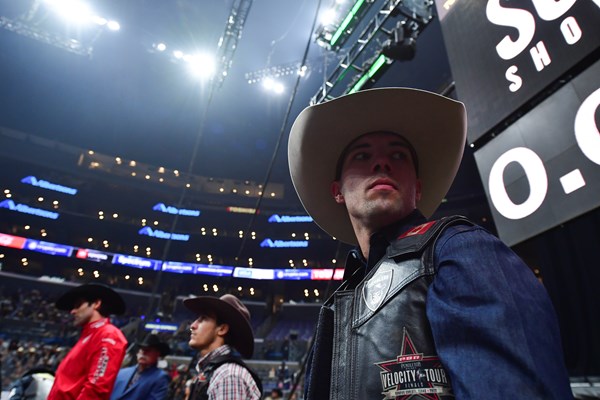 KINSELLA, Alta. –  For the second time in 2023, Griffin Smeltzer (Claresholm, Alberta) rode his way to victory, winning the PBR (Professional Bull Riders) Canada Touring Pro Division's Kinsella Graveldome Bullarama in Kinsella, Alberta, cracking the Top 20 in the race to be crowned this season's Canadian Champion.
In the opening round, Smeltzer was unrivaled, delivering the top score when he reached the requisite 8 aboard Finning Nikki Sixx (Flying Four Bucking Bulls) for 86 points.
As the last man out in the championship round, Smeltzer had clinched the win before climbing atop Time Marches On (Thompson Rodeo Livestock) as each of the nine riders prior had bucked off.
Smeltzer, however, was unable to end the event with a score, tossed by his bovine athlete counterpart in a quick 2.65 seconds.
Compliments of the win, Smeltzer earned a crucial 27 national points. The 2022 Glen Keeley Award winner gained six positions in the Canadian standings, rising from No. 23 to No. 17. He is now within 299 points of No. 1 Nick Tetz (Calgary, Alberta).
Tetz extended his lead atop the standings by tying for second in Kinsella alongside Callum Miller (Warwick, Queensland, Australia).
Recently inked to the Reserve Roster for the Arizona Ridge Riders in the separate PBR Teams league, Tetz went 1-for-2, topping Teeka (Vold Rodeo/R Saga Ranch) for 84 points. He narrowly missed the event win when he was bucked off by Ain't About Fame (Thompson Rodeo Livestock) in 5.70 seconds.
The silver showing earned Tetz 18 national points. He extended his lead over No. 2 Coy Robbins (Camrose, Alberta) to 105.84 points. 
 For Australian sensation Miller he logged his 84-point ride in the opening round aboard Housefire (Eno Bucking Bulls). The annual title contender then suffered the most heartbreaking buckoff of the event in the championship round when Finning Lil Shorty (Flying Four Bucking Bulls) bested him in 7.59 seconds.
Also netting 18 national points, Miller rose from No. 27 to No. 25 as he attempts to become the first Australian PBR Canada Champion in history this November.
Fourth was Tyler Craig (Crossfield, Alberta).
Going 1-for-2, Craig's 83-point ride on Wicked Water (Two Bit Bucking Bulls) earned him 13 national points. He remained No. 10 in Canada, now within 217.5 points of No. 1 Tetz.
Rounding out the Top 5 in fifth was Weston Davidson (Strongfield, Saskatchewan).
Davidson's 82-point ride atop Red Rust (Vold Rodeo) garnered him 12 national points, solidifying his No. 13 rank and propelling him within 274.5 points of the top spot.
In the bull pen, Ain't About Fame was crowned Bull of the Event. The powerful animal athlete was marked an event-best 44.5 points in his championship round trip with Tetz.
The 2023 PBR Canada season continues Thursday, July 20 in Kelowna, British Columbia, for the sixth elite Cup Series event of the year. Action for the PBR Okanagan Challenge at Prospera Place begins at 7:00 p.m. PT.  
Stay tuned in to PBRCanada.com and follow the tour on Facebook (PBR Canada), Twitter (@PBRCanada), and Instagram (@PBRCanada) for the latest results, news, stats and more.
PBR Canada Touring Pro Division
Kinsella Graveldome Bullarama
Kinsella Fairgrounds – Kinsella, Alberta
Event Leaders (Round 1-Round 2-Event Aggregate-Event Points)
1. Griffin Smeltzer, 86-0-86.00-27 Points.
2. Nick Tetz, 84-0-84.00-18 Points.
(tie). Callum Miller, 84-0-84.00-18 Points.
4. Tyler Craig, 83-0-83.00-13 Points.
5. Weston Davidson, 82-0-82.00-12 Points.
Dakota Buttar, 0-0-0.00
Aaron Roy, 0-0-0.00
Chad Hartman, 0-0-0.00
Stefan Tonita [1], 0-0-0.00
Stefan Tonita [2], 0-0-0.00
Blake Smith, 0-0-0.00
William Barrows, 0-0-0.00
Jake Dunham [1], 0-0-0.00
Jake Dunham [2], 0-0-0.00
Cauy Schmidt, 0-0-0.00
Kelsey Pavlou, 0-0-0.00
Micheal Ostashek, 0-0-0.00
Keaton Martz, 0-0-0.00
Brumby Brandenburg, 0-0-0.00
Tyson Salmon, 0-0-0.00
Thomas Hudson, 0-0-0.00
Brahmer Gaehring, 0-0-0.00
Lucas Dunand, 0-0-0.00