Monstrous 90-Point Ride Propels Dakota Buttar to Victory at PBR Canada Touring Pro Division Event in Czar Lake, Alberta
By: Kacie Albert Friday, July 21, 2023 @ 11:30 PM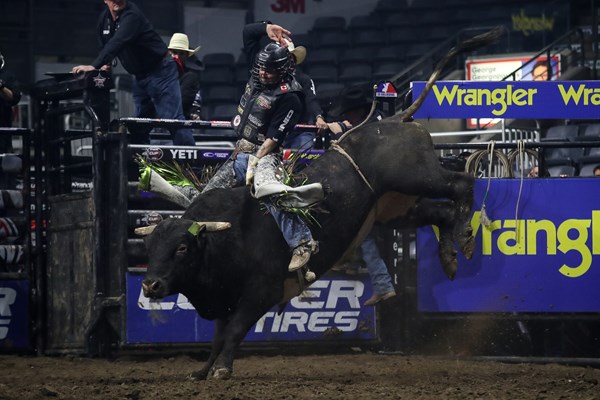 CZAR LAKE, Alta. – Punctuating his perfect performance in Czar Lake, Alberta, with a monstrous 90-point ride, Dakota Buttar (Eatonia, Saskatchewan) earned his second PBR (Professional Bull Riders) Canada Touring Pro Division event win of the season, victorious at the Czar Lake Bullarama.
The 2020 PBR Canada Champion first put points on the board when he topped Big Easy (Skori Bucking Bulls) for a Round 1 best 84.5 points.
The top marks set up a showdown in the championship round between the Saskatchewan man and Hot Carl (Flying High Rodeo Co.). In what proved to be a perfect pairing, Buttar matched the powerful animal athlete jump-for-jump en route to a monstrous 90-point score.
The mammoth ride was Buttar's first 90-point ride of the season, and the sixth of 2023 on Canadian soil.
Compliments of the golden finish, Buttar earned a crucial 137 national points. He surged from No. 5 to No. 2 in the national standings, climbing within 32 points of No. 1 Nick Tetz (Calgary, Alberta).
Should Buttar continue his upwards momentum and be crowned the 2023 PBR Canada Champion this November, he would become just the fourth multi-time Champion in the nation's history, joining three-time title holder Aaron Roy (Yellow Grass, Saskatchewan) and two-time Champions Zane Lambert (Ponoka, Alberta) and Cody Coverchuk (Meadow Lake, Saskatchewan).
Chasing history of his own, attempting to tie Roy for most national titles won by one rider in Canadian history, Coverchuk parlayed a double-entry into both a second and fourth-place finish, collecting a combined 124 national points.
Coverchuk's silver showing included an 83-point ride aboard Sippin Bravo (Thompson Rodeo Livestock) in Round 1, and 89.5-point effort atop Run It Up (Eno Bucking Bulls/Gaume Farms) in the championship round.
The Saskatchewan man's double-entry, which garnered him a fourth-place result, was highlighted by an 82.5-point score on Highway to Heaven (Flying High Rodeo Co.) in the opening round.  
Ranked No. 13 prior to the event, Coverchuk rose eight positions to No. 5, climbing within 123.34 points of No. 1 Tetz.
Third was Tyler Craig (Crossfield, Alberta).
Despite being tossed by Altitude Adjustment (Eno Bucking Bulls/Wild Child) in 4.91 seconds in Round 1, Craig rebounded in resilient fashion after advancing to the final round on time. Tasked with Sicario (Flying High Rodeo Co.), Craig concluded the event with a score, making the requisite 8 for 86 points.
Leaving Czar Lake with 53 national points, Craig rose from No. 12 to No. 8 in the race for the 2023 PBR Canada Championship. He is now 164.5 points back of No. 1 Tetz.
Rounding out the Top 5 in fifth was Chad Hartman (Lancer, Saskatchewan).
Hartman's 82-point ride in Round 1 on Warning Shot (Outlaw Buckers Rodeo Corp.) earned him 33 national points.
The Top 5 finish elevated Hartman one position in the standings from No. 7 to No. 6.
In the bull pen, Built Tough (Thompson Rodeo Livestock) bucked supreme, crowned the Bull of the Event. Out in the championship round, Built Tough posted a Czar Lake Bullarama-best 45-point score via his 2.44 seconds of work against Cauy Schmidt (Coronation, Alberta).
The 2023 PBR Canada season continues Saturday, July 22 in Manor, Saskatchewan, for the Touring Pro Division's Manor PBR. Action at Manor Fun Daze begins at 6:30 p.m. CST.  
Stay tuned in to PBRCanada.com and follow the tour on Facebook (PBR Canada), Twitter (@PBRCanada), and Instagram (@PBRCanada) for the latest results, news, stats and more.
PBR Canada Touring Pro Division
Czar Lake Bullarama
Czar Lake Rodeo Grounds – Czar Lake, Alberta
Event Leaders (Round 1-Round 2-Event Aggregate-Event Points)
1. Dakota Buttar, 84.5-90-174.50-137 Points.
2. Cody Coverchuk [2], 83-89.5-172.50-86 Points.
3. Tyler Craig [1], 0-86-86.00-53 Points.
4. Cody Coverchuk [1], 82.5-0-82.50-38 Points.
5. Chad Hartman [1], 82-0-82.00-33 Points.
Aaron Roy, 0-0-0.00
Chad Hartman [2], 0-0-0.00
Tyler Craig [2], 0-0-0.00
Wyatt Gleeson, 0-0-0.00
Blake Smith [2], 0-0-0.00
Blake Smith [1], 0-0-0.00
Stefan Tonita, 0-0-0.00
Ashton Sahli, 0-0-0.00
Weston Davidson, 0-0-0.00
Brock Radford, 0-0-0.00
Jake Dunham, 0-0-0.00
Cauy Schmidt [2], 0-0-0.00
Cauy Schmidt [1], 0-0-0.00
Micheal Ostashek, 0-0-0.00
Keaton Martz, 0-0-0.00
Tyson Salmon, 0-0-0.00