Perfect Stefan Tonita Wins Career-First PBR Event at Canadian Touring Pro Division Stop in Ponoka, Alberta
By: Kacie Albert Saturday, July 1, 2023 @ 10:00 PM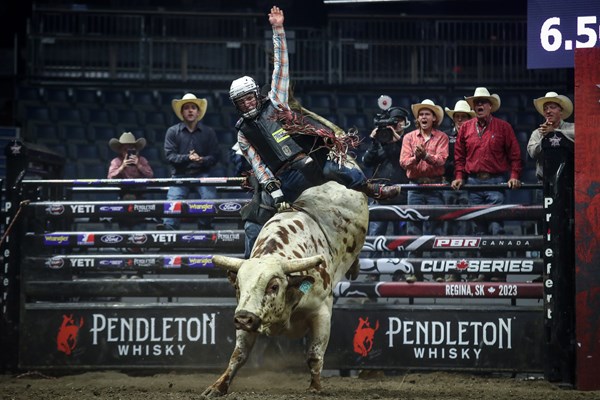 PONOKA, Alta. – Young gun Stefan Tonita (Saskatoon, Saskatchewan) reached a crucial career milestone Saturday evening in Ponoka, Alberta. Delivering the high-marked ride of the Canadian Touring Pro Division's Wild West PBR, presented by Ponoka, Stampede, Tonita won his career-first PBR (Professional Bull Riders) event, catapulting inside the Top 10 in the race for the 2023 Canadian Championship.
Tonita was unrivaled in Round 1, topping Sure Shot (Skori Bucking Bulls) for 85.5 points.
While the Saskatchewan man was unable to make the 8 in the final round, upended in 3.45 seconds by Airplane Mode (Outlaw Buckers Rodeo Corp.) his opening score was enough to cement the victory.
Courtesy of the win, Tonita netted an important 108 national points. He surged from No. 19 to No. 6 in the national standings, inching within 101.5 points of No. 1 Nick Tetz (Calgary, Alberta).
Just one day after overtaking the No. 1 rank in the battle for the 2023 PBR Canada Championship, Tetz was unable to grow his 3-point lead over No. 2 Jared Parsonage (Maple Creek, Saskatchewan). Tetz went 0-for-1 in Ponoka, bucked off by Finger Roll (X6 Ranch Bucking Cattle/Legend Rodeo Stock) in 3.61 seconds).
Blake Smith (Abbey, Saskatchewan) was second, netting 68 national points.
Going 1-for-2, Smith rode Southern Heat (Vold Rodeo) for 83 points in the opening round. He fell just short of the event win when he was tossed by The Remedy (X6 Ranch Bucking Cattle/B2 Braithwaite Ranches) in 2.68 seconds in the championship round.
Smith rose from No. 20 to No. 9 in Canada. He is now within 153.5 points of No. 1 Tetz.
As the only other rider to make the 8, Conner Halverson (Gordon, Nebraska) was third.
Halverson's 79.25-point ride aboard Big Easy (Skori Bucking Bulls) garnered him 45 national points.
In the bull pen, Blue Magic (Outlaw Buckers Rodeo Corp.) was dominant, crowned the Bull of the Event. Out in the championship round, the powerful animal athlete tossed Callum Miller (Warwick, Queensland, Australia) in 2.57 seconds to earn a event-best 44.75-point bull score.
The 2023 PBR Canada season continues Sunday, July 2 in Cluny, Alberta. Action for the Touring Pro Division's Cluny Lions Charity PBR at Coulee Creek Farms begins at 6:00 p.m. MT.  
Stay tuned in to PBRCanada.com and follow the tour on Facebook (PBR Canada), Twitter (@PBRCanada), and Instagram (@PBRCanada) for the latest results, news, stats and more.
PBR Canada Touring Pro Division
Wild West PBR, presented by the Ponoka Stampede
Ponoka Stampede Grounds – Ponoka, Alberta
Event Leaders (Round 1-Round 2-Event Aggregate-Event Points)
1. Stefan Tonita, 85.5-0-85.50-108 Points.
2. Blake Smith, 83-0-83.00-68 Points.
3. Conner Halverson, 79.25-0-79.25-45 Points.
Nick Tetz, 0-0-0.00
Aaron Roy, 0-0-0.00
Tyler Craig, 0-0-0.00
Dakota Buttar, 0-0-0.00
Cody Coverchuk, 0-0-0.00
Chad Hartman, 0-0-0.00
Weston Davidson, 0-0-0.00
Jake Gardner, 0-0-0.00
Wyatt Gleeson, 0-0-0.00
Fabian Dueck, 0-0-0.00
Ashton Sahli, 0-0-0.00
Griffin Smeltzer, 0-0-0.00
Jake Dunham, 0-0-0.00
Wade Marshall, 0-0-0.00
Cauy Schmidt, 0-0-0.00
Jake Maher, 0-0-0.00
Brock Radford, 0-0-0.00
Cole Young, 0-0-0.00
Kelsey Pavlou, 0-0-0.00
Callum Miller, 0-0-0.00
Grady Smeltzer, 0-0-0.00
Keaton Martz, 0-0-0.00
Sean Lynch, 0-0-0.00
Toby Leake, 0-0-0.00
Thomas Hudson, 0-0-0.00
Zane Hall, 0-0-0.00
Jaxton Mortensen, 0-0-0.00