Three Time PBR Canada Champion Aaron Roy Rides Supreme at PBR Canada Touring Pro Division Event in Manor, Saskatchewan to Surge to No. 6 in 2023 Title Race
By: Kacie Albert Saturday, July 22, 2023 @ 11:30 PM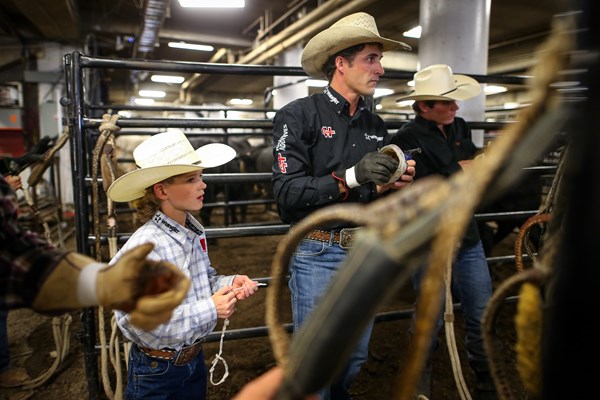 MANOR, Sask. – As the 2023 PBR (Professional Bull Riders) Canada season continued Saturday night in Manor, Saskatchewan, Aaron Roy (Yellow Grass, Saskatchewan) rode supreme, earning his organization-best third Touring Pro Division victory of the year at the Manor PBR Touring Pro.
While Roy was upended in the opening round, tossed by Space X (Vold Rodeo/Prescott) in 4.13 seconds, he rebounded in resilient form in Round 2. Tasked with Southern Heat (Vold Rodeo), Roy remained in perfect time with the animal athlete, reaching the requisite 8 for an event-best 87 points to clinch the victory.
Courtesy of the win, Roy earned a much-need 27 national points.
Seeking an unprecedented fourth national title, Roy rose from No. 9 to No. 6 in the Canadian standings. He is now within 144 points of No. 1 Nick Tetz (Calgary, Alberta).
Second was Wyatt Gleeson (Sundre, Alberta), garnering 20 national points.
Gleeson was sensational in Round 1, surging to the top of the event leaderboard when he reached the requisite 8 atop Devils Cut (Outlaw Buckers Rodeo Corp.) for 83.5 points.
The Albertan, however, fell short of the win when he was bucked off by Batter Up (Outlaw Buckers Rodeo Corp.) in 5.31 seconds in the final round.
On the hunt for his first PBR Canada Championship this November, Gleeson climbed from No. 12 to No. 10 in the standings. He is now just 168.5 points back of No. 1 Tetz.
As the only other rider to deliver a score, Stefan Tonita (Saskatoon, Saskatchewan) was third, netting 10 national points.
Tonita's event was highlighted by a 72-point ride atop Toxic Traits (CS Bucking Bulls) in Round 1.
Leaving Manor with 10 national points, Tonita is now tied for the No. 12 rank in Canada.
In the bull pen, Batter Up was anointed the Bull of the Event. During his trip with Gleeson, the powerful animal athlete posted an event-best 43-point score.
The 2023 PBR Canada season continues Thursday, July 27 in North Battleford, Saskatchewan, for the Touring Pro Division's McDonald's Colby Cave Memorial PBR Classic. Action at North Battleford Civic Center begins at 7:00 p.m. CST.  
Stay tuned in to PBRCanada.com and follow the tour on Facebook (PBR Canada), Twitter (@PBRCanada), and Instagram (@PBRCanada) for the latest results, news, stats and more.
PBR Canada Touring Pro Division
Manor PBR Touring Pro
Manor Fun Daze – Manor, Saskatchewan
Event Leaders (Round 1-Round 2-Event Aggregate-Event Points)
1. Aaron Roy, 0-87-87.00-27 Points.
2. Wyatt Gleeson, 83.5-0-83.50-20 Points.
3. Stefan Tonita [1], 72-0-72.00-10 Points.
Chad Hartman, 0-0-0.00
Stefan Tonita [2], 0-0-0.00
Ashton Sahli, 0-0-0.00
Weston Davidson, 0-0-0.00
Fabian Dueck, 0-0-0.00
Tyson Salmon, 0-0-0.00
Cody Fitzpatrick, 0-0-0.00