Arizona Ridge Riders' Nick Tetz Wins Touring Pro Division Event in Edgerton, Alberta, to Overtake No. 1 Rank in the Race for the 2023 PBR Canada Championship
By: Kacie Albert Friday, June 30, 2023 @ 11:00 PM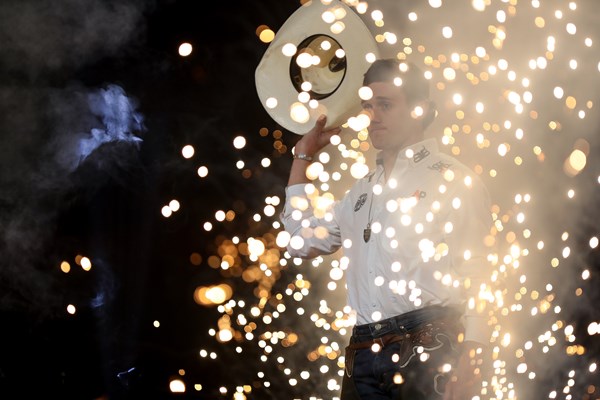 EDGERTON, Alta. – Nick Tetz (Calgary, Alberta) inched closer to history Friday night. Attempting to become the first back-to-back PBR (Professional Bull Riders) Canada Champion, Tetz went a perfect 2-for-2, sweeping the competition, to win the Touring Pro Division event in Edgerton, Alberta, overtaking the No. 1 spot in the heated 2023 national title battle.
Tetz surged to an early lead in Round 1 when he topped Whiskey Moon (Skori Bucking Bulls) for 86 points.
As the last man to leave the chutes, Tetz, who rides for the Arizona Ridge Riders in the separate PBR Teams league, next went head-to-head with Sure Shot (Skori Bucking Bulls). In a perfect pairing, Tetz remained in perfect time with the animal athlete, matching him jump for jump en route to the requisite 8, marked an event-best 88 points.
Courtesy of the event win, Tetz collected a crucial 39 national points. He overtook Jared Parsonage (Maple Creek, Saskatchewan) for the No. 1 rank in Canada, climbing 3 points ahead of his countryman.
Gage Gay (Staley, North Carolina) was second, earning 27 national points.
The North Carolinian first put points on the board when he outlasted Twist of Something (Thompson Rodeo Livestock) for 83 points, the fifth-best score of the round.
Gay then climbed the leaderboard in the championship round when he covered High & Low (X6 Ranch Bucking Cattle) for 85 points to clinch the silver finish.
Unranked prior to the event, Gay climbed to No. 27 in the Canadian standings.
As the only other rider to cover both of his bovine athlete opponents, Conner Halverson (Gordon, Nebraska) was third.
Halverson rode Toxic Traits (CS Bucking Bulls) for 80 points in Round 1, and Al Capone (Thompson Rodeo Livestock) for 86 points in the championship round to net 27 national points. He is now tied with Gay for the No. 27 rank in Canada.
Coy Robbins (Camrose, Alberta) parlayed an 84.5-point ride atop Bull Dozer (Skori Bucking Bulls) into a fourth-place finish.
Leaving Edgerton with 15 national points, Robbins maintained is No. 3 rank as he seeks his first PBR Canada Championship this October. He is now within 32.34 points of No. 1 Tetz.
Rounding out the Top 5 and tying for fifth was Chad Hartman (Lancer, Saskatchewan) and Kelsey Pavlou (Toora, Victoria, Australia).
Both contenders delivered 84-point rides in the opening round to net 12 national points. Hartman topped Watch 'Em (Skori Bucking Bulls) and Pavlou bested Moonwalk (Thompson Rodeo Livestock).
Hartman gained two positions in the Canadian standings, rising from No. 11 to No. 9. Unranked prior to the Touring Pro Division stop in Edgerton, Pavlou is now No. 36 in the nation.
In the bull pen, Cadillac (X6 Ranch Bucking Cattle) bucked a cut above the rest, crowned the Bull of the Event. Bucking in the championship round, the powerful animal athlete tossed Blake Smith (Abbey, Saskatchewan) in 1.72 seconds to earn an event-best 44.5-point score.
The 2023 PBR Canada season continues Saturday, July 1 in Ponoka, Alberta. Action for the Touring Pro Division's Wild West PBR, presented by Ponoka Stampede, at the Ponoka Stampede Grounds begins at 7:00 p.m. MT.  
Stay tuned in to PBRCanada.com and follow the tour on Facebook (PBR Canada), Twitter (@PBRCanada), and Instagram (@PBRCanada) for the latest results, news, stats and more.
PBR Canada Touring Pro Division
Edgerton PBR Bullarama
Edgerton Sports Grounds – Edgerton, Alberta
Event Leaders (Round 1-Round 2-Event Aggregate-Event Points)
1. Nick Tetz, 86-88-174.00-39 Points.
2. Gage Gay, 83-85-168.00-27 Points.
3. Conner Halverson, 80-86-166.00-27 Points.
4. Coy Robbins, 84.5-0-84.50-15 Points.
5. Chad Hartman, 84-0-84.00-12 Points.
(tie). Kelsey Pavlou [2], 84-0-84.00-12 Points.
7. Cody Coverchuk, 81.5-0-81.50-10 Points.
8. Cole Brewer [2], 76-0-76.00-2 Points.
9. Blake Smith, 66-0-66.00-2 Points.
Aaron Roy, 0-0-0.00
Stefan Tonita [1], 0-0-0.00
Stefan Tonita [2], 0-0-0.00
Weston Davidson, 0-0-0.00
Jake Dunham, 0-0-0.00
Tim Lipsett [1], 0-0-0.00
Tim Lipsett [2], 0-0-0.00
Kelsey Pavlou [1], 0-0-0.00
Callum Miller, 0-0-0.00
Micheal Ostashek, 0-0-0.00
Cole Brewer [1], 0-0-0.00
Keaton Martz, 0-0-0.00
Sean Lynch, 0-0-0.00
Toby Leake [1], 0-0-0.00
Toby Leake [2], 0-0-0.00
Tyson Salmon, 0-0-0.00
Thomas Hudson [1], 0-0-0.00
Thomas Hudson [2], 0-0-0.00
Zane Hall [1], 0-0-0.00
Zane Hall [2], 0-0-0.00
Kane Taylor, 0-0-0.00