Blake Smith Wins PBR Canada Touring Pro Division's 8 Seconds At The Ridge to Crack Top 20 in 2023 Championship Race
By: Kacie Albert Monday, June 12, 2023 @ 2:26 PM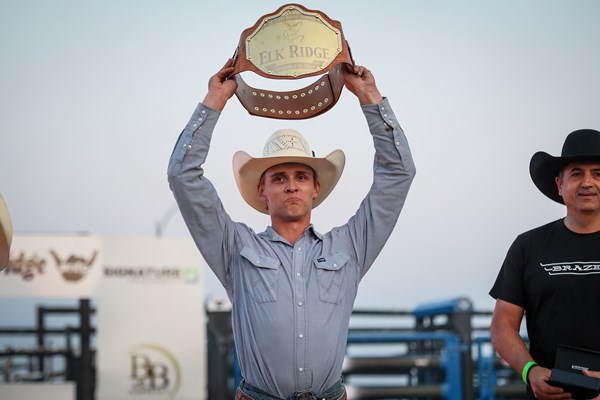 WASKESIU LAKE, Sask. – When the dust settled in Waskesiu Lake, Saskatchewan, Saturday evening, no rider was more dominant than Blake Smith (Abbey, Saskatchewan). Delivering a perfect 2-for-2 effort at the PBR (Professional Bull Riders) Touring Pro Division event at Elk Ridge Resort, Smith won 8 Seconds At The Ridge, cracking the Top 20 in the heated battle to be crowned the 2023 Canadian Champion.
Smith began the event white-hot, delivering what would prove to be the Round 1-winning score on the first night of action when he covered Last Rights (Vold Rodeo/Prescott) for 86 points.
As the last man to leave the chutes when the first night of action wound to a close, Smith next found himself going head-to-head with Broken Halo (Skori Bucking Bulls). In what proved to be a perfect pairing, Smith matched the powerful animal athlete jump-for-jump en route to the requisite 8 for a victory clinching 88 points.
The golden finish earned Smith a crucial 36.5 national points. He catapulted from No. 27 to No. 19 in the Canadian standings. He is now within 235.5 points of the No. 1 rank.
Atop the 2023 PBR Canada Championship race, both reining title-holder Nick Tetz (Calgary, Alberta) and three-time Champion Aaron Roy (Yellow Grass, Saskatchewan) gained ground on No. 1 Jared Parsonage (Maple Creek, Saskatchewan) who did not compete at the tour stop.
Tetz overtook Roy for the No. 2 rank, inching within 74 points of No. 1 Parsonage via a third and fourth-place finish earned compliments of his double entry.
Recently inked to the Arizona Ridge Riders' reserve roster in the separate PBR Team Series, Tetz went 2-for-2 in his third-place result, earned on the second day of competition.
After riding Iodine (CS Bucking Bulls) for 74 points in Round 1, Tetz delivered the second-best score of the event overall when he conquered Broken Halo for 88.5 points in the championship round.  
The young Calgarian's fourth-place finish was championed by a championship round-best 89-point score aboard Haunted Hotel (Vold Rodeo). The score was a quick rebound for Tetz who had been bucked off by Peaky Blinder (Flying Four Bucking Bulls) in 5.22 seconds earlier in the evening.
Combined, Tetz garnered 35 national points.
Roy was seventh in Waskesiu Lake, collecting 10 national points.
While he slipped to No. 3 in the nation as he chases his unprecedented fourth national title, he climbed within 95 points of No. 1 Parsonage, after beginning the event more than 100 points back.
The veteran rode Finger Roll (X6 Ranch Bucking Cattle/Legend Rodeo Stock) for 83.5 points in Round 1 but was unable to complete a perfect event when he was tossed by Sure Shot (Skori Bucking Bulls) in a hard-fought 7.6 seconds in the final round.
Returning to the top of the event leaderboard, two-time PBR Canada Champion Cody Coverchuk (Meadow Lake, Saskatchewan) was second, taking home 26.5 national points.
Coverchuk first tied for fourth in Round 1 after he went the distance aboard Money Moves (Flying Four Bucking Bulls) for 83.5 points.
The affable Saskatchewan man then climbed the leaderboard when he tied for third in the championship round, marked 88 points atop Howlin' Wolf (Flying Four Bucking Bulls).
The podium finish propelled Coverchuk from No. 16 to No. 6 in the standings. He now trails No. 1 Parsonage by 164.34 points.
Rounding out the Top 5 in fifth was Jake Dunham (Tucson, Arizona).
Dunham's 85-point ride atop Unkle Kranky (Vold Rodeo) earned him 14 national points.
In the bull pen, Deep Creek (Vold Rodeo) bucked a cut above the rest, crowned Bull of the Event. The animal athlete posted an unmatched 44.5-point score in the championship round after bucking off 2020 PBR Canada Champion Dakota Buttar (Eatonia, Saskatchewan) in 5.41 seconds.
The 2023 PBR Canada season continues Friday, June 16 as the Touring Pro Division travels to Humboldt, Saskatchewan. Action for the Humboldt PBR, presented by Discovery Ford Sales, gets underway at 7:00 p.m. CST.
Stay tuned in to PBRCanada.com and follow the tour on Facebook (PBR Canada), Twitter (@PBRCanada), and Instagram (@PBRCanada) for the latest results, news, stats and more.
PBR Canada Touring Pro Division
8 Seconds At The Ridge
Elk Ridge Resort – Waskesiu Lake, Saskatchewan
Event Leaders (Round 1-Round 2-Round 1-Round 2-Event Aggregate-Event Points)
1. Blake Smith [1], 0-0-86-88-174.00-36.5 Points.
2. Cody Coverchuk, 0-0-83.5-88-171.50-26.5 Points.
3. Nick Tetz [2], 0-0-74-88.5-162.50-19 Points.
4. Nick Tetz [1], 0-0-0-89-89.00-16 Points.
5. Jake Dunham [2], 0-0-85-0-85.00-14 Points.
6. Garrett Green, 0-0-84-0-84.00-12 Points.
7. Aaron Roy [1], 0-0-83.5-0-83.50-10 Points.
(tie). Cauy Schmidt [1], 0-0-83.5-0-83.50-10 Points.
9. Stefan Tonita [2], 0-0-80.5-0-80.50-10 Points.
10. Jake Dunham [1], 0-0-78.5-0-78.50-2 Points.
11. Dakota Buttar [2], 0-0-73.5-0-73.50-2 Points.
12. Jake Maher [1], 0-0-20-0-20.00-1 Points.
Aaron Roy [2], 0-0-0-0-0.00
Dakota Buttar [1], 0-0-0-0-0.00
Weston Davidson [2], 0-0-0-0-0.00
Weston Davidson [1], 0-0-0-0-0.00
Chad Hartman [1], 0-0-0-0-0.00
Chad Hartman [2], 0-0-0-0-0.00
Chad Hartman [3], 0-0-0-0-0.00
Ashton Sahli [2], 0-0-0-0-0.00
Ashton Sahli [1], 0-0-0-0-0.00
Stefan Tonita [1], 0-0-0-0-0.00
Blake Smith [2], 0-0-0-0-0.00
Cauy Schmidt [2], 0-0-0-0-0.00
Jake Maher [2], 0-0-0-0-0.00
Jake Dunham [3], 0-0-0-0-0.00
Brock Radford [2], 0-0-0-0-0.00
Brock Radford [1], 0-0-0-0-0.00
Micheal Ostashek, 0-0-0-0-0.00
Keaton Martz [1], 0-0-0-0-0.00
Keaton Martz [2], 0-0-0-0-0.00
Reed Duncan, 0-0-0-0-0.00
Tyson Thue [1], 0-0-0-0-0.00
Tyson Thue [2], 0-0-0-0-0.00
Toby Leake [2], 0-0-0-0-0.00
Toby Leake [1], 0-0-0-0-0.00
Tyson Salmon [1], 0-0-0-0-0.00
Tyson Salmon [2], 0-0-0-0-0.00
Thomas Hudson [1], 0-0-0-0-0.00
Thomas Hudson [2], 0-0-0-0-0.00
Thomas Hudson [3], 0-0-0-0-0.00
Tanner Skene [1], 0-0-0-0-0.00
Tanner Skene [2], 0-0-0-0-0.00
Orrin Marshall, 0-0-0-0-0.00
Kade McDonald [2], 0-0-0-0-0.00
Kade McDonald [1], 0-0-0-0-0.00
Kade McDonald [3], 0-0-0-0-0.00
Brayden Shore [2], 0-0-0-0-0.00
Brayden Shore [1], 0-0-0-0-0.00