Nick Tetz Earns Career-First PBR World Finals Berth Via 2023 Pendleton Whisky Velocity Tour Finals
By: Kacie Albert Sunday, May 7, 2023 @ 9:06 AM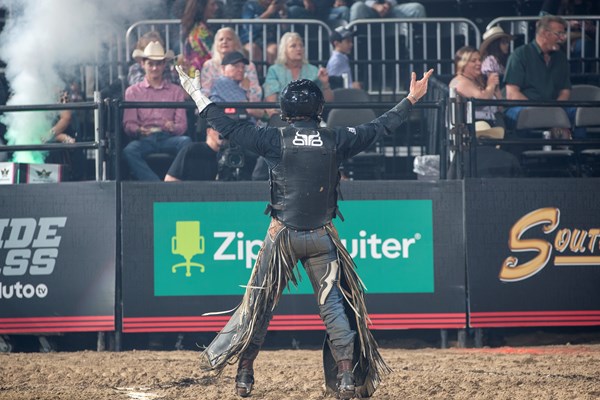 CORPUS CHRISTI, Texas – Reining PBR (Professional Bull Riders) Canada Champion Nick Tetz (Calgary, Alberta, Canada) reached a crucial career-milestone Saturday evening at the 2023 Pendleton Whisky Velocity Tour Finals, securing the international invite to the 2023 PBR World Finals: Unleash The Beast, his first qualification to the sport's most prestigious event.  
Tetz went 2-for-3 to finish the 2023 Velocity Tour Finals in Corpus Christi, Texas, third.
His scores were earned in Round 1, when he covered Chain Breaker (Nothin' But Try Ranch/Diggers Bucking Bulls) for 87.25 points, and in Round 2, when he bested Red Rum (JQH Bucking Bulls) for 80.5 points, making a crucial decision to decline a re-ride.
The reining PBR Canada Champion, however, had his hopes of a perfect event dashed in the final round when he was bucked off by Fire Ant (Young Cattle Co.) in 2.67 seconds.
After an electric 27-event, record-setting season, Josh Frost (Randlett, Utah) emerged the supreme competitor, delivering a clutch ride on the final day of the campaign inside American Bank Center, to be crowned the 2023 PBR Pendleton Whisky Velocity Tour Champion, earning the accompanying $50,000 bonus.
Frost, who began the 2023 PBR Pendleton Whisky Velocity Tour Finals, presented by Coastal Bend Chevy Dealers, with an 85.5-point lead over No. 2 Claudio Montanha Jr. (Ribeirao dos Indios, Brazil), had his lead shrink on the opening night of competition after he bucked off Sugar Smack (Julian Cattle) in 3.57 seconds.
The Utah native's buckoff, coupled with Montanha's 86.25-point ride aboard High Hopes (Clark View Farms/Jenkins Cattle), had his lead shrink to 63.5 points.
Frost, who is declared for the 2023 PBR Team Series Draft on May 17, however, was quick to rebound. In Round 2 of competition, he conquered Simp (Farris Cattle/Platinum Bull Company) for 86.75 points. The score not only earned him crucial points, but also punched his ticket to the championship round.
While Montanha also earned a spot in the Top 10, he was unable to inch closer to No. 1 Frost in the second round, tossed by Chuck (LH Cattle Co./Sho-Me Rodeo) in a hard-fought 6.22 seconds.
As the final round of competition got underway, Frost clinched the title when Montanha failed to make the 8, bucked off by Ah Hell (Cooper/Scruggs Bucking Bulls) in a swift 3.31 seconds.
With the title in hand, Frost erupted from the chutes aboard Highwire (Hale/Berryman/Nuckols/Hart) but was unable to end the season with a qualified ride, hitting the ground in 7.34 seconds.
Tying for sixth in the overall event, Frost earned 55 Velocity Global points, concluding the year 113.5 points ahead of No. 2 Montanha Jr.
Courtesy of being anointed the 2023 PBR Velocity Tour Champion, Frost earned his second consecutive qualification to the PBR World Finals, to be held May 12-21 in Fort Worth, Texas, at Dickies Arena.
Frost will be joined at bull riding's most prestigious event by 2023 PBR Pendleton Whisky Velocity Tour Finals event champion Joao Lucas Campos (Porto Feliz, Brazil).
For Campos, the event marked his first on United States soil. In 2017, the Velocity Tour Finals also marked now two-time PBR World Champion Jose Vitor Leme's (Ribas do Rio Pardo, Brazil) first stateside appearance, which set forth a career which continues to reshape the PBR record books.
Campos went 2-for-3, sweeping Championship Saturday, earning $37,250.
After being upended by Fearful (CO Cattle Co./Bob Whisnant) in a quick 3.3 seconds in Round 1, Campos was sensational in Round 2, delivering the top score when he covered Homegrown (Cash Money Bucking Bulls) for 87.5 points.
Campos remained red-hot in the championship round, earning his second consecutive round win, and cementing the Finals event title when he topped White Face (Shuler/Pedra Bucking Bulls) for an event-best 88 points.
Tetz, Frost and Campos will be joined at the World Finals by Montanha, and Dawson Branton (Jefferson, Oregon) who also punched their tickets to the season-culminating event in Corpus Christi.
Montanha and Branton advanced as the No. 2 and No. 4-ranked riders in the Velocity Tour Global standings, while Tetz earned his career-first berth to the PBR World Finals as the top-finishing international invite.
Returning to the event leaderboard, Ednei Caminhas (Indaiatuba, Brazil) fell just short of breaking his record of being the oldest PBR World Finals qualifier, via a second-place result. In 2022, Caminhas became the oldest rider at the age of 46 to ride at the World Finals after advancing with the Velocity Tour Finals.
This season, Caminhas led the event entering the championship round courtesy of an 85.75-point ride on Big Kiwi (Nothin' But Try Ranch/Diggers Bucking Bulls) and an 87-point effort aboard Feeling Dangerous (Nothin' But Try Ranch/Kinser/McCall) in Round 2.
Risky Business (Hookin' W Ranch) ended Caminhas' bid to the World Finals in the last round when he bucked off the 2002 World Champion in a quick 1.56 seconds.
The 2023 PBR World Finals will get underway Friday, May 12, with Round 1 starting at 7:45 p.m. CDT at Dickies Arena. Tickets are still available and can be purchased online at ticketmaster.com and PBR.com, at the Dickies Arena Box Office, or by calling PBR customer service at 1-800-732-1727.
For a complete schedule of events that will be held during the 2023 PBR World Finals, visit https://pbr.com/23-world-finals-schedule.
Stay tuned to PBR.com for the latest news and results and be sure to follow the league on all social media platforms at @PBR.
PBR Pendleton Whisky Velocity Tour
PBR Pendleton Whisky Velocity Tour Finals, presented by Coastal Bend Chevy Dealers
American Bank Center Arena – Corpus Christi, Texas
Event Leaders (Round 1-Round 2-Round 3-Event Aggregate-Event Points)
1. Joao Lucas Campos, 0-87.5-88-175.50-296 Points.
2. Ednei Caminhas, 85.75-87-0-172.75-172 Points.
3. Nick Tetz, 87.25-80.5-0-167.75-128 Points.
4. Rafael Jose de Brito, 87.75-0-0-87.75-102 Points.
5. Manoelito de Souza Junior, 87-0-0-87.00-72 Points.
6. Josh Frost, 0-86.75-0-86.75-55 Points.
(tie). Wingson Henrique da Silva, 0-86.75-0-86.75-55 Points.
8. Alex Cerqueira, 86.5-0-0-86.50-37 Points.
(tie). Cassio Dias, 0-86.5-0-86.50-35 Points.
10. Claudio Montanha Jr., 86.25-0-0-86.25-27 Points.
(tie). Carlos Garcia, 0-86.25-0-86.25-25 Points.
12. Austin Richardson, 85.75-0-0-85.75-19 Points.
13. Dawson Branton, 85.25-0-0-85.25-15 Points.
(tie). Flavio Zivieri, 85.25-0-0-85.25-15 Points.
15. Jake Morinec, 84-0-0-84.00-12 Points.
16. Vitor Losnake, 83.5-0-0-83.50-10 Points.
17. Junio Quaresima, 80.5-0-0-80.50-8 Points.
Michael Lane, 0-0-0-0.00
Grayson Cole, 0-0-0-0.00
Alex Marcilio, 0-0-0-0.00
Mason Moody, 0-0-0-0.00
Kyle Jones, 0-0-0-0.00
Afonso Quintino, 0-0-0-0.00
Aaron Williams, 0-0-0-0.00
Griffin Smeltzer, 0-0-0-0.00
Dakota Eagleburger, 0-0-0-0.00
Dalton Rudman, 0-0-0-0.00
Patterson Starcher, 0-0-0-0.00
Dylan Smith, 0-0-0-0.00
Zane Cook, 0-0-0-0.00
Conner Halverson, 0-0-0-0.00
Dakota Warnken, 0-0-0-0.00
Guilherme Valleiras, 0-0-0-0.00
Brandon Chambers, 0-0-0-0.00
Chase Wimer, 0-0-0-0.00
Brandon McDowell, 0-0-0-0.00
Elizmar Jeremias, 0-0-0-0.00
Elijah Mora, 0-0-0-0.00
Jaxton Mortensen, 0-0-0-0.00
Dustin Martinez, 0-0-0-0.00
Garrett Jones, 0-0-0-0.00
Francisco Garcia Torres, 0-0-0-0.00
Daylon Swearingen, 0-0-0-0.00
Sam Woodall, 0-0-0-0.00
Alvaro Ariel, 0-0-0-0.00