Canadian Champions Dakota Buttar and Aaron Roy Tie for Event Win at PBR Canada Touring Pro Division Stop in Prince Albert, Saskatchewan
By: Kacie Albert Saturday, September 9, 2023 @ 11:30 PM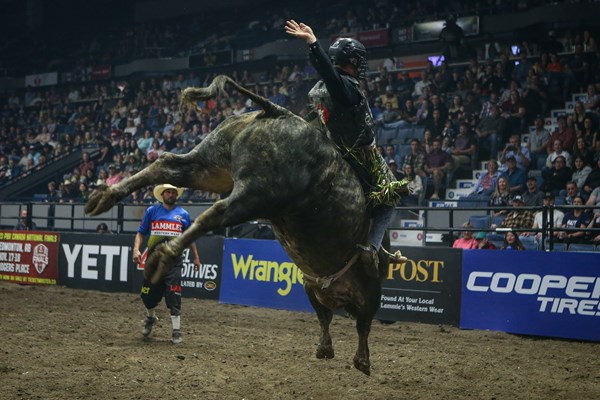 PRINCE ALBERT, Sask. – Canadian Champions Dakota Buttar (Eatonia, Saskatchewan) and Aaron Roy (Yellow Grass, Saskatchewan) rode supreme this past weekend in Prince Albert, Saskatchewan, delivering matching 2-for-2 performances at the Byrne Ranch to tie for the event win at the PBR (Professional Bull Riders) Canada Touring Pro Division's Clunie-Cooper Memorial, presented by Riverside Dodge.
Both Buttar and Roy got off to a quick start in Round 1, tying for the top score when each contender reached the requisite 8 for 83.5 points. Buttar conquered Freaked Out (Lazy S Bucking Bulls), while Roy dominated Dark Matter (Flying Four Bucking Bulls).
In the second round, Buttar went head-to-head against Chairman Frank (Lazy S Bucking Bulls). The 2020 PBR Canada Champion completed his perfect outing in his home province with an 86-poitn score.
For Roy, his final animal athlete opponent was Night Stalker (X6 Ranch Bucking Cattle/B2 Braithwaite Ranches). Remaining in perfect time with the powerful bovine, Roy also delivered his second score in as many attempts for a matching 86 points.
Buttar and Roy each netted 32.5 points to further their stronghold on two of the positions in the Top 5 of the Canadian national standings.
Remaining No. 4, Buttar climbed within 155 points of No. 1 Nick Tetz (Calgary, Alberta). Should Buttar continue his upward momentum and be crowned the 2023 Canadian Champion he would become just the fourth multi-time title winner in history, joining three-time winner Roy and two-time Champions Cody Coverchuk (Meadow Lake, Saskatchewan) and Zane Lambert (Ponoka, Alberta).
Seeking his unprecedented fourth Canadian Championship, Roy remained No. 5 in Canada. He now trails No. 1 Tetz by 206 points.
Chad Hartman (Lancer, Saskatchewan) and Cody Fraser (Wilmington, South Australia, Australia) tied for third, each garnering 17 national points.
Hartman got off to a less-than-ideal start in Round 1, tossed by Disco Daze (X6 Ranch Bucking Cattle/Legend Rodeo Stock) in 3.12 seconds. The Saskatchewan man, however, was quick to rebound, delivering what tied for both the high-marked ride of the event, and Round 2 win, when he topped Hannah Motors Broken Halo (Skori Bucking Bulls) for 87 points.
The Top 5 finish allowed Hartman to rise two positions in the national standings from No. 9 to No. 7. He is now 269.67 points behind No. 1 Tetz.
Fraser had a similar outing at the Byrne Ranch. After bucking off Patiently Waiting (Skori Bucking Bulls) in 4.97 seconds in Round 1, he delivered a commanding 87-point effort in Round 2 aboard The Remedy (X6 Ranch Bucking Cattle/B2 Braithwaite Ranches).
The Australian rose three positions in the Canadian standings, climbing from No. 22 to No. 19.
Rounding out the Top 5 in fifth was Tyson Thue (Ceylon, Saskatchewan).
Thue's 83-point ride atop Putsey (X6 Ranch Bucking Cattle) in Round 1 garnered him 13 national points.
In the bull pen, Foo Fighter (Flying Four Bucking Bulls), Whoopsie Hustle (Flying Four Bucking Bulls) and Black Jack (Skori Bucking Bulls) tied for the Bull of the Event honor, each marked 43 points. Foo Fighter and Whoopsie Hustle delivered the top marks in Round 1, bucking off Weston Davidson (Strongfield, Saskatchewan) in 3.85 seconds, and Thue in 2.12 seconds respectively, while Black Jack was out in Round 2, tossing Fraser in his double-entry in 3.28 seconds.
The 2023 PBR Canada season continues Saturday, September 16 in St Tite, Quebec, for the Touring Pro Division's Festival Western St. Tite. Action at Coors Original Arena begins at 11:30 p.m. EDT.  
Stay tuned in to PBRCanada.com and follow the tour on Facebook (PBR Canada), Twitter (@PBRCanada), and Instagram (@PBRCanada) for the latest results, news, stats and more.
PBR Canada Touring Pro Division
Clunie-Cooper Memorial, presented by Riverside Dodge
Byrne Ranch – Prince Albert, Saskatchewan
(Round 1-Round 2-Round 1-Round 2-Event Aggregate-Event Points)
1. Dakota Buttar, 0-0-83.5-86-169.50-32.5 Points.
(tie). Aaron Roy [1], 0-0-83.5-86-169.50-32.5 Points.
3. Chad Hartman [2], 0-0-0-87-87.00-17 Points.
(tie). Cody Fraser [1], 0-0-0-87-87.00-17 Points.
5. Tyson Thue [2], 0-0-83-0-83.00-13 Points.
6. Weston Davidson [2], 0-0-82-0-82.00-11 Points.
7. Kade McDonald [2], 0-0-81-0-81.00-10 Points.
8. Orrin Marshall [2], 0-0-0-80.5-80.50-10 Points.
Aaron Roy [2], 0-0-0-0-0.00
Chad Hartman [1], 0-0-0-0-0.00
Weston Davidson [1], 0-0-0-0-0.00
Cody Fraser [2], 0-0-0-0-0.00
Tyson Thue [1], 0-0-0-0-0.00
Orrin Marshall [1], 0-0-0-0-0.00
Kade McDonald [1], 0-0-0-0-0.00
Damon Tritthart [2], 0-0-0-0-0.00
Damon Tritthart [1], 0-0-0-0-0.00
Cole Troendle [1], 0-0-0-0-0.00
Cole Troendle [2], 0-0-0-0-0.00
Zander Kummer [1], 0-0-0-0-0.00
Zander Kummer [2], 0-0-0-0-0.00