Three-Time PBR Canada Champion Aaron Roy Wins Touring Pro Division Event in Armstrong, British Columbia
By: Kacie Albert Sunday, September 3, 2023 @ 11:30 PM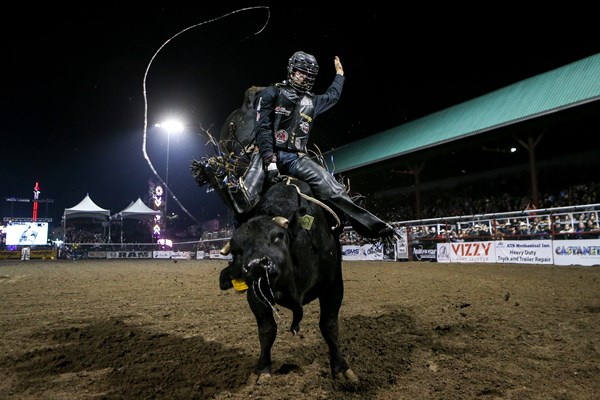 ARMSTRONG, B.C. – In front of an electric Sunday night crowd in Armstrong, British Columbia, three-time PBR (Professional Bull Riders) Canada Champion Aaron Roy (Yellow Grass, Saskatchewan) delivered a perfect 2-for-2 performance to win the Touring Pro Division's Interior Provincial Exhibition & Stampede, cracking the Top 5 in the 2023 championship race.
Roy is now tied with Coy Robbins (Camrose, Alberta) for most Touring Pro Division events won by one rider this season with four. He was previously victorious in Winnipeg, Manitoba, and Humboldt and Manor, Saskatchewan.
As action got underway at the Interior Provincial Exhibition Association, Roy first went head-to-head with Positively Bangin (Outlaw Buckers Rodeo Corp.) in Round 1. Reaching the requisite 8, Roy was awarded 82.5 points, the fourth best of the round.
Roy then took on Crazy Little Thing (Two Bit Bucking Bulls) in the championship round. In what proved to be a perfect pairing, Roy covered the animal athlete for 84.5 points to cement the victory.
Courtesy of the win, Roy earned a crucial 33 national points. Seeking his unprecedented fourth national title this November at the 2023 PBR Canada National Finals, Roy rose from No. 6 to No. 5 in the standings. He is now within 238.5 points of No. 1 Nick Tetz (Calgary, Alberta).
Tetz parlayed his own 2-for-2 effort into a fourth-place result.
After riding Yeyo (Matejka Farms Bucking Bulls) for 71 points in Round 1, Tetz conquered Grey Day (Vold Rodeo) for 85 points in the championship round.
The Top 5 finish garnered the protected rider for the Arizona Ridge Riders a crucial 22 points.
Despite the effort, however, Tetz lost ground to No. 2 Cody Coverchuk (Meadow Lake, Saskatchewan), who logged his own flawless 2-for-2 performance in Armstrong to finish second.
Recently inked to the Oklahoma Freedom in the separate PBR Teams League, Coverchuk first put points on the board in Round 1 when he rode Charlee's The Boss (Matejka Farm Bucking Bulls) for 78 points.
The Saskatchewan sensation then delivered the high-marked ride of the event in the championship round when he topped Langham Kid (Two Bit Bucking Bulls) for 88 points. During the trip, Langham kid posted a 43.5-point bull score to be crowned the Bull of the Event for a PBR-best sixth time this season.
Coverchuk's silver showing garnered him 28 national points. He inched within 45.84 points of No. 1 Tetz.
Continuing down the leaderboard, Brock Radford (De Winton, Alberta) was third, collecting 26 national points.
Radford recorded the third-best score of Round 1, marked 83 points atop Look At This Dude (Two Bit Bucking Bulls), and then went on to post the fifth-best total in the championship round when he rode Smoke Bomb (Vold Rodeo/Brady Walker) for 82 points.
The Albertan rode three positions in the national standings, climbing from No. 21 to No. 18.
Rounding out the Top 5 in fifth was Round 1-winner Ashton Sahli (Red Deer, Alberta).
Sahli's 87.5-point ride on Out Work'm (Outlaw Buckers Rodeo Corp.) earned him 15 national points. He rose from No. 9 to No. 8 in the nation, climbing within 284 points of No. 1 Tetz.
The 2023 PBR Canada season continues September 8-9 in Prince Albert, Saskatchewan, for the Touring Pro Division's Clunie-Cooper Memorial, presented by Riverside Dodge. Action at the Byrne Ranch begins at 7:00 p.m. CST nightly.  
Stay tuned in to PBRCanada.com and follow the tour on Facebook (PBR Canada), Twitter (@PBRCanada), and Instagram (@PBRCanada) for the latest results, news, stats and more.
PBR Canada Touring Pro Division
Interior Provincial Exhibition & Stampede
Interior Provincial Exhibition Association – Armstrong, British Columbia
Event Leaders (Round 1-Round 2-Event Aggregate-Event Points)
1. Aaron Roy, 82.5-84.5-167.00-33 Points.
2. Cody Coverchuk [1], 78-88-166.00-28 Points.
3. Brock Radford, 83-82-165.00-26 Points.
4. Nick Tetz, 71-85-156.00-22 Points.
5. Ashton Sahli, 87.5-0-87.50-15 Points.
6. Jake Gardner, 0-86.5-86.50-13 Points.
7. Coy Robbins, 83.5-0-83.50-12 Points.
8. Garrett Green, 81-0-81.00-10 Points.
9. Chad Hartman, 78.5-0-78.50-9 Points.
Cody Coverchuk [2], 0-0-0.00
Dakota Buttar, 0-0-0.00
Wyatt Gleeson, 0-0-0.00
Weston Davidson, 0-0-0.00
Cody Fraser, 0-0-0.00
Callum Miller, 0-0-0.00
Micheal Ostashek, 0-0-0.00
Clay Gordon, 0-0-0.00