Roy Eager for Historic Dual Role at Upcoming PBR Global Cup
By: Kacie Albert Thursday, December 27, 2018 @ 9:24 AM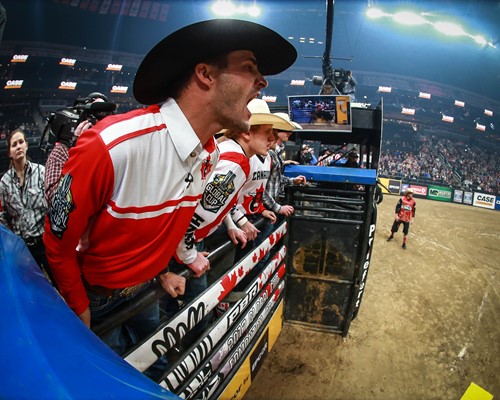 NEW YORK CITY – When looking at the accomplishments earned by Canadian riders in the PBR, Aaron Roy is arguably one of the most successful riders to emerge from the country since the league's creation in 1992.
The Yellow Grass, Saskatchewan-based rider is the lone three-time PBR Canada Champion, only athlete in history to win the Glen Keeley Award five times, with four earned consecutively, and all-time Canadian money leader, with more than $995,799.07 USD in career earnings.
In February, when the PBR travels to Arlington, Texas and AT&T Stadium for the first-ever Global Cup on U.S. soil, Roy will further etch his name into the history books, poised to become the first rider to both ride and coach a competing team.
RELATED: Roy, West and Finkbeiner Join Team Canada for 2019 PBR Global Cup USA
"I'm excited to be able to do both, ride and coach -- that was the first thing I asked was if I could do it," Roy explained.  "I think it is going to be challenging, but I'm definitely up to it."
His ability to fill both roles is part of the competitive rule changes revealed when the WinStar World Casino and Resort Global Cup USA was announced in August.
"I've talked to a few guys on the team and they were all kind of wondering if I was going to do it or not, [and are] excited to have me on the team."
For the third consecutive edition of the international bull riding spectacle, Roy was selected by riders to return as the nation's coach, and earned his spot on the team courtesy of his finish in the 2018 PBR Canada national standings.
Competing for the first time since fracturing his femur during Round 1 of the 2016 PBR World Finals, Roy rode exclusively on Canadian soil, leading him to conclude the season the No. 6-ranked rider in the nation.
Going 17-for-41 (41.46%), Roy notably earned three event wins, including the first of his career on the Monster Energy Tour in Edmonton, in addition to six Top-5 and 13 Top-10 efforts.
"I was happy with it for the amount of events I went to and how I rode at the events," Roy said. "Just confidence building and getting back into it. I found it more enjoyable and relaxing, picking and choosing where I get to go, and being able to take my family with me a lot more, it made bull riding actually fun again and fun to be around."
He capped his season with a fifth-place effort at the PBR Canada Finals, where his wife Hallie, and their two kids, Axel and Lux, were in attendance cheering him on from the SaskTel Centre stands.
"Well Lux was in Edmonton, which would have been her first bull riding, she's been to a few little ones, but at the finals she was into it," he said of his daughter. "Hallie said she was dancing at every song, and she knew when I was going and everything.
"And Axel, he's like a mentor or a coach, he tells it straight up, what you did wrong, if you did good. If you're down on yourself he picks you back up and he's not afraid to tell you the truth. So it's kind of a coach, mentorship and a fan all in one."
Roy, announced alongside Lonnie West and Wacey Finkbeiner (alternate), joins his four picks already named to the team – Dakota Buttar, Tanner Byrne, Jared Parsonage and Zane Lambert. One roster spot remains, Roy's final pick, set to be announced in early January.
 "Super excited for our team this year and I think that we're going to be strong contenders," Roy stated simply. "We're going to be one of those teams to look out for."
When the Global Cup debut in Edmonton, Roy guided his augmented 14-rider roster to a third-place finish inside Rogers Place.
RELATED: Team Canada Third at Inaugural PBR Global Cup
This past June, when the Global Cup returned for its second edition in Sydney, the slimmer seven-man contingent that travelled to Aussieland under Roy's leadership once again rode to a bronze finish, however were just 19.75 points behind winners Team Brazil, and beat out defending event victors Team USA.
RELATED: Team Canada Third at PBR Global Cup in Sydney
Despite Roy being the lone rider currently on the team that has never competed for the nation at the Global Cup, he brings a wealth of team-format experience to the contingent having competed at all four editions of the PBR World Cup.
A member of Team Canada at the events held from 2007-2010, Roy notably delivered a 92.5-point ride aboard Frank Biddle's Rocky Road at the inaugural World Cup in Australia in 2007 to help the nation to a second-place finish.
"It's always nerve wracking when you get that jersey put on, you're riding for a country instead of yourself," Roy explained. "So your nerves get going and you just kind of boost you to a way better riding percentage [because] you ride there for a team instead of yourself. "
With the added factor of riding added to his list of responsibilities for the upcoming Global Cup, Roy has no plans to alter his strategical approach to the event.
"It's the same game plan whenever you go to those Global Cups – you've got to get bulls rode. So it's putting the right guys on the right bulls and trying to match up their strong suits.
"I've got a pretty even team picked for left and right-had riders, so it should be pretty good for the bulls we have drawn," he continued. "Everybody is riding hot and I'm excited about it. So I don't think our strategy is going to change, just go there and get scores and let it all fall into place."
One thing that will differ from both the Canadian and Australian Global Cup is the bull power that awaits all riders set to compete inside the home of the NFL's Dallas Cowboys.
"Whenever you go to the States, you get the best bulls in the world down there," Roy explained. "I found it almost easier to ride down there, you get on ranker bulls, but they help you out a lot more than the bulls up here."
"We need to stay on bulls, because you know the Brazilians and the Americans are going to be really hard to beat there, he continued.
"We need to stay on those top tier bulls. We can compete all day on 86, 87-pointers, but we've got to stay on those 90-pointers and get those higher scores to show everybody we are here to compete, and we have proved that in the last two.
"We were third in Edmonton and we beat the United States and were right there riding bulls with Australia and Brazil in Sydney."
With the Global Cup still more than a month on the horizon, Roy next looks to the season-launch event for the 2019 PBR Canada Monster Energy Tour in Winnipeg, Manitoba on Saturday, January 26.
"I'm on the team right now, but things could change too if I don't feel like I'm riding good enough to be on the team," Roy concluded.  
"It all depends on how I feel. I feel like I can compete right now, but there's still a long ways until Global Cup so anything can happen between now and then."