Atwood fired up for PBR Monster Energy Canada Tour
By: Covy Moore Monday, August 22, 2016 @ 1:12 PM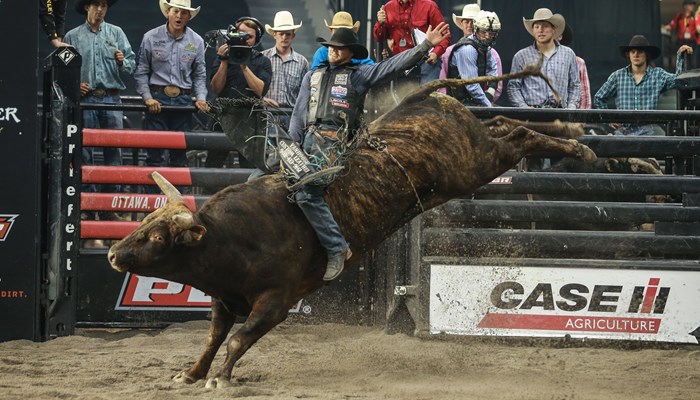 Brant Atwood, from Pampa, TX flew a very long way for the inaugural PBR Monster Energy Canada Tour stop in Ottawa, ON at TD Place.
And while the 30-year-old bull rider wasn't a fan of the Montreal Smoked Meat sandwich he tried Friday night, he sure enjoyed the atmosphere and fans in the Nation's Capital.
"For being the very first event, it went really really well. It was a dang good production for being a first event, and televised an all that," Atwood said.
"The fans were great, they interacted with us really well, shoot they were clapping before the guy even rode the bull. I sure got a kick out of it, it got my motor running for the week. Overall, the fan base is really good out east."
The event was held at the TD Place Arena, and with thousands of fans cheering on each and every rider including a couple from Ontario themselves, everything went off without a hitch.
For Atwood however, the night didn't start exactly as he would have hoped getting fouled at the gate during his first ride. Luckily however, he was given a re-ride from a pen that included some of Canada's best bulls.
"I ended up getting Jawbreaker. Everybody was talking about how good he was. It put a little pressure on me because everyone was talking about how good he was to ride. I had to think clear and go at him like he was the rankest bull there," he said.
"They were all telling me he will hop, skip and turn back to the left. About three jumps out there he was long and strong and trying to whip me down there on his head. Then he just whirled it around and when he turned back he was really good. For those first three jumps he sure earned his name, Jawbreaker."
Now qualified for the final round of competition on the back of an 83 point score, and was then matched up with a fantastic bull from the Wild Hoggs pen called Hillbilly Heaven.
"Tyler Thomson come up to me giving me advice. I had never seen him, Ty Pozzobon has been on his twice recently and Tyler was there to see it both times. He came up and gave me some advice on what I needed to do, and heck it worked. He did exactly what Thomson said he was going to do," Atwood said.
"It really makes a guy feel good. You can't explain the feeling when you get guys like Tyler Thomson and Ty Pozzobon, some of the best bull riders in the world pulling your bull rope and giving you that advice. It makes me feel really good on the inside, and that I put in some hard work and am going somewhere with my bull riding."
Scoring a huge 87 points in the final round of competition, and 170 on the event, he took home a needed 80 points in the PBR World Standings, and more than $6,000 in earnings. Atwood admitted that with great bulls and a lot of points up for grabs in this tour he plans on attending each and every event. The end goal for Atwood, at most other riders on the tour is to make enough points in this final run to be able to sit within the top 35 in the PBR World Standings to make it to the World Finals in Las Vegas.
"I plan on doing the whole tour unless I get a call to be on the Built Ford Tough Series, I would have to take that opportunity. I try not to keep up with (the points). I just get on my bulls and go to Canada when I need to. I just go wherever I am supposed to, go ride bulls and have fun. I keep it as simple as possible no matter if its a Built Ford Tough Series or a little Canadian touring pro event. It tends to put a little pressure on a guy if you look at those standings and what number you are sitting and that."
As for the bulls, Atwood has always been impressed with the animal athletes on offer from Canada.
"They are all big, got a good seat on them. They all just kick out one or two really hard, suck back and start spinning. All your bulls kick and spin and have a lot of timing. While our southern bulls are moving ahead, no kick and trying to well you."
After this first stop in Ottawa the tour will continue on to London, ON next week (August 27) at Budweiser Gardens. The tour will also visit Hamilton, ON; Winnipeg, MB; Calgary, AB; Abbotsford, BC, and Saskatoon, SK in 2016. All roads will then lead to Edmonton as PBR will bring the PBR Monster Energy Canada Tour Finals and a special global invitational PBR event to Edmonton for a three-day global professional bull riding event scheduled for November 10-12, 2017.
Visit PBRCanada.com for the full PBR Monster Energy Canada Tour schedule and tickets. Tune into TSN2 on Wednesday August 24th at 7:00pm ET and RDS on August 25th at 10:00pm ET for the inaugural broadcasts produced by Larry Isaac featuring hosts Brett Gardiner, Scott Byrne and Jason Davidson.