PBR Canada Bull Profile - Cooper's Comet
By: Covy Moore Monday, September 26, 2016 @ 7:57 PM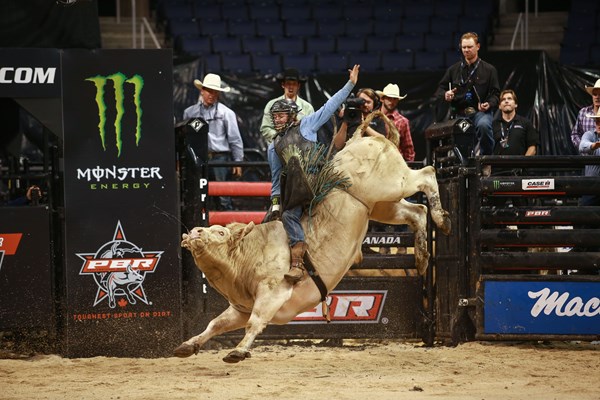 Ask any PBR Monster Energy Canada Tour bull rider which bull they would want to be matched up with in the championship round and a very large majority would like to see Vold's Cooper's Comet.
This white five-year-old bull was bought as a cow-calf pair from a former Canadian bull rider, Aaron Gibb four years ago and has become one of the hallmark bulls of the Vold pen. 
"We have raised him since he was a baby. From his futurity days until now, he has always been one of those bulls I am really high on," said owner Nansen Vold. 
"He grew up to be a pretty decent sized bull at about 1,500-1,600 pounds. He has been in the short rounds up here in Canada for the last couple years."
What characteristics does an owner look at to know which bulls they keep an eye on, aside from those bulls scores? Vold says attitude is a big part of it, but consistency is key.
"The way they hold themselves together, the way they are built, their attitude. He has always been a little firecracker, and is never one to take lightly in the back pens too. He has never taken a sore step in his life, he has always been healthy, an easy keeper. He is good to handle but he is always on the move, always doing things at 100 mph," Vold said. 
"It his consistency that is one of those key things, you want them to do what they are supposed to when you ask them to."
And consistency has only improved from what Vold called a "good" year last year. In his last 18 trips, Cooper's Comet has not scored lower than 42.5 (Bull score accounts for 50 per cent of total scores on a successful bull ride), and is typically in the 43-46 range. 
Consistently.
"Last year he was good for us, but this year he has really come into his own. He is five years old now, and I think he is at that elite part of his life where he is going to be at his best for a bucking bull," Vold said.
"He has started to make a name for himself, there are a lot of guys wanting to get on him. He is always going to have a good bull score. Ride him or not. I like to see him get those high scores. It goes a lot farther than having those buck-offs all the time. People talk about a 92-point ride before they will talk about a bull that bucked you off in 3.4 seconds."
Each and every bull in the PBR Monster Energy Canada Tour has some sort of story behind their name. Ty Pozzobon's bull Canadian Outlaw, co-owned with Chase Outlaw, has one of those obvious names that connections easy for most to understand. 
But for Cooper's Comet, the story behind his name hits closer to home. 
Cooper Tonneson, Nansen Vold's step-brother passed away two year ago at the age of 19. In true bull riding fashion Vold said he headed out to the pen to name a bull to remember and celebrate a member of his family. And he wanted to find the best one of the bunch.
"I picked the best bull I thought showcased what my brother was about. Cooper's Comet, kind of a mention to a comet in the sky," said Vold. "I picked the right one, he is really special to us, not only because he is one of the best bulls in our pen but because of that name he is packing too."
The PBR is in Abbotsford, BC for stop number five of the PBR Monster Energy Canada Tour on Saturday, October 1st at the Abbotsford Centre starting at 7:30pm. Tickets are available at Ticketmaster.