Pozzobon blazes a unique path to the World Finals
By: Covy Moore Monday, October 10, 2016 @ 11:36 AM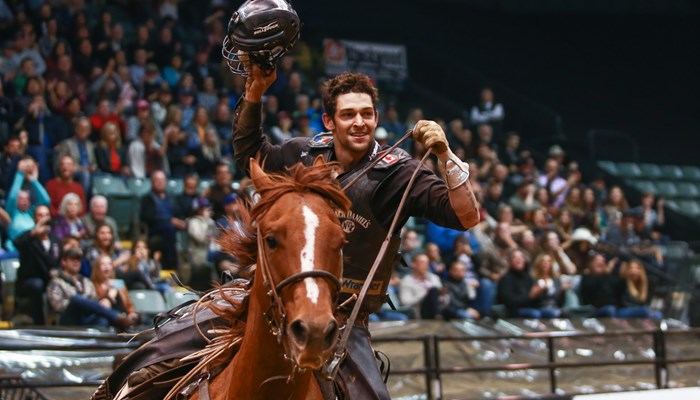 Not only did season points leader Ty Pozzobon win the PBR Monster Energy Canada Tour event in Abbotsford, British Columbia, last weekend, but he matched the highest score of the entire tour with an 89 point effort atop Vold's Johnny Ringo.
"Having (one of) the top scores on the tour feels great," said the Merritt, British Columbia, native. I am a little surprised by the great rides there has been this year that we haven't seen many 90's. One ride that really stands out is when Garrett Green rode Red Mile (at a Touring Pro Division event), if that wasn't a 90 I'm not sure what is.
"I've seen him (Johnny Ringo) a lot this year. I have seen him be just good to ride, but as of late he has really been bucking. The trip before I had him, Garrett Green got on him in Winnipeg and he really fired. I knew I had my hands full, but I was very excited about the match. When you see your name next to a Vold bull the chances are they are going to give you a chance to win first if you do your part."
With that top score under his belt, and the event buckle in hand it was only made sweeter having a ton of family and friends in the stands cheering the 24-year-old on. Being able to win in front of so many people who have done so much for Pozzobon in his career was just icing on the cake.
"I really can't explain how much that win meant," said Pozzobon. "To have all my family and friends there supporting me was great, it is a nice feeling to know you have so much support. It was extra special with them being there because they have supported me through it all."
Pozzobon sits firmly atop the PBR Canada standings leading Cody Coverchuk and Dakota Buttar by over 900 points. Having been towards the top of the world standings very early in his career, followed by a season and a half recovering from minor and major injuries, Pozzobon admits being able to get back riding strong has humbled him.
"I've had a lot of low points the past couple years. My head injury was probably the hardest on (family and friends), but to have endured all that it makes it so much sweeter," Pozzobon said. "I feel like you have to endure hardships to really appreciate moments like that. I drove a pilot car for my Aunt and Uncle's trucking company this past winter. I can remember thinking to myself I wish I would have lived a little more in the moment when I had things so good. Not that driving a pilot car is bad, but I think riding bulls for a living is a little more my style. I guess now I just appreciate every single moment because I don't know what tomorrow is going to bring."
With a week off prior to the Abbotsford event, Pozzobon said he stayed busy with a little bit of television work, coupled with running home to buck his own bulls.
"The week leading up to Abbotsford I was actually doing some work in the movies down on the coast. A recent Ford commercial really opened up a lot of doors in that area so I am very excited about that," Pozzobon said. "I can't ride these things forever so it is nice to get into that a bit now. We didn't do much resting. I wasn't home much at all this summer so every time I am home seems like I have a lot to do. I gathered all of my bulls and bucked them leading up to Abbotsford"
Pozzobon headed to Nampa, Idaho, for the Built Ford Tough Series event this weekend, as insurance to keep him inside the Top 35 and guarantee a spot at the PBR Built Ford Tough World Finals. After finishing the event tied for 14th place, Pozzobon ranks 33rd in the world standings, 70.83 points ahead of Nathan Schaper in 36th.
New this year, the top PBR Canada Champion after Saskatoon's PBR Monster Energy World Finals Qualifier will head to the BlueDEF Finals at South Point Arena in Las Vegas Oct. 29-31. From there, the BlueDEF Tour Champion, the event winner and Top 3 finishers and the top international finisher will make their way to the brand new T-Mobile Arena for the Built Ford Tough World Finals.
The PBR Monster Energy World Finals Qualifier is the final PBR Canada event of 2016 and runs October 14th and 15th at the Sasktel Centre starting at 7:30pm nightly. Tickets are available at Ticketmaster.