Ted's Picks - Ottawa, ON
By: Ted Stovin Saturday, August 20, 2016 @ 3:51 PM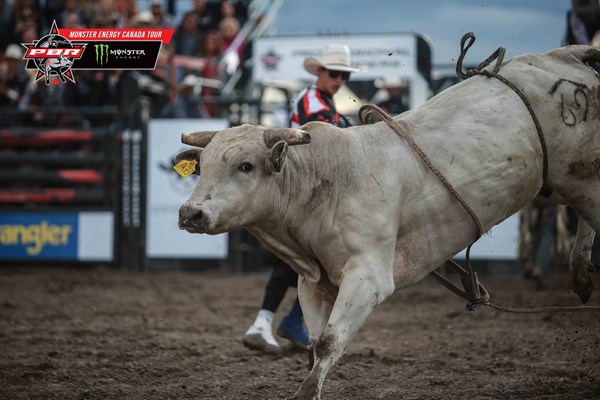 OTTAWA, ON - It's been a long time since the talk of the PBR Monster Energy Canada Tour started but looking back today it seems like it was yesterday.
There sure are a lot of moving pieces in putting this whole thing together, from the WME/IMG Offices in Toronto which operate the PBR here in Canada to the TSN/RDS TV production, or our live event crew among many others.
With it all coming together with all the great people for today's event, I couldn't be more excited. This is the first nationally televised tour ever in the history of the PBR in Canada. With all roads leading to Edmonton in November of 2017, the sport of bull riding has been put at the forefront of the western lifestyle in Canada. 
It all kicks off tonight at The Arena at TD Place here in Ottawa. An entire liner load of bulls made their way out here from Alberta and Saskatchewan consisting of bulls from Cody Strandquist, Skori Bucking Bulls, Vold Rodeo/Prescott and the Wild Hoggs. Those western bulls include another trailer from out this way from Wayne Chausse. 
For those of you who have a ticket tonight, congrats, I look forward to seeing you all here. For those of you who won't make the trek, tune in on Wednesday August 24th at 7:00pm ET on TSN2 or Thursday August 25th on RDS at 10:00pm ET. Stay tuned for a full schedule coming shortly. 
Until then, here's a further look at some of the top match-ups you may have already seen this week on social media. 
Cole Young vs. 21 Hookasouras - I haven't seen this bull a ton yet but I sure liked him when I did the other day in Oyen. There, the Wild Hoggs bull with potentially the best name ever matched up with Zane Lambert for a big 86.5. Cole, along with Kale Marks have made the entire journey here by car. Kale said he was sick of driving by about Stettler, two hours into the journey. Talk about having one that's worth the drive for, I see this being a spot for Cole to jump out and stake his claim as one of the best in Canada. He's got to do things right, but when he does the score will reflect it. 
Brock Radford vs. 127 Happy Heartbreaker - According to the stats on record, no one has covered this bull so far. Brock is one of the guys that has the most to gain from this tour when it matures over the years and over a million dollars are paid out in Edmonton in 2017. Brock has been having a career year on the rodeo side of things and ranks 24th in Canada to this point in the PBR Canada National Standings. Brick is going all the way up from here!
Reese Cates vs. L6 Jawbreaker - Reese got on the draw here a little late in the game but when his name made the list it was matched up by a good one. From the Skori family of Kinsella, Jawbreaker is a big grey bull with horns. Most recently, L6 was ridden for a score of 86.5 in Prince Albert after turning on the blinker around to the left. Reese is looking to make his way back to the PBR's Built Ford Tough Series. With 80 world points up for grabs this one can make a huge difference. The $20,000+ in prize money won't hurt either. Look for at least an 85 in this out. 
Cody Coverchuk vs. 1144 Dirty Grandpa - Currently third in Canada, Covy has a big opportunity to catch up with Ty Pozzobon and Dakota Buttar who are first and second so far. This Vold/Prescott bull has been ridden once in four recorded outs. That time was an 85.5 by Washington's Cody Casper back in May in Prince Albert, SK. A black-horned bull, Dirty Grandpa spun to the left with Casper either way, Coverchuk is going to take it to this one. 
The following is the draw for the PBR Monster Energy Canada Tour kick off in Ottawa, ON at The Arena at TD Place starting at 7:30pm ET. For tickets, click HERE.