A Dream Realized
By: Kacie Albert Saturday, September 30, 2017 @ 8:21 AM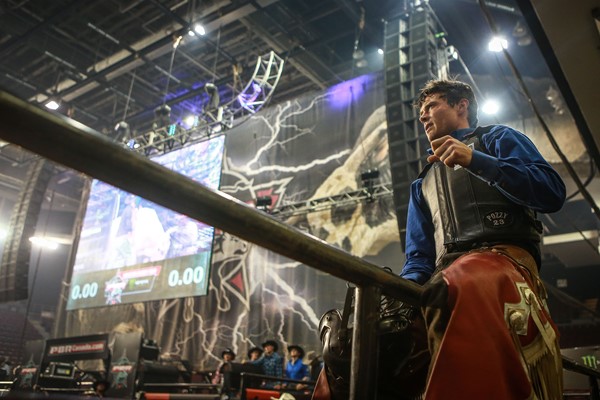 TORONTO – This afternoon Tisdale, Saskatchewan's Justin Lloyd finally received the call he's been waiting for years to receive – the call from the PBR inviting him to big leagues and the elite Built Ford Tough Series (BFTS).
"It's not as if I haven't thought about it enough," Lloyd said laughing when asked about the significance of the moment.
"It's funny because I was hoping I'd get it before Allentown, but the draw was already set. Then I was thinking the next week maybe it might happen, but this week I had kind of just changed my focus, and I thought let me focus on riding bulls and whatever else will work out. Then when I got the call today it was funny how it just panned out. "
Replacing Luis Blanco, Lloyd will make his debut on the premier tour this weekend at the Rumble in the Rockies in Colorado Springs on Saturday, September 30 and Sunday, October 1.
The 30-year-old Canadian is already stateside in the midst of a multi-event run he planned with the intention of earning a spot on the BFTS. 
RELATED: Lloyd Makes U.S. Push Before Returning to Canada for Season's Final Events
His month trip to the United States began on September 11 in Pendleton, Oregon and has since taken him more than 3,000 miles to the other side of the United States where he most recently competed in the Real Time Pain Relief Velocity Tour (RVT) in Portland, Maine finishing 18th.
 "[Earning an invite] was the whole goal of coming down here and it's great to get the opportunity," Lloyd said.
"It didn't happen the way I imagined it would or preferred it to, but the opportunity is there and that's what I was hoping for. It just shows that if you put in the hard work, good things will happen."
While his U.S. trip was architected with the intention of earning the invite, Lloyd is fast to credit his family as an ever-present source of support which has been crucial in helping him achieve his goals.
"This dream doesn't happen overnight and it definitely doesn't happen by yourself," Lloyd said.
"I have the greatest supporters at home in my wife and kids. My wife is at home looking after the two kids, and we're a team, she does a lot of things for me. It's important to be able to talk to someone you trust and you know has the same attitude and goals in mind. It helps when you want to talk things out and get your head straightened out. "
In Round 1 Lloyd has drawn Flying V Bucking Bulls' Bad Break who will also be making his BFTS debut.
"I don't know if he has many outs," Lloyd said of his draw.
"But that's good for me, I'd rather not know."
Sunday afternoon he is set to face Jane Clark and Gene Owen's Force Awaken.
However, before he can ride Lloyd has to traverse the United States one more time.
Currently in Massachusetts in preparation for this weekend's Hartford, Connecticut RVT event, Lloyd will need to travel more than 2,000 miles over the next 24 hours to reach Broadmoor World Arena in Colorado Springs. 
Lloyd will make the journey alongside traveling partner Alex Marcilio who is also set to ride this weekend after winning last weekend's RVT event in Portland, Maine.
"I'll fly out with him in the morning to Denver and then we'll go to Colorado Springs," Lloyd said of his plans.
While for some their first trip to the premier tour can be a bit intimidating due to the grandeur that come with the BFTS, Lloyd is relieved that the opportunity has finally presented itself.
"It was a big relief to be honest," he commented. 
"I feel more relaxed that I got the call than maybe I would be going to Hartford this weekend. It's been something that I've been wanting for so long that now that I've finally got the chance I feel really relaxed." 
Lloyd is the third fast rising Canadian to earn a berth onto the BFTS this season, following Brock Radford, who competed first in Springfield, and Jordan Hansen, who made his debut in Austin.
With Radford and Hansen both out of this weekend's draw due illness and doctor's release respectively, Lloyd will join Kindersley, Saskatchewan's Dakota Buttar as the this week's Canadian contingent at the BFTS event.
RELATED: Vieira Ready to Make His Return; Colorado Springs Draw Notes
"Dakota and I travel together and we always get along real well and have fun," Lloyd said.
"So it'll definitely be a fun weekend, and an exciting on for sure."
After going 2-for-3 and finishing 7th in Austin, Buttar went 0-for-2 at last weekend's Buck Off the Island in Uniondale, New York.
He's drawn Dakota Rodeo/Chad Berger/Jerry Brown's Boot Jack in Round 1 and L&E Bull Co.'s Canadian Fastlane in Round 2.
Lloyd knows though that earning the invite this weekend was just a stepping stone to achieving his larger goals of a consistent spot on tour and spot at November's World Finals in Las Vegas.
"I got the opportunity, and that's really what I wanted, but at the end of the year I want to be in that Top 35 so I can get to Vegas," he said.
"I was chatting with Aaron Roy the other day and we were talking about that there's a lot of bull riding left, but it is time to make it happen. "
"As long as I stay focused on the goals, I can make them happen. In all reality everybody can win and everybody could ride all three bulls, so it has to really all fall into place for you to win, but you know, you ride all your bulls and good things will happen. "
Lloyd is currently ranked No.52 in the world, 167.49 points behind No.35 Cody Campbell and the ever-known BFTS cutoff line.
"We're knocking on the door, we've just got to knock a little harder."
 The Rumble in the Rockies at Broadmoor World Arena in Colorado Springs, Colorado gets underway Saturday, September 30 at 6:45 p.m. MT with Round 1 and Sunday, October 1 at 1:45 p.m. MT with Round 2 and the Built Ford Tough Championship Round.
Championship Sunday will air on CBS Sports Network on Sunday, October 1 at 4:00 p.m. ET.
PBR LIVE will also stream the entire event in real time starting at 6:30 p.m. MT on Saturday and 1:30 on Sunday.
 PBR LIVE is available at no charge to all fans and media. Visit www.pbrlive.com to view. Fans can also watch all the action live via the PBR LIVE app, available for download now on Google Play and iTunes.
Be sure to stay tuned to PBRCanada.com and follow the tour on Facebook (PBR Canada), Twitter (@PBRCanada), and Instagram (@PBRCanada) for the latest results.