Back on Top
By: Kacie Albert Wednesday, June 28, 2017 @ 9:43 AM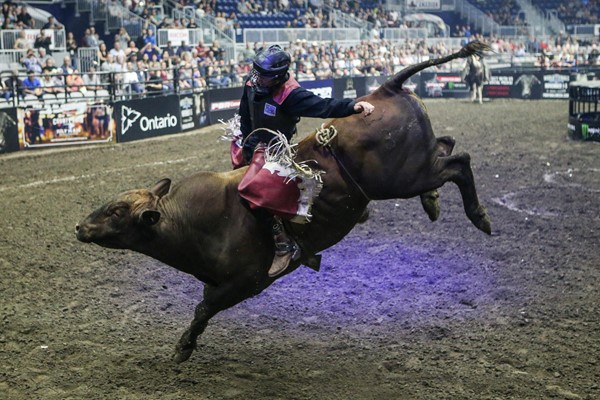 For the first time since 2013, Justin Lloyd found himself standing in arena centre at event's end being handed the championship buckle after winning the Monster Energy Tour's stop in Toronto, Ontario.
The win was Lloyd's first of the season, first on PBR Canada's Monster Energy Tour and second of his career. The 29-year-old's first victory of his PBR career came at the Touring Pro Division's 2013 stop in Lloydminster, Saskatchewan.
"It's been awhile," Lloyd said. "I've had a lot of seconds, last year I had [four], so I knew it was going to come, but you hope it never takes that long."
In Toronto, Lloyd drew Mike Miller Bucking Bulls' Otis in Round 1, a bull that in three outs on the Monster Energy Tour had bucked off Cawl Braithwaite twice, and been ridden by Jordan Hansen for 85 points in Quebec City.
Lloyd consulted Miller prior to the event's start, hoping for insight on what he could expect when the chute doors flung open.
"Everything he told me about [Otis] I really liked to hear, so that was nice going in," Lloyd said.
Armed with the knowledge that he faced a "strong" bull, and that he would have an easier time if he rode in the "right spot," Lloyd made the second qualified ride of the night, scoring 86 points aboard the bull.
Lloyd shot to the top of the leader board, and stayed there throughout the next 19 outs, winning Round 1.
"The round went well there and I was lucky to win because there were some other guys riding really well," Lloyd remarked.  
In Round 2, Lloyd once again faced a bull from Miller's deep pen that made the trip to Toronto.
Set to ride Pneu Dart's Captain, Lloyd knew if he could last the full 8, the bull would deliver him top marks. At the past two Monster Energy Tour events, the bull's short go performance earned Hansen 87.5 points and a fourth place finish in Quebec City, and Cody Casper 88 points and the event win in Ottawa.
"That was the bull I wanted out of the whole pen," Lloyd said. "I was happy with my draw and getting Captain was nice because my buddy Cody Casper rode him in Ottawa to win the event there so I knew I had a good one."
However, Lloyd's out ended much differently, bucked off in 1.72 seconds.
"It didn't go the way I planned, that's for sure," Lloyd said of his short go out.
"I tried to get him standing as straight as possible, but at some point you've got to just go with them. I might have been leaning away from my hand just a little too much, and he got me on the end of my arm right out there, so I immediately had to start making moves to try and get back in time with him. It just seemed to compound to the point where it just didn't work out. "
No rider however experienced a fate much different than Lloyd's in the championship round, with the bulls reigning supreme and bucking off each rider they faced.
Not only did his 86-point ride aboard Otis win him Round 1, but the trip propelled Lloyd to the event win.
"I think winning to me is a lot of times mental," he said. "You've got to believe that you're going to win and that's been one thing that I've been trying to identify, why I wasn't winning. I did a lot of work on that and I think that's what I can attribute this win to, is just being a lot more mentally prepared than I have been in the past."
To better his mental approach to the sport, Lloyd likes to combine yoga with positive focusing exercises to ensure he is in the right mindset.
"I like to do yoga because it helps me prove to myself that I can clear my mind," he said. "And that's a big part of bull riding, being able to clear your mind of all the distractions and be 100% focused on the job at hand.
"You go in there, it's a good exercise obviously on top of that, but you can prove to yourself that you can close everything out, and if you can close that out for an hour, than that proves to me that I can do it for 8 seconds."
Complementing the yoga, Lloyd likes to keep the focus of his thoughts on what he wants, not what he did wrong.
"I try to keep the stuff that maybe didn't happen the way I wanted it to out, and I try to keep what I wanted to happen in my mind," he said.
For his event-winning performance in Toronto Lloyd earned $ 7,821.00, 450 Canadian points and 80 World points. In the Canadian National Standings, Lloyd jumped from No.15 to No.4 where he now trails No.1 Hansen by 515.83 points.
In the World Standings he rose 13 spots, from No.59 to No.46, now trailing No.35 Reese Cates by 97.5 points for a coveted birth on the elite Built Ford Tough Series.
For Lloyd, being within striking distance of the top tour is a position he found himself in in 2013 after winning his first PBR event.
"It was kind of a fun time after Toronto because I got to talk with guys like Cody Casper, Thor Hoefer II and Matt Triplett and just tell them about that experience, being in this position, realizing what I did wrong, and how I'm going to approach it this time," Lloyd said.
"Really what it all boils down to is just keep working to be a better bull rider. That was one of the reflections that I had after Toronto, was celebrating what I had accomplished, but also realizing that there's always work to go and work to be done."
Looking to the summer, specifically the month of July, Lloyd hopes to continue his hot streak, planning to hit 12 Touring Pro Division and Real Time Pain Relief Velocity Tour events, embodying the words of a close friend.
"My buddy Douglas (Duncan) always told me, 'you never say whoa when you're on a heater,' so I'm going to take that advice and run with it."