Buttar Qualifies for Second World Finals
By: Kacie Albert Wednesday, November 1, 2017 @ 9:53 PM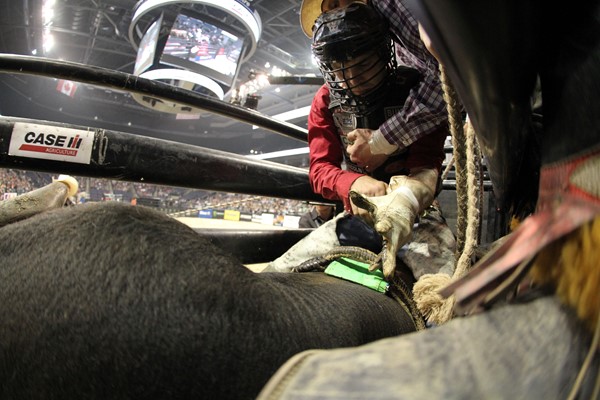 LAS VEGAS – In 2016, Dakota Buttar qualified for his first-ever World Finals in a fashion deserving of the history books.
After competing in just one Built Ford Tough Series (BFTS) event all season, the Kindersley, Saskatchewan-native earned an invite to the 2016 Velocity Tour Finals after Canadian Champion Ty Pozzobon, who was already ranked within the Top 35, declined the berth.
Riding El Guerrero in Round 1 for 86.5 points and Big Dan for 86.5 points in Round 3, Buttar was able to nab 73.3 world points at the Velocity Finals, propelling him to No.35 in the world standings, guaranteeing him a slot at the Built Ford Tough World Finals.
RELATED: Buttar Qualifies for Finals; Four Canadians Set to Compete in Las Vegas
Buttar joined fellow qualifying Canadians Tanner Byrne, Aaron Roy and Pozzobon in what was the largest field of Canadian-born riders to advance since 2012.
This season, however, Buttar's path was much simpler to the most prestigious event in bull riding, as he prepares to be the lone Canadian to compete at this year's PBR World Finals.
A fixture on the elite tour throughout 2017, the 24-year-old concluded the regular season well within the Top 35, currently ranked No.24 in the world, to earn an automatic berth.
RELATED: PBR Built Ford Tough World Finals Qualifiers & Bullfighters Announced
"It was a lot nicer not having to ride the Velocity Finals, I'll have a few less bulls this year," Buttar said.
"Just sneaking in there last year, I was happy I got in. It might have been questionable to some people, but getting back this year kind of made it feel better. "
Last year, Buttar finished 11th at his first-ever World Finals.
In his debut at the World Finals, Buttar went 2-for-5, highlighted by his second place effort in the fifth round when he rode Phenom Genetics' Hy Test for 88.25 points.
"It was a rough week up until then," Buttar said of his fifth round out last year.
"I needed it. It really helped my confidence, which was pretty low going into that last day."
Buttar's finish earned him guaranteed appearances on the elite BFTS when the tour resume in January 2017 at Madison Square Garden, an opportunity he seized, never once falling outside of the Top 35 through the duration of the year.
After finishing 17th in New York City, Buttar logged back-to-back Top 10 finishes at his next two events in Oklahoma City and Sacramento, where he was sixth and ninth respectively.
He repeated the feat again in early March finishing ninth and eighth at the tour stops in Jacksonville and Little Rock.
Nearly a month later, in Tacoma, Buttar's momentum was nearly halted when he tore a ligament (UCL) in his riding elbow.
And the injury was one of just a slew that impacted his season. Among the other ailments that afflicted Buttar were a punctured lung sustained at the Calgary Stampede and a minor hip injury during the first half of the season.
RELATED: Bull Rope Switch Helping Buttar with Elbow Injury
After sitting out the final first-half event, Buttar returned in August with a sixteenth place effort in Tulsa.
Failing to place at each of the next three events, Buttar's recent surge began to mount in Austin where he was seventh.
Two events later, Buttar earned his first career victory when he took the buckle in Nampa.
"It helped big time my confidence," Buttar said of the win.
"Going all year without getting a win, or even a top two, then finally getting that win, realizing I can win at these events really helped." 
With winning the event, Buttar joined Byrne as the only two Canadian-born riders to have won a BFTS event since 2003.
REALTED: Buttar Takes Gorham's Advice to Heart, Wins First Event
Rising from No.32 to No.27 compliments of the 475 world points he earned for the victory, Buttar further climbed the world standings when he was fifth the following weekend in Raleigh.
Not attending the final regular-season BFTS event of 2017 due to fires in his hometown, Buttar is ready to ride when the World Finals get underway tonight.
"I took a couple weeks off and it was needed," Buttar reflected.
"I'm feeling good now. "
Buttar will face Happy Gilmore in Round 1, and has drawn Stuntman Ray, one of five Canadian bulls to travel to Las Vegas, in Round 2.
RELATED: Click here for the complete Wednesday day sheet
"I wouldn't mind drawing Canadian bulls all week," Buttar said.
"I haven't seen Stuntman Ray at all but he's always good. I was planning tonight to go watch [video of] him."
Drawing Canadian bulls at the finals isn't a new fate for Buttar either. Last year, Buttar's other ride came aboard one of his home nation's animal athletes when he made the 8 aboard Wild Hoggs Bucking Bulls' Tykro Liquid Fire in Round 3.
"I really like Happy Camper," he said of one of the additional Canadian bulls in Las Vegas.
"To be honest that's one I'd really like to get on. I'm hoping he is in one of the pick rounds."
The 2017 Built Ford Tough World Finals begin tonight, Wednesday, Nov. 1, in Las Vegas at T-Mobile Arena with Round 1 at 6:15 p.m. PT.
Tickets start at $35 and can be purchased at AXS.com.
Stay tuned to PBRCanada.com and on Facebook (PBR Canada), Twitter (@PBRCanada), and Instagram (@PBRCanada) for the latest results.