Casper strikes gold in Canada
By: Kacie Albert Tuesday, June 13, 2017 @ 6:32 PM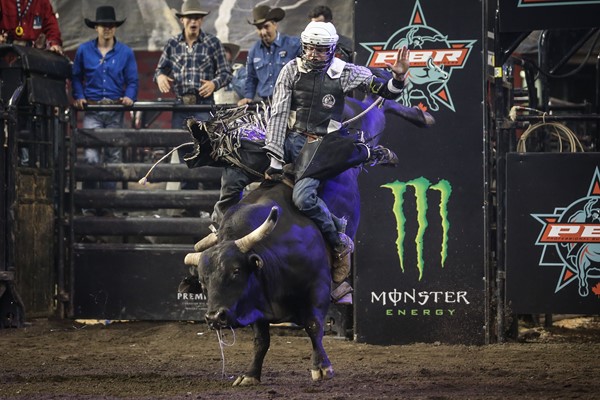 For Cody Casper (Pacific, Washington) many of his career highs have come at PBR Canada events. Entering the Monster Energy Tour event last weekend, all but one of his Top 5 career finishes had come in the country. Now, Casper can look to Canada as the host of his first event win, having won the title at the Monster Energy Tour's second event of the season in Ottawa, Ontario.
"It was cool, definitely overdue," Casper said. "But things come around, you've just got to practice and put in the work."
In Round 1 of the event, Casper drew Little Anthony (Cornwell Bucking Bulls) but bucked off in 7.60 seconds.
"It was frustrating," Casper said. "I would have been quite a few points on him."
At the conclusion of Round 1, which saw only four qualified rides, led by Justin Lloyd's (Tisdale, Saskatchewan) 85-point ride aboard Wild Mexican (Rafter P), Casper's buckoff time earned him a bid into the Championship Round.
In the short go Casper drew Captain (Mike Miller/Torres Bros), a bull who has bucked at numerous events on the elite Built Ford Tough Series events so far in 2017. In New York City and Chicago Ryan Dirteater (Hulbert, Oklahoma) rode the bull for 85.75 and 86.75 points respectively, while Cody Nance (Paris, Tennessee) logged 87 points aboard the bovine in Jacksonville, all three scores that would vault Casper to the top of the leader board.
As the sixth man out, none of the riders before Casper had logged a qualified ride in the Championship Round. Casper, however, changed that lasting the full eight aboard Captain and scoring a career-high 88 points for his ride.
"I was excited to get him rode and put something on the board," said Casper.
With four riders left to compete, Casper watched on to see if his career-best ride would propel him to his first event win. And it did.
The victory earned Casper 450 points to the Canadian National Standings, where he is now No.4, just 325 points back from No.1 Derek Kolbaba (Walla Walla, Washington). He also earned a career-high $8,003.23 CAD.
Casper next heads to Calgary, Alberta for the Touring Pro Division's stop in Calgary, Alberta on Wednesday, June 14th.
After a week break, the Monster Energy Tour concludes its Eastern campaign in Toronto on June 24 at Ricoh Coliseum at 7:30 p.m. Tickets start at just $25 and can be purchased online at Ticketmaster.com.