Confident Roy ready to lead Team Canada
By: Kacie Albert Thursday, September 14, 2017 @ 10:00 AM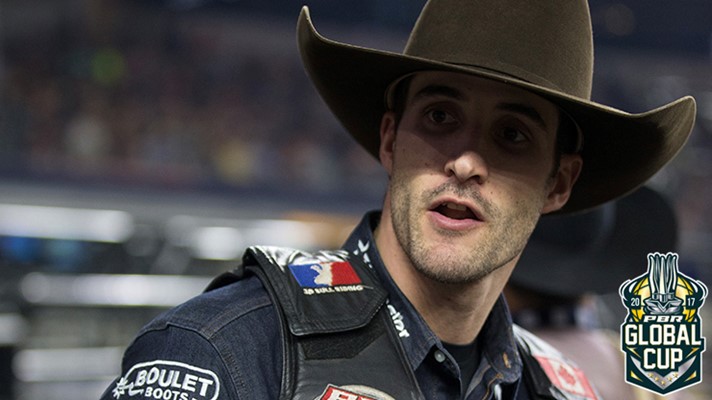 TORONTO -  Throughout his career of more than a decade with the PBR, Aaron Roy has amassed a long list of accolades and accomplishments.
The Yellow Grass, Saskatchewan native is the all-time Canadian money leader, only three-time PBR Canada Champion and five-time Glen Keeley Award winner.  
This November, he will add another notable achievement to that already long list when he serves as the coach for Team Canada at the inaugural Global Cup event in Edmonton, Alberta  on Nov. 9-11.
RELATED: PBR Announces International Coaches for PBR Global Cup
"It's quite a big honor, especially having fellow riders vote on it," Roy said.
As a Canadian, the event comes with extra sentiment, as his home nation is set to host the inaugural event.
"It means a lot. We were the only country not to host a World Cup, and we came close numerous times to winning the World Cup, so to host the first Global Cup I think is huge."
"I think it's going to be a great event, and for Canada to have the home field advantage, hopefully we can pull out the win at the very first one and be able to be the first country that has the bragging rights."
As coach, the 30-year-old will not only be responsible for weaving his team through their first international competition, but also selecting what bulls his riders get on.
"It shows what you've done in the sport to have these other guys trust you to coach them and put them on bulls for such a prestigious event like this," Roy later elaborated of his duties.
Just days after it was announced Roy would serve as the home nation's coach, he learned the names of the first five riders who will make-up what will eventually be his 14-man roster.
RELATED: PBR Global Cup Riders Announced for Edmonton
Already slated to compete for Team Canada are: Dakota Buttar, Brock Radford, Jordan Hansen, Justin Lloyd and Cody Coverchuk.
"They're all good riders, and they're all riding really good," Roy said.
"We'll definitely have our work cut out for us against teams like the United States and Brazil, but personally I think Canada will be able to win it."
Despite being sidelined all season as he continues to recover from the fractured right femur he sustained during Round 1 of the Built Ford Tough World Finals last season, Roy is up-to-speed with what all the riders who have already been named to Team Canada have accomplished this season.
Currently the top ranked Canadian at No. 35 in the world standings, Roy spoke with nothing but pride when asked about 24-year-old Buttar.
"He's been a great rider for so many years. I was just waiting for him to make the transition to PBR to see his full potential."
"He's been really good this first full year," Roy said specifically of Buttar's performance during his first full season on the elite Built Ford Tough Series (BFTS).
"He's kind of getting his feet wet, but I've watched him ride a few times this year and he looks like he's getting accustomed to it."
Trailing Buttar by fewer than seven points in the world standings is No.35 Radford who made his BFTS debut last weekend in Springfield, Missouri.
RELATED: Welcome To The Big Leagues
Radford strung together an unprecedented four-event win streak earlier this summer at PBR Canada Touring Pro Division (TPD) events, which not only propelled him to his BFTS debut, but also caught Roy's eye.
RELATED: Red Hot Radford Ready for Global Cup
"The guy's been on fire," Roy said with ease. "Right now he's the No.1 guy for Team Canada going into the Global Cup in my book."
"I think he might have gotten his eyes opened a little bit going to Springfield last weekend, but he's been on fire in Canada. There hasn't been anybody better. I haven't seen anybody ride like that since [Ty Pozzobon] last year or Tanner [Byrne] a couple years ago."
"When you get on that roll, it's hard to stop, and you feel like you're on the top of the world."
Okotoks, Alberta's Hansen and Tisdale, Saskatchewan's Justin Lloyd represent Team Canada's third and fourth members. 
"[Hansen]'s come a long ways in the couple years that I have seen him riding, especially his riding itself," Roy said of the 24-year-old.
When asked of Lloyd, Roy had to recall back no further than last year when he spent time travelling with the 30-year-old.
"He's the type of guy that is always wanting to learn, and ride better."
"I've seen him a couple times at events that he's been down on himself and it's just a couple words and it brings him back up and gets him riding that much better. That kid can ride anything when he puts his mind to it, or just goes out there and has fun and quits thinking about things too seriously."
The last man currently named to Team Canada's roster is Meadow Lake, Saskatchewan's Coverchuk.
"When his head's in it, he rides just as good as anybody going," Roy said of his fifth team member.
"He's been riding good the last couple of years from what I've seen, and he's good for the team to be on it. He's proved himself to be qualified on there already, so we'll see what he does."
His roster, however, still has nine positions that need to be filled prior to the start of the main event on Nov. 10-11
Five of the spots will be awarded to the top finishers from the national qualifier on Nov. 9, while Roy will have the opportunity to select the remaining four.
RELATED: Byrne Sidelined Until PBR Global Cup
"It'll definitely make things interesting," Roy said of the selection format.
"It'll come down to who is riding hot, and hopefully they'll stay hot all weekend. There will be some guys that will get hot, and it will be the chance of a lifetime to ride at a Global Cup event where normally they don't get to compete, or get thought about. You could get riding hot and qualify, and that could be a life changing event."
While the event is still two months out, Roy is already preparing so he can best serve his team.
"I've been paying attention and following different guys as they go to events. I've been watching them and trying to get familiar with the bulls. It's kind of the same like every event, you watch what you can and get advice from other people. "
However, despite the advance planning, Roy won't be changing his coaching style.
"Like I do at every event, I'll try to encourage everybody lots," Roy said.
"I'll try to just give them what I've learned over the years in bull riding and not change too much stuff. Let them do their own thing and try to match them up evenly with the bulls that we're given."
And he's already doing his due diligence in assessing the four international nations set to invade Rogers Place this fall.
"Against the United States and Brazil it is going to be really hard," Roy remarked.
"They've got really strong riders right now that can ride just about anything you run underneath them."
Nonetheless Roy remains confident of his team's abilities.
"It's going to be hard, but we have very talented riders. I think Canada will be able to win it. "
Tickets for the highly anticipated Global Cup are on sale now and can be purchased at RogersPlace.com.
Be sure to stay tuned to PBRCanada.com and follow the tour on Facebook (PBR Canada), Twitter (@PBRCanada), and Instagram (@PBRCanada) for the latest results.