Contending Again
By: Kacie Albert Saturday, August 12, 2017 @ 8:00 AM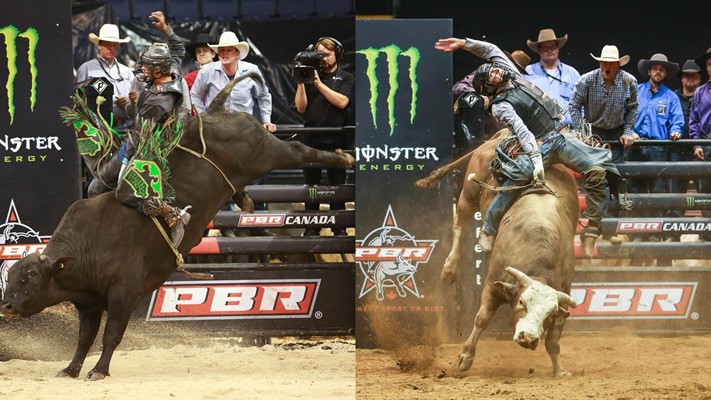 ELNORA, Alberta – For the first half of the 2017 PBR Canada season, Alberta riders Zane Lambert and Lonnie West, were a fixture within the Top-5 of the national standings, until injuries sent both to the sidelines.
Now, after weeks of rehab, both are set to make their PBR return in their home province at tonight's Touring Pro Division event in Elnora, the 19th Annual Elnora Brahma Rama.
A RETURNING CHAMPION
2013 PBR Canada Champion Zane Lambert ended last season on the highest of notes, winning the Canadian finals in Saskatoon, Saskatchewan.
When PBR Canada competition resumed four months later, the professional of 13 years asserted himself early as one of the top contenders for this year's Canadian title.
At the season's second event in Teepee Creek, Alberta, Lambert double-entered and rode his way to both a fourth and ninth place finish.
Over the next two months, the 31-year old attended seven additional Monster Energy Tour and Touring Pro Division (TPD) events collecting two Top-5 and five Top-10s, before he found himself back in the winner's circle.
Lambert earned his first victory of the season at the Wanham Plowing Match PBR Extravaganza, collecting an additional third place finish compliments of his double entry.
Three events later, the course of his season changed.
In Calgary on July 4 for the Ranchman's Renegades Charity Bullbustin' Lambert broke his foot, and has been out of commission since.
"I've had a great summer," Lambert said of the non-traditional last few months. Normally competing at event after event, he instead partook in more leisurely activities.
"I went floating on the river twice and I went to Saddle Lake and then went to Buffalo Lkae, camped out there for a bit. I've just been hanging out and camping."
But that comes to an end this weekend.
"I talked to my doctor and he said the x-rays are looking good, it's setting and healing, so we're on the mend," Lambert said.
"He said I could start to do a little bit of light stuff, and for a bull rider that means he can ride. I don't want to lose this season. I've put effort into getting where I'm at already and I don't want to miss out on anymore."
Now ranked No.6 in the Canadian national standings Lambert's first opportunity to gain ground on No.1 Cody Coverchuk, who he trails by 340 points, will come in Round 1 in Elnora, set to take on Vold Rodeo's Packing Heat.
"Ooh, wow. We've had some vengeance this year," Lambert exclaimed when he heard his draw.
"He bucked me off in Claresholm in the long round. The next time I saw him Brock [Radford] had him, and he handled Brock pretty handily. And then I got on him again in Marwayne and he bucked me off in the short go. It just keeps going."
"He's just a tiny bull though, Packing Heat," Lambert elaborated. "He's just little, shoots out there real fast, goes right into my hand, but he'll get to crossing over and humping up, it's like a Johnny Ringo."
Despite the Round 1 foe Lambert is set to face, he is determined to continue the success he had in the early portion of the season.
"We have [eight] events left. I need to do good at this next run of PBRs. That's the focus."
A JOURNEY BACK TO THE TOP
In the early weeks of the 2017 season, Lonnie West sat atop the PBR Canada national standings, having one of the hottest starts to a PBR season in his young career.
In Lethbridge, Albert, West double-entered the first TPD event of the season, earning a third and 14th place finish for his efforts.
A nine hour drive and one week's time later, the 21-year-old tied his career-best PBR finish when he was second in Teepee Creek.
"In the spring I felt like I could ride everything," West reflected.
After logging two additional Top-10 efforts at as many events, West's season was derailed in June at the Grand Prairie Stompede, a Canadian Pro Rodeo Association (CPRA) event.
"I broke my foot, but that wasn't the main problem," West said as he detailed his injury. "The biggest thing was I tore a ligament off my ankle and then I tore the muscles and ligaments that hold my two leg bones together and they started spreading on me real bad."
The damage to his tendons and ligaments required casting and relegated West to the sidelines until the end of July when he returned for the Professional Rodeo Cowboys Association (PRCA) event at the end of July in Deadwood, South Dakota.
"Holy smokes I was eager to get back at it," West said with gusto.
"The first weekend I came back I went to a few PRCA rodeos with Jordan (Hansen) and Jared (Parsonage). We went down south and it started out rough. I thought I would just take off where I left off."
"It was a real frustrating deal coming back because I couldn't stay on. The first few bulls I was getting on I knew I should have rode and I couldn't and I was thinking too much."
But after a few events where he logged qualified rides, West believes he is back in form and ready to return to PBR competition.
"I think things are going good now," he said. "I'm feeling good."
West, who is double entered at this weekend's event in Elnora, will face his first test when he gets on his first draw of the night, X6 Ranch's General Defence.
"I remember him last year, he was kind of a hard to ride bucker," West reflected. "But they're going to buck him out of the right and they said he's just been level and out to the right. So it should work."
Despite being ranked No.17 in the national standings heading into the event, 747.5 points behind leader Coverchuk, West is committed to PBR and returning to the top of the standings.
"There are a lot of events left, and I'll probably be able to double enter Coronation, and I've double entered Elnora already so if I can just keep riding," West said as he looked forward to the remainder of the season.
"Hopefully I can gain some ground in Elnora."
The 19th Annual Elnora Brahma Rama at the Elnora Agricultural Grounds gets underway tonight, August 12th at 7:30 p.m. MT.
Be sure to stay tuned to PBRCanada.com and follow the tour on Facebook (PBR Canada), Twitter (@PBRCanada), and Instagram (@PBRCanada) for the latest results.