Coverchuk Dedicates Pursuit of Canadian Title to Late Father
By: Ted Stovin Tuesday, October 3, 2017 @ 11:25 AM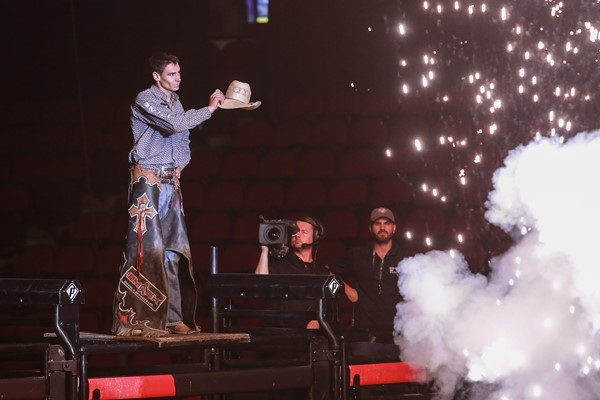 Toronto – Since making his PBR debut in 2013, Cody Coverchuk has been a consistent contender for the year-end Canadian title, however has yet to actualize his dream of being the PBR Canada Champion.
This year, however, the 23-year-old is riding with additional purpose, dedicating his season to his late father, Bruce. 
 "I'm still just kind of trying to get over it but it is what it is," Coverchuk said.
Coverchuk's father lost his battle against cancer on December 7th, 2016, passing away in the family's hometown of Meadow Lake.
"It's a horrible disease," Coverchuk said.
"He only ever went to the hospital twice in his whole life. He never stepped foot in a hospital, he hated it, and when he was in there he said, 'Now I know why I hated it so much.'"
Since the beginning of his career, Coverchuk's father has been one of his biggest supporters.
"When I was in high school, I was going to Vermillion, [Alberta] every Wednesday to get on bulls, just under three hours [from home]," Coverchuk recalled.
"I'd get home late and every morning my Dad would make sure I was up. I could never miss school."
"He helped me out whenever I was down. He taught me that I don't have to be like anyone else, I can ride however I want to ride as long as I make the whistle."
Season long Coverchuk has been riding in his father's memory.
After logging five Top 5 finishes to begin the season, Coverchuk won his first event title of 2017 at the Ranchman's Bullbustin' in Calgary, Alberta. 
RELATED: Coverchuk Starts Season Red Hot
Less than three weeks later, Coverchuk was back in the winner's circle, this time celebrating his victory at the Czar Lake Bullarama.
Since his victories, which propelled him to a near three-week stint atop the rankings, Coverchuk has logged four additional Top 10 finishes.
Currently ranked No.2 in the PBR Canada national standings, Coverchuk trails No.1 Brock Radford by 691.66 points.
Despite the disparity, he is still within striking distance of the title with 550 points on the line at each of the next two Monster Energy Tour events and 2,000 available at the 12th edition of the PBR Canada Finals in Saskatoon, Saskatchewan on October 20-21.
"That's what I've set my mind to," Coverchuk said of earning the national title.
"I've been working my whole life up to this. [My dad has] always been behind me every step of the way, so it would be real special for me, that's for sure"
 Adding to Coverchuk's drive to capture his first title is the abrupt way his 2016 campaign concluded.
Despite logging the best regular season of his career, his season ended in Canada as the No.3 rider in the national standings after finishing seventh at the nation's finals. 
"That just kind of lights a fire underneath me," Coverchuk said.
"As much as I like seeing my buddies win, I don't like losing. I hate it. Last year I know I let a couple times slide away, a couple rides that could have potentially won me Canada. I don't want to let that happen again this year. Every bull I'm trying to make it count."
While Coverchuk already has two event titles this season, he recognizes that his success could be even greater had he converted the rides where he eclipsed the seven second mark, but failed to last the full eight. For the Saskatchewan rider this is a fate he has faced five outs this season. 
"Seven-point something rides have cost me," he said.
"It feels like I'm doing everything right then I'm just messing up right at the whistle. Maybe I just go to the practice pen and set a whistle at ten seconds. Maybe that would help out."
Coverchuk is a firm believer in the value of a sound mental approach to the sport.
"I find that if you think about bull riding and you picture yourself riding good bulls, when the weekend comes and you want to be a bad ass bull rider, you'll go out there and you'll be a bad ass bull rider."
And while Coverchuk's sights are set on improving his performance to become PBR Canada Champion, whether he ends up in Vegas come November, his season will still conclude at home as a part of Team Canada for the inaugural Global Cup on Nov. 9-11 in Edmonton, Alberta.
RELATED: PBR Global Cup Riders Announced for Edmonton Event
"I'm really excited," Coverchuk said.
"As a kid coming up I saw the World Cup and I've always wanted to be on Team Canada. It's something that I was looking forward to and I was pretty happy to be on Team Canada."
Despite the event being announced after his father's passing, Coverchuk is confident he knows how he'd feel about his son's achievement.
"I'm sure if he was here, he'd frickin be happy."
"He always said, 'You're one of the best, you've just got to go out there and ride, do what you do, don't worry about nothing, let the riding do the talking.'"
"And that's what I've been doing, is just not really say much, get on my bulls and capitalize on every bull."
After more than three months away from competition, PBR Canada's Monster Energy Tour will resume its schedule Friday, October 6 when the cross-Canada series bucks into Winnipeg, Manitoba for the second consecutive year.
Action for the PBR Monster Energy Tour presented by Macs and Circle K gets underway at 8:00 p.m. CT at Bell MTS Place. Tickets are available at Ticketmaster.ca.
Be sure to stay tuned to PBRCanada.com and follow the tour on Facebook (PBR Canada), Twitter (@PBRCanada), and Instagram (@PBRCanada) for the latest results.