Five Canadian Bulls Set to Buck at PBR World Finals
By: Ted Stovin Tuesday, October 31, 2017 @ 12:51 AM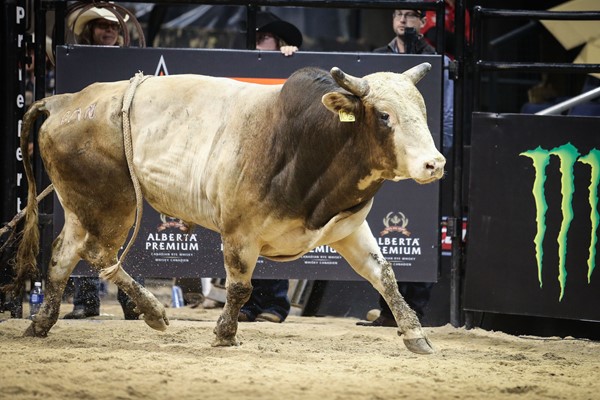 LAS VEGAS – Five Canadian bulls have been selected to buck at the 2017 PBR (Professional Bull Riders) Built Ford Tough World Finals in Las Vegas on Nov. 1-5 at T-Mobile Arena.
Those bulls making the trip to Sin City are: Minion Stuart (Skori Bucking Bulls); Johnny Ringo (Vold Rodeo / Rafter G Cattle Co.); Happy Camper (Two Bit Bucking Bulls); Blue Stone (Flying High Rodeo Co.) and Stuntman Ray (Girletz Rodeo Stock).
For the High family, set to be represented by Blue Stone, this isn't the first time seeing one of their bulls under the bright lights.
"The High family is excited to be bucking another home raised bull at the PBR World Finals," said Lorne High.
"We have had numerous bulls there before but Blue Stone will be the first one bucking under our own name, Flying High Rodeo Co."
Like many other animal athletes, Blue Stone's lineage is stacked on both sides.
"He is a five year-old blue roan sired by World Champion futurity bull Deja Blu and a Coppertox daughter. He will also be competing in the ABBI Maturity," High said.
"Blue Stone is a very rider friendly bull," High mentioned, noting that Ty Pozzobon rode him in 2016 for an 88.5 points and Jess Lockwood rode the bull to win a round at the 2017 Calgary Stampede for 90.5 points.
Not only are his competition rates high, but his future offspring show promise.
"We are most excited about him as a sire as he had his first set of calves win almost $10,000 at ABBI Canada futurities this year," High said.
Ridden eight times in 21 career outs, Lockwood's 90.5 points was the only qualified ride on Blue Stone in 2017.
Also of mention from the High outfit is Burn It Down, who was raised by the Elnora family and is in the race for the 2017 World Champion Bull title.
 "It's nice to be keeping company with great bulls like Bruiser and Pearl Harbor," High said.
For Girletz Rodeo Stock, home of Stuntman Ray, their last bull to make an appearance at the PBR World Finals was First Nation Sensation in 2011.
"He's a Feckles or Mr. Echo calf out of a Carlyle cow that was the mother to First Nation Sensation," said Tanner Girletz of the red muley.
"He also goes back to Final Fantasy."
Final Fantasy went to the PBR World Finals in 2002.
"This bull was a handful and a lot of work but as he grows up and matures he gets better every trip," Girletz mentioned of Stuntman Ray.
"As just a four year-old I'm excited to see him as a five next year."
Ridden twice in nine outs in 2017, Stuntman Ray's top bull score came in a buck-off of Cody Coverchuk in Stavely which earned him 45.5 points.
With the selection to the PBR World Finals added to a list of nominations which also includes the National Finals Rodeo and Canadian Finals, Johnny Ringo has had a record season.
The Vold Rodeo / Rafter G Cattle Co. bull is one of only five Canadian Bulls since 2002 to have accomplished the feat of all three major finals in the same year: Assassin (Big Stone Rodeo) and Outlaw (Calgary Stampede) in 2002; Sheep Creek (Big Stone Rodeo) in 2015; and Cooper's Comet (Vold Rodeo) in 2016.
Johnny Ringo was ridden just once in 2017.
The lone ride was made by Jared Parsonage in Stavely which was marked 90 points, earning the Saskatchewan rider $12,500.
The bull accomplished a similar feat in 2016, with the lone rider to cover him being Pozzobon for 89 points in his home province of Abbotsford, British Columbia to clinch the 2016 PBR Canada National Title.
Johnny Ringo's top bull score of 2017 came at the Calgary Stampede in a 46 point out against Lockwood. 
Happy Camper is the third bull to be selected to the PBR World Finals from the Two Bit Ranch of Magrath, Alberta. With a top bull score on the year of 45 points against Tyler Pankewitz in Abbotsford, Happy Camper was not ridden in four outs this season.
Six Canadian bulls were selected for the 2014 and 2015 PBR World Finals. Four were selected in 2016 including Minion Stuart, 2017 marking his third-consecutive trip.
The Built Ford Tough World Finals take over Las Vegas and T-Mobile Arena Nov. 1-5. Tickets are available at PBRWorldFinals.com.
Stay tuned to PBRCanada.com and on Facebook (PBR Canada), Twitter (@PBRCanada), and Instagram (@PBRCanada) for the latest results.