Former Ottawa Senator trades skates for boots in his return to Canada's Capital
By: Kacie Albert Thursday, June 8, 2017 @ 6:27 PM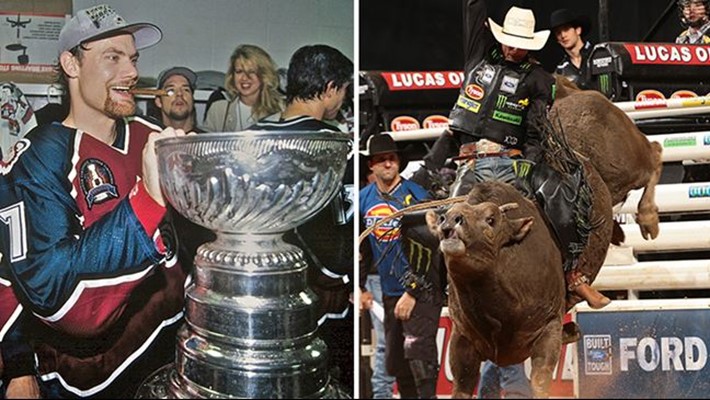 In Ottawa, Curtis Leschyshyn is known as a star National Hockey League defenseman, having played for the Senators for more than three seasons. However, this weekend the Stanley Cup winning player has traded his skates for boots, set to work the chutes for the PBR Monster Energy Tour's Ottawa event.
When the PBR takes The Arena at TD Place by storm on Friday night, Leschyshyn will be seen down on the dirt as the event's acting chute boss ensuring everything operates according to schedule and in a timely manner.
"It's exciting when you go back to a city you've played in," said Leschyshyn.
Leschyshyn's journey to his current role with the PBR began when he was a child, always fascinated by the western lifestyle and seizing every opportunity to attend a rodeo or go horseback riding. However, 1996 was the year that Leschyshyn had his most impactful encounter with the sport.
In Denver, Colorado for a Bull Riders Only event, Leschyshyn was invited onto the back of the chutes and was hooked from the first moment he stepped onto the steel.
After Leschyshyn retired from hockey, he was drawn back to his fondness for the sport. He recalled that former NFL quarterback for the Miami Dolphins Chad Pennington owned bulls and instantly wanted to know how he could be involved in the same manner.
Leschyshyn instantly began researching how to launch his career as a stock contractor, and has since built a business that has seen several of his bulls compete on the elite Built Ford Tough Series. His pen is currently skews younger in age, however Leschyshyn looks to his bull Damn Frustrating, who he owns with partner 4G Ranch, as one of his stars.
He recalls the 2017 Ty Murray Invitational in Albuquerque, New Mexico as one of the bull's shining moments. Damn Frustrating was the high-marked bull of Round 1, tossing current PBR World Champion Cooper Davis and earning a 44.25-point bull score.
Leschyshyn has also worked to establish himself as a judge and part of the arena personnel as his role in the bull riding world continues to grow.
When the Monster Energy Tour launched its season in Quebec City, Quebec last weekend, Leschyshyn worked as one of the event's judges. Much like Ottawa, Quebec City was also sentimental for him as Leschyshyn's professional hockey career began with the Quebec Nordiques.
"Judging in Quebec City was the highlight of my judging career," said Leschyshyn.
Looking forward to this weekend, Leschyshyn was excited for the action fans would be treated to after such a strong opening event.
"The Monster Energy Tour is off to a great start and things are only going to get better," said Leschyshyn.
Action for this weekend's event gets underway in Ottawa at The Arena at TD Place at 7:30pm and tickets can be purchased online at pbrcanada.com or tdplace.ca, at the arena box office or via phone at (613) 232-6767.